This is the fifth and final article in our series on foreign-born doctors in Georgia. Previous articles focused on Indian-born physicians, obstacles that these doctors face in order to practice in Georgia; a clinic for immigrant patients; and Muslim physicians.
Back in 2009, Belsy Garcia Manrique was studying as an undergrad at Mercer University in Macon when her younger sister called. It was about their mother. Feeling tired and looking pale, she had paid a visit to the health clinic near the family home in Calhoun. From what she heard there, she understood that her hemoglobin levels had dropped so low that she needed a transfusion — fast. The mom, who was anemic, rushed to a local hospital, only to be told that she was fine and didn't require a transfusion.
The language barrier was a big part of the confusion. A native of Guatemala, the mom didn't have a strong command of English, and the doctors didn't speak Spanish. The misunderstanding cost her not just anxiety but money. The health clinic had directed her to a hospital that was out of her insurance network. So even though she got no transfusion, she left with a bill for $1,000, a large sum for their working-class family.

Garcia Manrique's heart sank when she heard about it. Bilingual doctors were a rarity in northwest Georgia despite its fast-growing Latino population. Growing up, Garcia Manrique had often accompanied her mother to doctor appointments to translate, painfully aware of how the best medical advice could get lost in translation. Hearing this news, she was again reminded of the financial and emotional cost for patients like her mother. And it furthered her resolve to become a doctor who could bridge the cultural gulf that existed between minority patients and the medical establishment.
For most of Garcia Manrique's life, U.S. immigration policy effectively blocked her path to medical school. When she first looked at medical schools, most states prevented undocumented immigrant children like Garcia Manrique from qualifying for in-state tuition at public universities, putting those schools financially out of reach.
In 2010, the University of Georgia Board of Regents banned students such as Garcia Manrique from being admitted to the state's top five public universities — including its flagship medical school, the Medical College of Georgia. And while only a handful of medical providers offered hands-on training for students brought to the U.S. by their parents at an early age, including one health clinic in Gwinnett County, pathways to those opportunities were largely blocked. Yet she embarked on that course of study, declaring herself pre-med at a private school, Mercer, hoping someday she might wear a white coat.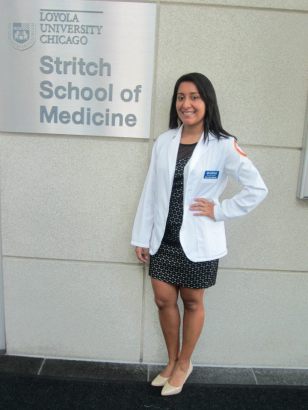 Then Garcia Manrique caught a break. Six years ago, President Barack Obama issued an executive order that created the Deferred Action for Childhood Arrivals program. DACA offered more than 800,000 undocumented immigrants brought to the U.S. by their parents a chance to stay without fear of deportation.
Collectively known as "Dreamers," DACA recipients could get a two-year work permit if they either obtained a high school diploma or were enrolled in school, so long as they didn't have a felony or serious misdemeanor conviction on their record. Offering a chance to obtain a Social Security number or a driver's license, DACA became a beacon of hope for students who wanted to practice medicine but faced insurmountable hurdles to studying medicine, training in hospitals, or getting licensed.
From 2012 to 2016, medical schools from California to Massachusetts only accepted roughly 100 DACA students, whose families hailed from Mexico, Pakistan, Venezuela and other countries. Garcia Manrique applied to nearly 40 schools. Loyola University of Chicago, considered the nation's most DACA-friendly medical school, was the only one that offered her admission. She was one of the few Dreamers raised in Georgia to get into medical school.
Months after taking office in 2017, President Trump rescinded DACA, which has become the subject of ongoing legal and political battles. If the law stands, Garcia Manrique will be allowed to stay in the U.S. But if it's overturned, she and DACA medical trainees won't be allowed to renew their work permits. In that case, DACA medical students would face deportation despite the fact most of them are on track to practice medicine in communities facing a severe doctor shortage.
Now in her final year of medical school, Garcia Manrique has a work permit that is set to expire in 2020, and her ability to renew it hinges on the fate of the policy itself.
At that point, she would likely be a medical resident, less than two years away from becoming a licensed doctor. Not only would she be saddled with six-figure debt from her medical school loans, she would be face with leaving the only country she truly knows. But Garcia Manrique has known this feeling – the unnerving uncertainty of life undocumented – for nearly all her life. She remains unfazed.
"Living in limbo, you think about the worst-case scenarios and hope they don't happen," Garcia Manrique said. "I've never had a contingency plan. I've lived my life one day at a time. If I thought about not having a clear plan in the long term, I would've never gotten anything done."
The journey to Georgia
When Garcia Manrique was 7, she left her home in Zacapa, Guatemala, and headed north through Mexico with her mother and sister. It was a two-week odyssey – a combination of walking and driving – up to the southern tip of Texas. She was floated in a tire across the Rio Grande. On the other side, local authorities briefly detained the three before releasing them. Waiting for them was her father, Felix, who had come to the U.S. two years earlier seeking political asylum. He had driven all night, over a thousand miles, to bring them back to Georgia.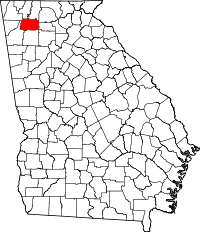 Though his asylum application had been rejected, Garcia Manrique's father set forth building a decent life for his family. He taught himself English and obtained a GED. To support his family, he sold tortillas, worked in a carpet factory and practiced accounting. They didn't always have much — sometimes going uninsured. Whenever they could, the family shared extra food with guests or let those without shelter stay until they got on their feet.
Inspired by her father, Garcia Manrique tried to help her family however she could – making those dutiful trips to the doctor's office with her mother – and studied hard enough to make a 4.0 GPA. But as she focused on school, she also feared the day when immigration authorities might take action against her family. For decades, Georgia's growing carpet industry had drawn Latino immigrants, her father included, to the northwest corner of the state. And as lawmakers clamped down on illegal immigration, the region became a hot spot for raids by immigration authorities.
In 2011, she got another call. This time, it was about her dad. ICE had gotten his name after seizing the employee files of a carpet factory where he once worked. About 6 o'clock one morning, they knocked on the door. "Is Felix home?" they asked. He said goodbye to his wife and two youngest daughters. Then the ICE agents took him away in handcuffs.
Understanding culture, language
By the time DACA was announced, Garcia Manrique had already ruled out the possibility of going directly to medical school. She had finished her junior year at Mercer with strong grades. But she lacked clinical experience in part because health care organizations require a Social Security number to conduct a background check to ensure patient safety. It was illegal for Garcia Manrique to have a Social Security number before DACA.
With DACA, Garcia Manrique was able to work in a nursing home to gain the clinical experience after Mercer. With the help of Pre-Health Dreamers, an online network that helps undocumented students pursue health and science careers, she got advice from other DACA students on how to study for the MCAT, apply for schools, and prep for interviews. State law prevented DACA recipients from attending Medical College of Georgia, the state's only public medical school, When she emailed Georgia's private medical schools, they didn't seem to understand what DACA was, confusing her with international students who hadn't lived in the United States.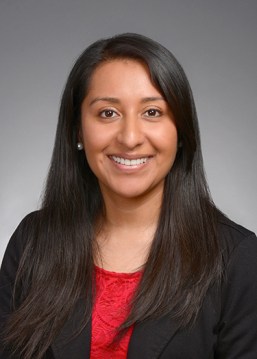 "I knew no one else in the same shoes," she said. "If other undocumented individuals got into college, they were quiet about it because you're in the South."
Another DACA recipient from Georgia, Valentina Garcia Gonzalez had hoped to study pre-med at the University of Georgia on her way to becoming a neonatologist. When state law kept her from going there, the Uruguay native left Georgia to go to Dartmouth College in New Hampshire, which offered her a free ride. Faced with the uncertainty of DACA's future, as well as the barriers to getting internships or shadowing opportunities, she switched to a geography major with a minor in global health. "It felt like I was set up to fail from the get-go," Gonzalez said.
Garcia Manrique, though, managed to become one of 32 DACA students at Loyola University of Chicago's Stritch School of Medicine. Mark Kuczewski, chair of Stritch's medical education department, says the university helped Garcia Manrique secure a medical school loan from a Catholic health system that supported DACA students. Not only had DACA students earned spots at Stritch, he said, their bilingual, bicultural backgrounds made them uniquely qualified to increase the diversity of the physician workforce. Only 4 percent of U.S. doctors identify as Hispanic or Latino, even though 17 percent of Americans consider themselves as such.
"People have physicians who don't understand their culture and language," Kuczewski says.
Greg Lang, executive director of Good Samaritan Health Center of Gwinnett, says the charitable clinic is one of the few places in Georgia to offer training to first-generation immigrant students, including DACA recipients. In a state where pathways to medical jobs can be especially tough for DACA students, the clinic annually offers about 50 internships to undergraduate students hoping to someday get their nursing or medical licenses.
"We believe health care is best delivered by someone that knows your cultural experience," Lang says. "We're trying to strengthen these candidates, helping with their exposure, hoping they'll graduate and better serve immigrant populations in Gwinnett."
Garcia Manrique, too, has realized the unique set of skills she could offer patients someday. As she went through clinical rotations, Garcia Manrique was exposed to the importance of different kinds of care, from psychiatric patients in the VA health system to a clinic that predominantly served a Spanish-speaking population. It was the latter experience, Garcia Manrique said, that confirmed family medicine was her calling.
"You can impact more people that way," Garcia Manrique said. "Before a patient goes to a specialist, they go to primary care physician. They're seeing the patient as a whole, providing comfort, and referring to a specialist. Then you see them again."
Father's detention
On January 23, 2018, Garcia Manrique was in Chicago, waiting for her father to call. Since his 2011 ICE arrest, he was allowed to live in this country so long as he made routine check-ins with the authorities. But rumors had swirled that ICE was detaining more low-priority undocumented immigrants during routine visits. To prepare for that, her father had put the car titles and bills into her name and given her power of attorney. All she wanted was to hear her father's voice, to know that he had made it home, to know that the family was intact. Then the text came: "They are going to detain me, my child, keep going, my child, you can do it."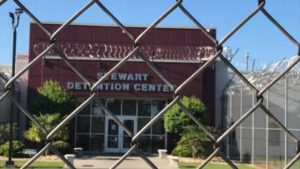 First came tears. Then action. Over the course of several months, she spoke at rallies about how her father was a staple of their community. The Roman Catholic archbishop of Atlanta, Wilton Gregory, said in a statement that his deportation "undermines the integrity of his family and his role in his Georgia community." Meanwhile, she wrote op-eds urging ICE to delay her father's deportation.
This past March, nearly two months after her father was detained, Garcia Manrique spent spring break traveling to visit her father at the Stewart Detention Center in South Georgia. As they sat on opposite sides of a glass window, she could see that her father had lost weight under his jumpsuit. As much he hoped to see her graduate from medical school, he was likely to be deported in a matter of weeks.
"If you graduate with your degree, I will be happy," he told Garcia Manrique. "Everything I'm going through and suffering right now, I would do it all over again for you."
Choices ahead
Sitting in a coffee shop in Calhoun, I asked Garcia Manrique if she still wants to come back to Georgia to practice.
For many years, she had hoped to treat Spanish-speaking patients in the parts of northwest Georgia where she was raised. She wanted to empower Latino patients to take control of their care — eschewing the paternalistic "doctor knows best" mentality entrenched in health care — and to respect her patients' cultural traditions.
"I don't know if I'd come back," said Garcia Manrique, now 28. "Georgia was all that I knew. But Chicago opened up a whole new world to me."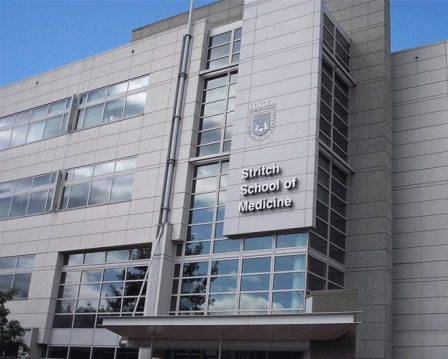 While applying for family medicine residency programs, she emailed ones in Georgia to see if they were welcoming. But most program administrators, confusing her with international medical graduates, said they would accept only individuals who qualified for work visas, she says. Only two programs — Emory University and Morehouse schools of medicine — said they would consider a DACA recipient. She applied to both residency programs.
Of her 50 residency applications, Garcia Manrique has received interview offers from roughly 20 programs, including ones in Illinois, California, and Washington state. In recent weeks, she's also received interview invitations from both Emory and Morehouse. No matter how qualified Garcia Manrique is, teaching hospitals take on a risk when they work with DACA students, according to Kuczewski. Residents play the role of junior doctors who staff wings of different departments. If DACA were rescinded, the hospitals would risk becoming short-staffed.
Because of that, Garcia Manrique isn't being too picky. Wherever she goes, two main things will influence her ranking of programs ahead of Match Day. First, she wants the chance to serve a diverse patient population from a low-income community. And she wants to be in an inclusive environment where her background is valued.
And these days she isn't sure if the Georgia she knew, and the Georgia she loved, is a place where she'd feel welcome. If she had to start over, she still couldn't attend Medical College of Georgia, school officials say. But she no longer counts on the things she can't control. And that includes being a doctor in Georgia.
"After a certain time of being looked down upon, being told 'no,' going the extra mile to get the same benefits, you get tired of that," Garcia Manrique said. "I've seen many immigrants who have talent in the South move out. Why not be somewhere where you're wanted? I'm worth a lot."
Max Blau writes narrative and investigative stories for newspapers, magazines and digital media outlets. His award-winning stories have appeared in the Atlanta Journal-Constitution, the Boston Globe, CNN, the New York Times and Politico. A recent graduate of the University of Georgia's narrative nonfiction M.F.A. program, Max now works as a freelance journalist and is based in Atlanta. Check out Max's writing at www.maxcblau.com.
Read other stories in our series:
Part One: Doctors born in India fill medical gaps in Georgia
Part Two: Trained to be a doctor, but held back by red tape
Part Three: Giving back: Immigrant doctors helping immigrant patients