Alpharetta resident Robert M. Stevens has become all too familiar with the rapidly increasing cost of cancer drugs since 2006.
That's the year he began three rounds of chemo after his diagnosis of chronic lymphocytic leukemia.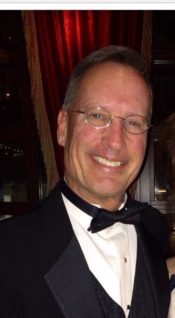 Back then, he was still working for a large corporation and had company health benefits. In fact, he was diagnosed "while on assignment in Australia."
Today, Stevens, now retired, is proud to be an 11-year cancer survivor. But he still has to take three Imbruvica capsules every morning. He "depends on them." But the cost is steep.
He says that once he moved from his corporate plan to Medicare, with a supplemental insurance plan and prescription plan Part D, his three capsules went from $25 monthly to a $3,024 payment for the first month and $565 for each of the other 11 months of the year.
That's a jump from $300 a year to $9,239 a year. Yet Stevens considers himself fortunate, because he can still afford the drugs he needs.
"I think it's a significant cost increase and I would say, most people in this country could not afford that," he said. He tries to help others who have received a recent cancer diagnosis by volunteering with CORE (the Center for Oncology Research and Education).
Recent price hikes for several pharmaceuticals — and prices for some new drugs — have astonished even health care experts. And many people, as Stevens notes, can't handle the increased prices, even if they have some level of drug coverage.
Fairly or not, the "poster person" for the skyrocketing costs is flamboyant New York businessman and financier Martin Shkreli. In 2015, his company, Turing Pharmaceuticals, bought the rights to Daraprim, a longtime HIV drug. He became one of the most reviled men in America for raising the medication's price from $13.50 to $750 a pill and then appearing to dismiss concerns about the effect the increase would have on the public.
Daraprim is used as a co-treatment (perhaps lifesaving) for patients with HIV infections, some cancers and malaria. Some reports suggest it costs about a dollar per pill to manufacture. The price of Daraprim was eventually lowered following a public uproar, but not to the cost that was in effect before Shkreli purchased the company.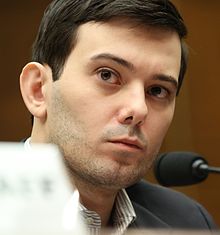 Shkreli is currently on trial for allegedly deceiving investors, and he's still making headlines with controversial comments, but the case is not related to the drug price issue.
In fact, the problem goes far beyond one man. Newsweek in 2015 reported that "buying rights to drugs — older, even generic drugs — and raising their price sharply has been something of a business model for American pharmaceutical companies of late."
The increase in the price of EpiPens is one example.
The U.S. cost of EpiPens (the two-pack) went from a little more than $100 in 2009 to more than $600 by 2016, causing an outcry from concerned parents and teachers.
The EpiPen, made by Mylan, is a lifesaving device containing a pre-set dose of epinephrine, the drug used by people at risk of experiencing anaphylactic shock caused by an allergy attack.
Untreated, this type of shock can be fatal because blood pressure can drop suddenly and airways can narrow, making it difficult to breathe.
Mylan CEO Heather Bresch stated in a December 2016 press release that her company had launched the first generic version of EpiPen at half the former price.
But Bresch continued, "The final retail cost to the patient for EpiPen Auto-Injector and the authorized generic will be dependent upon their insurance and any mark-ups within the supply chain."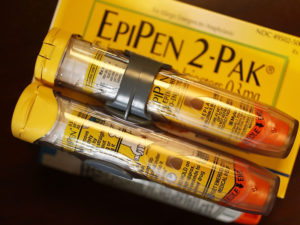 Karen Harris of Cumming, the mother of three children with severe food allergies, told GHN last year that "it's imperative that this medication is within an arm's reach away of any individual who has any type of allergy or known history of anaphylaxis."
"For those individuals who have…allergies — whether it's to latex, insects, food or antibiotics — this medication is lifesaving medication. It's first-line treatment," she said.
The health insurance giant Cigna recently dropped coverage of the branded $600 EpiPens, and drugstore chain CVS started selling a generic epinephrine injector from Lineage Therapeutics, Inc. for $110 [also a two-pack], according to a Reuters Health article in March.
AARP Bulletin recently reported that:
** The cost of Bavencio, a new cancer drug, is about $156,000 a year per patient.
** A new muscular dystrophy drug entered the market last year with a price of $300,000 annually.
** And the FDA last year approved Tecentriq, a new bladder cancer treatment that costs $12,500 a month.
The AARP publication also noted that there was a 208 percent rise in prices for the most popular brand-name drugs from 2008 to 2016.
Time to change the law?
U.S. law prohibits the government from negotiating Medicare prescription drug prices. But some people want that changed.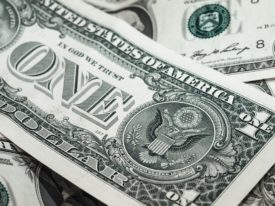 Proponents of such negotiating say it would give the government leverage to lower drug costs. But drug industry officials say such a change would reduce companies' investment in pharmaceutical research and development.
It's a familiar concern: Balancing the need to make drugs affordable against the need to make drug manufacturing a profitable business, ensuring the development of new products.
A Maryland nonprofit organization, Patients for Affordable Drugs, blames pharmaceutical companies for the never-ending high costs, though experts say there's plenty of blame to go around.
David Mitchell, co-founder and president of the organization, says, "Cost increases are particularly burdensome for Medicare recipients."
Mitchell himself bears the expense of weekly chemotherapy sessions that amount to over $2,000 per week. "Once the price is set for Medicare, it ripples down the whole health care system," Mitchell says.
Pharmacy benefit managers who run prescription drug insurance programs make more profit by working off the higher initial price, Mitchell says. "Hospitals and doctors get percentage mark-ups," he says.
"But the rest of us — patients, consumers and taxpayers — get stuck paying the bill," Mitchell says.
Out-of-pocket costs for some specialty drugs under Medicare can run from $4,000 to more than $11,000 per year, while the median income for Medicare beneficiaries is less than $26,200 a year, according Mitchell's nonprofit organization.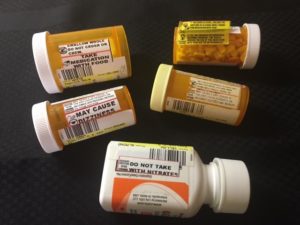 Mitchell says the pharmaceutical industry has spent $2 billion on lobbying in Washington since 2003.
Lowering prescription drug costs has been a goal of congressional leaders on both sides of the aisle.
Sens. Susan Collins (R-Maine) and Claire McCaskill (D-Mo.) aim to streamline the approval process for generic drugs by requiring, for example, that the FDA set a deadline of eight months to approve new generic drugs where there is little competition, the New York Times recently reported.
And in the House, Reps. Gus Bilirakis (R-Fla.) and Kurt Schrader (D-Ore.) have proposed requiring the FDA to work more closely with companies that want to make generic alternatives to drugs for which there is little competition, the Times reported.
The brand-name drug industry points out that patients who struggle with the high cost of prescription medications can look for help in getting medications through the Partnership for Prescription Assistance (PPA).
If a patient qualifies, many pharmaceutical companies offer help with specific medications. But qualifying factors can vary from company to company. The PPA is an information resource and does not directly offer the assistance programs. Patients must apply to a program directly for assistance.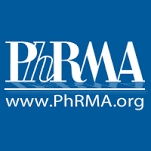 PhRMA, the Pharmaceutical Research and Manufacturers of America, representing the country's leading biopharmaceutical researchers and biotechnology companies, acknowledges the financial burden on some consumers.
"No patient should have to worry about how they will access and afford their medications," said Cailin Carroll, PhRMA's Director of Public Affairs, in a telephone conversation with GHN.
And Stephen J. Ubl, president and CEO of PhRMA, noted in a recent blog that in today's "rapidly changing, personalized medicine, the private market is best positioned to evolve our health care system in a productive direction."
Cornered by illness, debt
Ann, 70, of Fayetteville has such overwhelming drug costs that her husband began working at a warehouse — unloading and handling boxes at age 71 — to help pay the bills.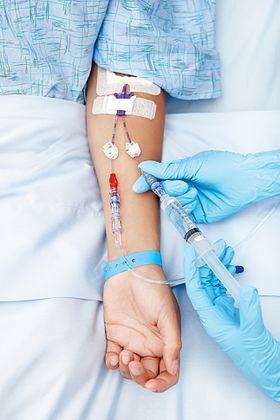 Ann, who asked that only her first name be use for privacy reasons, was diagnosed in late 2016 with ovarian cancer that had spread to her abdominal area and to the outer lining of her lungs.
After calculating her out-of-pocket costs (after Medicare and without Part D to help), Ann's five chemo treatments are already close to $6,000.
Two hospital stays in December 2016 were also very expensive, Ann said. "When those Medicare adjustments were done," she said, "it was still a lot of money that we didn't have."
The couple have had to turn to credit cards to help pay medical bills, but that only puts off the problem.
"Well, I was definitely blindsided" by the illness and the costs, admitted Ann.
While dealing with her illness, she also has to worry about the burden it is placing on her husband. "He can't do this forever … [soon] we may be looking into financial counseling or the possibility of filing for bankruptcy, if he can't work any longer."
Judi Kanne, a registered nurse and freelance writer, combines her nursing and journalism backgrounds to write about public health. She lives in Atlanta.