The national uproar over the soaring cost of EpiPens has ignited fears that lack of access to this lifesaving medication may cause deaths that could have been prevented. But if advocate Karen Harris has her way, no one in Georgia will face this situation.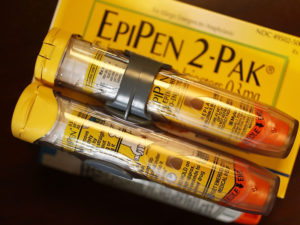 "It's imperative that this medication is within an arm's reach away of any individual who has any type of allergy or known history of anaphylaxis," said Harris, the mother of three children with severe food allergies.
"For those individuals who have any type of allergies — whether it's to latex, insects, food or antibiotics — this medication is lifesaving medication. It's first-line treatment," she said.
In 2007, struggling to make connections with other families like her own, Harris, who lives in Cumming in the northern Atlanta suburbs, founded Food Allergy Kids of Atlanta (FAKA). The group now has members throughout the state, and some of them are well known to Georgia legislators.
Mylan, the company that owns the auto-injectable market, is now under fire for rapid price increases. The price of a two-pack of EpiPens has risen from approximately $100 in 2009 to about $600 now.
Since 2013, the company has lobbied for state and federal legislation to encourage schools, restaurants and other public places to stock EpiPens in case of emergency.
The company set up an incentive plan that provides schools with one free set of EpiPenJunior and one of regular EpiPens, with discounts for future purchases. According to a Sept. 16 report in the New York Times, Mylan's effort also includes donations to political candidates and to advocacy groups. (Here's a USA Today story on how Mylan has promoted its products for schools.)
Georgia's Emergency Epinephrine Act was introduced by Sen. Chuck Hufstetler (R-Rome), backed by Harris' advocacy group, and signed into law by Gov. Nathan Deal in 2013.
That same year, Mylan's political action committee donated $1,000 to Hufstetler and an equal amount to Deal and Lt. Gov. Casey Cagle, among its numerous other political donations. Harris said Mylan has not donated to FAKA.
Although the Georgia law does not require that schools stock EpiPens for emergency use, it encourages this and authorizes a physician, advanced practice nurse or physician assistant to write a prescription in the name of a public or private school. Some states mandate that schools carry epinephrine.
The idea is that a trained employee can administer emergency treatment if a student appears to be having a life-threatening allergic reaction. The law also has a good Samaritan provision, protecting anyone who uses the medication in good faith.
"We want people to not have any fear of using this drug in a life-or-death situation," said Hufstetler, a trained anesthetist, who added he is confident that epinephrine is a safe, easily administered drug.
Georgia was one of the first states to pass a law allowing emergency use of epinephrine in schools. The move came in 2011 after two young people — one teen and one college student — died in the same week from food allergies.
[youtube]https://youtu.be/gYSiFsvUEnk[/youtube]"Unfortunately, it's too common that we see bills being passed only after something detrimental has happened," Harris said.
The state doesn't monitor use or distribution of the drug, but a Mylan spokesperson said 1,475 Georgia schools have begun stocking EpiPens since the 2013 law passed.
In May 2015, Hufstetler teamed with state Sen. Nan Orrock of Atlanta to sponsor a second EpiPen bill, allowing health professionals to issue EpiPen prescriptions to a long list of public entities, including colleges, airports, churches, restaurants and sports arenas, once they have registered with the state. Neither received donations from Mylan during that year, and the bill is now law.

So far, only 12 non-school organizations have registered for prescriptions, according to Georgia Department of Public Health records. There's no discount program for restaurants, airports, sports arenas and the like.
"Even though they are voluntary, we are seeing the bills finally start to progress, and more counties and school systems are starting to implement them," Harris said.
Concerns about future costs, staff training, and possible liability keep some school systems from signing up for Mylan's incentive program, EpiPens4Schools. There are other barriers at the community level, where some believe that certain private businesses, such as restaurants, are being unfairly singled out as high-risk.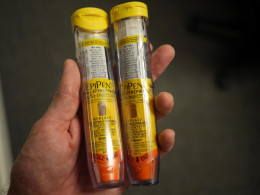 Others are concerned that keeping EpiPens in schools and public places will encourage lax parents to sidestep responsibility for their own children's medical needs.
"We definitely don't want parents to depend on the . . . [school-stocked] epinephrine, that's not what they're for," Harris said. While parents should equip their own at-risk children, she said, the school devices are back-ups. "They're for that first-time reaction, or in case there's not one available, or there's a malfunction in the device."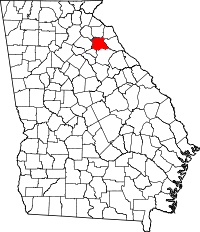 Mylan reached out to the Madison County School District after Georgia's school law was passed, according to Donna Perry, school nurse at Danielsville Elementary and lead nurse for the school district. They got the pens.
"We think it's very helpful, and will eventually save some lives," she said, adding that the school system could not afford the pens without the Mylan program. In rural settings like Madison County, quick access to epinephrine can be a lifesaver when hospitals are far away.
Perry trained 25 teachers and other school employees how to uncap an EpiPen and stick it into the outer thigh of a child in the grip of anaphylaxis. Even more important, she says, is preventing exposure to allergens in the first place.
"If a kid has a severe allergy, we are very aware of that. The parent lets us know, and whoever is in charge of that kid has a plan," she said
"Prevention is the number one thing if we know that a child has a life-threatening allergy."
Elizabeth Fite graduated from Auburn University in 2012 with bachelor's degrees in journalism and English literature, and she is currently pursing a master's degree in health and medical journalism from the University of Georgia. Formerly, she was a reporter for the Auburn Plainsman in Auburn, and the Aiken Standard in Aiken, S.C.