By Eric Berger and Andy Miller
Georgia's Covid vaccination rate among nursing home employees is just above the national average of 81 percent, according to federal data.
Those vaccination figures have become more important after the U.S. Supreme Court's decision Jan. 13 upholding a federal mandate requiring health care workers at facilities that receive Medicaid or Medicare funding to be fully vaccinated.
If all staffers — excluding those with approved religious or medical exemptions — are not fully vaccinated, a facility will lose the revenue from the two programs, a Kaiser Health News report noted.
Health care facilities in Georgia and other states that challenged the federal requirement have until March 15 for their staffs to be fully vaccinated, according to the U.S. Centers for Medicare & Medicaid Services. Facilities in states that didn't sue to block the mandate have a Feb. 28 deadline.
In Georgia, 82.9 percent of nursing home employees have been fully vaccinated against Covid as of Jan. 9, the KHN report said.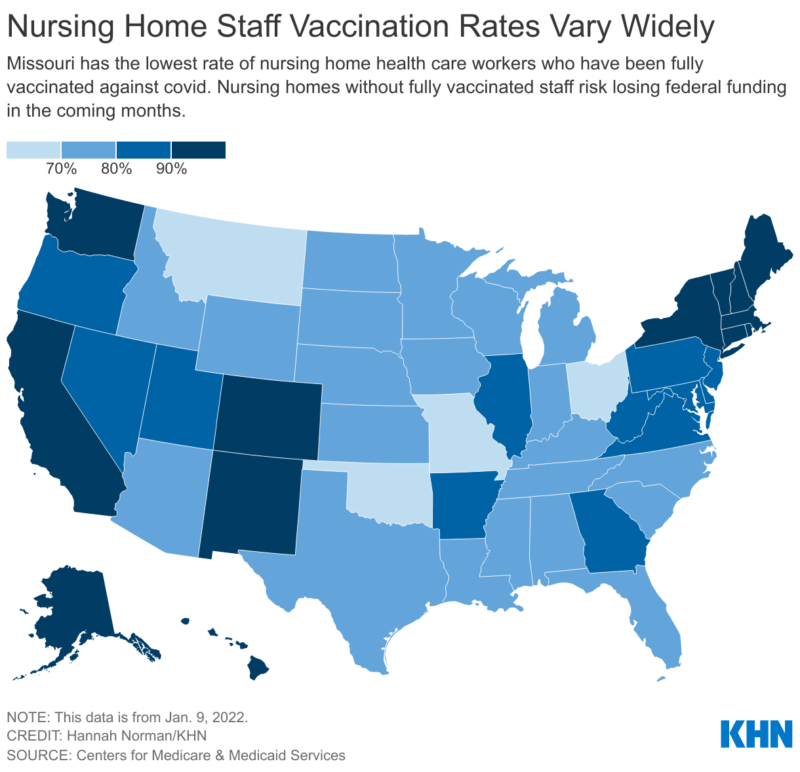 Although the mandate ensures that unvaccinated staffers are not caring for some of the people most vulnerable to the virus, a major problem remains: Few workers are willing to take the low-paying, challenging jobs in nursing homes.
If more such workers quit to avoid getting shots or are fired because they won't get them, nursing home residents might not be any safer — because of lack of care.
But the Georgia Health Care Association, which represents nursing homes in the state, said it has not seen a noticeable impact on staffing related to the vaccine mandate.
"Staffing is an issue in virtually every congregate living environment, and it's been even more challenging during the pandemic. but we have not seen any indication that it's worse because of a vaccine mandate," said association spokeswoman Devon Barill.
The staffing crunch is spread across the nation.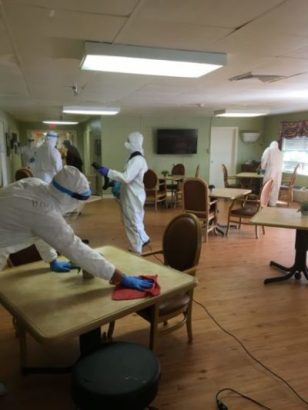 In March 2020, 3.3 million people were employed at U.S. nursing homes and residential care facilities, according to the Bureau of Labor Statistics. In December 2021, that number had dropped to 2.9 million, a loss of 400,000 workers.
Nursing home operators can't find enough staffers because they often don't pay much, KHN reported. And the homes require employees to take on a slew of responsibilities, including feeding residents, changing adult diapers, and caring for people who have dementia and may be uncooperative or even combative.
Nursing assistants "can typically find a job with better pay that is less physically and emotionally demanding," said Brian McGarry, a University of Rochester professor who studies long-term care. "Somebody's life and dignity is in your hands, and it's a huge responsibility, and you are not getting paid commensurate with that responsibility."
Low vaccination levels among staffers place residents at greater risk, according to a recent analysis in The New England Journal of Medicine.
Facilities in high-Covid counties with an average staff vaccination rate of approximately 30% had nearly three times as many Covid deaths among residents as facilities where about 82% of employees were vaccinated, KHN reported.
"An unvaccinated or low-vaccinated staff, I think, pretty clearly puts residents at risk — even if they [residents] are vaccinated," said McGarry, one of the analysis's authors.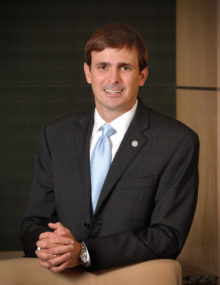 Last year, PruittHealth, a large Southern nursing home chain that operates more than 50 such facilities in Georgia, set an October deadline for employees to have received at least an initial dose of vaccine.
"As of today, more than 94% of PruittHealth's employed partners are fully vaccinated,'' said company spokeswoman Tonja Bridges on Tuesday. The remainder are new employees or those who are approved for medical or religious exemptions, she added.
"We are highly encouraging staff to get the COVID-19 booster as soon as they are eligible," she said.
The AJC reported last week that a federal program that sent in workers from CVS and Walgreens to vaccinate Georgia nursing home residents with primary doses does not exist for boosters. National Guard troops mobilized by the governor's office for the first waves have gone to hospitals during the Omicron wave, but not nursing homes, said Tony Marshall, the CEO of the Georgia Health Care Association
PruittHealth, meanwhile, has seen a major impact from Covid among its staff.
Last week, Neil Pruitt, CEO of the company, told the AJC that "in my entire career, I've never seen the staffing crisis as acute as it is today,'' with hundreds of workers out sick with Covid.
Eric Berger is a Kaiser Health News journalist. KHN data editor Holly K. Hacker contributed to this report.