Georgia officials say they're still working toward a July 1 launch of the waiver plan to add more people to the state's Medicaid program, despite a harsh initial assessment by the Biden administration.
The conflict with the feds involves the eligibility requirements that Georgia proposed and that the Trump administration approved. President Joe Biden, who took office in January, and his fellow Democrats have sharply different views on Medicaid than do former President Donald Trump and many Republicans.
Georgia's waiver says that to get Medicaid coverage, a low-income adult is required to put 80 hours a month into a job, an education program, a volunteer organization or another qualifying activity. It is strongly backed by Gov. Brian Kemp, who has called it "a 'hand up' for hard-working Georgians in our state who are more than deserving.''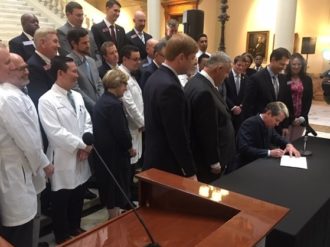 A February letter from the federal Centers for Medicare and Medicaid Services (CMS) criticized Georgia's policies "that condition health care coverage on meeting work or other community engagement requirements.''
The Kemp administration fired back at the CMS letter, appealing the new federal position. The Georgia letter said the waiver's possible revocation by the Biden administration would be "an arbitrary and unlawful bait-and-switch,'' and would prompt a state challenge in court.
Other states with approved work requirements got similar federal letters. Later, CMS sent letters notifying Arkansas, Michigan, New Hampshire, and Wisconsin of its final decision to withdraw work requirement waiver authorities in those states, according to the Kaiser Family Foundation.
"None of these work requirements have passed muster in the courts,'' said Bill Custer, a health insurance expert at Georgia State University. "The courts have said these violate the original purpose of Medicaid."
A CMS spokesperson told GHN on Thursday that the agency is still reviewing the Georgia plan.
The Georgia Department of Community Health, which runs Medicaid here, said Wednesday that it is "still progressing toward implementing Georgia Pathways to Coverage,'' the Medicaid waiver plan that is expected eventually to cover 50,000 people.
The launch is less than a month away. Kemp health care adviser Ryan Loke told the AJC that the governor's administration has discussed the waiver issues with federal health officials.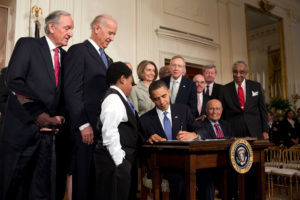 And CMS sent Georgia officials another letter Thursday raising doubts about a key part of a second Georgia waiver: eliminating the health insurance portal healthcare.gov in favor of a privately run set-up.
Using waiver applications, states seek federal permission to make changes in certain health care programs. But as the Georgia situation indicates, getting and keeping federal approval can depend on which presidential administration is in power.
The waiver drama comes as the federal government dangles new incentives for states to pursue a much larger enrollment increase in Medicaid through a standard expansion of the program as called for under the Affordable Care Act, something most states have done already. Georgia is one of 12 states that have decided against that expansion, with Republican political leaders citing the cost involved.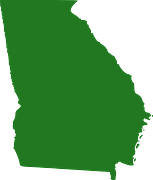 Medicaid expansion is an idea clearly endorsed by the Biden administration. Under a COVID-19 relief law, the federal government has increased incentives for the 12 holdout states to pursue a regular Medicaid expansion.
A standard expansion would give Medicaid eligibility to 480,000 to 600,000 people in the state, according to the consumer group Georgians for a Healthy Future. It's paid for with 90 percent federal funds, higher than the rest of the Medicaid program, which in Georgia is 67 percent federally funded.
States that expand the program at this point, though, would receive an additional 5 percentage-point increase in their regular federal Medicaid matching rate for two years.
So over that time, even factoring in the costs of implementing expansion, Georgia would net $700 million under the new incentives, according to the Kaiser Family Foundation.
Medicaid currently provides health coverage to low-income and disabled residents, including about 2 million in Georgia.
Will the state fight?
If the feds reject the waiver requirements, the Kemp administration's choices include dropping the whole plan, or battling the feds over the proposal in the courts, experts say.
Another choice would entail jettisoning the work and other requirements altogether, a move that likely would gain CMS approval. That would mean the waiver would cover many more adults – perhaps as many as 300,000 people, much higher than the 50,000 envisioned under the original waiver plan. That would have a big impact on the state budget, increasing Georgia's costs.
And yet another alternative – and also costly – would be to fund this coverage without federal funding at all, running it as entirely a state program.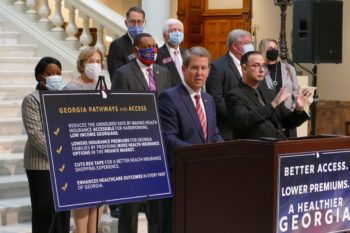 "If the governor is feeling an urgency to act and get Georgians covered, the quickest and easiest way to do that would be through Medicaid expansion,'' said Laura Colbert of Georgians for a Healthy Future.
"Any attempt to implement the Pathways waiver without an official thumbs-up from CMS could put Georgia on the hook for 100 percent of the costs. That would add up quickly, likely outstripping the costs of Medicaid expansion while covering many, many fewer Georgians."
Reinsurance plan will be spared
The Thursday letter from the feds indicated that Georgia's proposed insurance waiver has one provision that will almost certainly get continued approval
That's a "reinsurance'' program that state officials estimate will cut insurance premiums for individual coverage by an average of 10 percent. Reinsurance aims to stabilize health insurance premiums by capping the cost that insurers incur in covering people with high medical costs.
The reinsurance provision has been embraced by both supporters and opponents of the Affordable Care Act.
But the new CMS letter showed concern over the state plan to replace the healthcare.gov enrollment system with a new online platform that people will use to sign up for insurance coverage. Under the paln, individuals would enroll directly through insurers, local brokers or agents, or through private-sector broker sites.
The Kemp administration says the 1332 Access waiver will help promote competition among insurance companies, reduce premiums and streamline enrollment for coverage.
But the letter from Chiquita Brooks-LaSure, the CMS administrator, said the state platform would be funded "by uncertain and unquantified private sector efforts, not by the state.''
She added that the regular insurance exchange, with enhanced subsidies and an extended enrollment window, is working well nationally and in Georgia. In Georgia, healthcare.gov brought in more than 67,000 new enrollees in the first 10 weeks of the special enrollment period, more than three times the number from the year before.
Laura Harker, senior health policy analyst with the Georgia Budget and Policy Institute, said Friday that "the state's proposal to take away the most popular option for selecting a health plan—healthcare.gov—could exacerbate our state's already high rates of uninsured Georgians and inadequate health care infrastructure. This letter from CMS is a step in the right direction to ensure no one loses access to care. The state plan is not clear on how much the private sector would invest in targeted outreach to get more people enrolled or how to ensure enrollees are not steered toward short-term or non-ACA-compliant plans that cover fewer services."
The feds are asking Georgia for updated actuarial analysis by July 3 for the Georgia enrollment model, which is scheduled to debut in 2023.
Cody Hall, a spokesman for Kemp, said Friday that the state is reviewing the new CMS letter.