A CDC study of COVID cases in Marietta City Schools, whose results were published Monday, found that educators played a major role in recent school outbreaks there.
The researchers concluded that vaccinations of teachers, along with school mitigation measures, "is a critical component of preventing in-school transmission.''
Vaccination of teachers has become a high-profile topic in Georgia.
Most states have begun vaccinating educators against COVID-19, while Georgia has not done so. But Gov. Brian Kemp said last week that the state is finalizing plans to expand its list of people eligible for the shots, and his subsequent remarks focused on educators, suggesting they may be next in line.
Grant Rivera, the superintendent of Marietta City Schools, and listed as a co-author of the study, said Monday that he volunteered his school system after the CDC expressed a desire to work with a district close to its Atlanta headquarters.
Many of the COVID cases studied in Marietta elementary schools were linked to educators, Rivera said. Preventing adult-to-adult transmission, and adult-to-student transmission, is critically important to keeping schools safe, he said.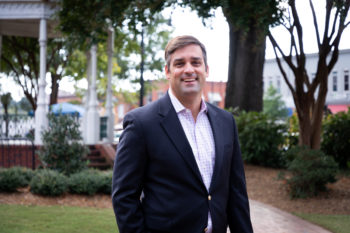 The researchers found that nine clusters of three or more epidemiologically linked COVID-19 cases were identified involving 13 educators and 32 students at six of the eight elementary schools in the school district.
Two clusters involved probable educator-to-educator transmission that was followed by educator-to-student transmission and "resulted in approximately one half (15 of 31) of school-associated cases,'' the study reported.
The CDC recently issued guidance on whether schools should reopen and how far they should go toward resuming normal operations. The Atlanta-based public health agency identified "essential elements" of reopening that include social distancing, universal masking and some testing. Vaccinating teachers was not among those necessary steps outlined by the agency.
Rivera said he respects the CDC's position, given the limited supply of COVID-19 vaccines.
But he added that "as a superintendent, I think the data is clear: Our schools are safer when our educators are vaccinated.''
The city of Marietta is in Cobb County but has its own school district. The Cobb County School District, which runs the schools in the rest of the county, has seen three educators die of COVID, prompting major protests by teachers. Rivera said Marietta has had no such educator deaths.
Students follow masking rules
The CDC brought infectious disease experts to the Marietta school district during the research period, which occurred from Dec. 1, 2020, to Jan. 22 of this year.
Unlike many school districts in Georgia, Marietta required students to wear masks. "Both reported and observed compliance during site visits was high,'' the CDC study said. "However, information obtained during interviews indicated that specific instances involving lack of or inadequate mask use by students likely contributed to spread in five clusters.''
"Educators were central to in-school transmission networks,'' the report concluded. "Although not required for reopening schools, COVID-19 vaccination should be considered as an additional mitigation measure to be added when available.''
Rivera, the superintendent, said the Marietta system has not had to close its schools since reopening last fall. He credited contact tracing, COVID testing and hiring additional staff for the continuous in-classroom learning.
The research study, he said, has led the school system to have educators avoid eating together; hold virtual meetings; clear space in teacher workrooms; and move copiers to more open rooms.
In classrooms, school officials removed non-essential furniture and maximized open space, to keep people from being crowded together. "Disease investigators walked the classrooms,'' Rivera said.
It's difficult to say that these measures have lowered infections because of the community surge in COVID cases occurring in January, he added.
"I believe that masks matter,'' he said. "Our students generally are extremely compliant."
Asked to comment on the study, Dr. Harry Heiman, a public health expert at Georgia State University, said "the challenge, in my view, is recognizing that there is a wide gap between the required conditions for school to be safe and the current reality in schools, both across Georgia and nationally.''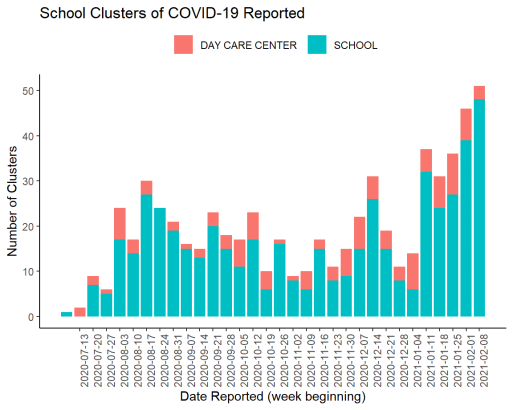 The CDC maintains that if appropriate policies and measures are in place — mandatory masking, social distancing, sanitation practices and contact tracing — schools, especially elementary schools, are at relatively low risk, Heiman said.
"What this study shows, however, is that there can still be significant clusters of cases — seemingly spread from educators to students — in the context of imperfect mask-wearing compliance and inadequate social distancing.''
"This, in my view, represents the real world of bringing children back for in-person instruction,'' Heiman said. "The study notes the importance of vaccinating teachers and other school staff.''
Georgia has seen an increase in the number of clusters of COVID-19 associated with schools and day care centers, Amber Schmidtke of the Daily Digest reported Monday.
And the president of the Georgia Association of Educators, Lisa Morgan, said the study "sadly confirms what GAE has been saying all along with regard to in-person instruction in our public schools. The study showed that unless the CDC guidelines and mitigation strategies are followed and enforced to the letter, the incidence of spread among all categories – child to child, child to educator, educator to educator, and all categories to family members — will definitely still occur.''