Gov. Brian Kemp said Monday that as COVID-19 vaccine doses begin to be distributed, Georgia's long-term care facilities should be among the first in line to get them.
Kemp said that if federal approvals of vaccines come as expected, the shots should begin arriving the second or third week of December.
The governor, speaking to a roundtable of industry leaders, added that more than 95 percent of nursing homes here have joined a partnership with CVS and Walgreens for on-site vaccination services for the homes' residents.
Experts have proposed giving the vaccine to health workers first. The Advisory Committee on Immunization Practices, a group established by the Atlanta-based CDC, is expected to meet Tuesday to recommend whom to vaccinate and when.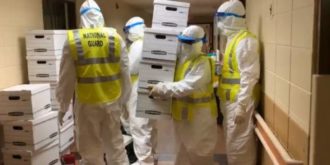 National long-term care groups urged Monday that residents and staffers of their facilities be given top priority for distribution of COVID-19 vaccines.
"Government reports correctly identified all long-term care residents and staff for priority distribution of COVID-19 vaccines,'' said the American Health Care Association and National Center for Assisted Living, LeadingAge, Argentum and the American Seniors Housing Association in a joint statement. "It is critical that policymakers at all levels maintain that position as these products come online and are delivered across the country.''
"Vulnerable older adults and the frontline workers who protect them deserve the full support of the public health sector,'' the statement said. "Ensuring residents and staff in all long-term care and senior living settings are among the first to receive a COVID-19 vaccine will help limit the spread of this deadly virus and prevent further tragedies.''
An industry leader in Georgia said that states will be given flexibility by the CDC on determining their vaccine distribution. "They're allowing each state to establish their own prioritization," said Tony Marshall, CEO of the Georgia Health Care Association.
Some 30 million to 40 million doses may be available to be distributed by the end of the year, said Dr. Carlos del Rio, an Emory University infectious disease expert. He said he expects wide vaccine distribution to the public to come next summer.
COVID vaccine development has been "an unprecedented success,'' del Rio told reporters Monday.
Vulnerability in long-term care
Residents of Georgia nursing homes and other long-term facilities have accounted for about one-third of Georgia's COVID-19 deaths.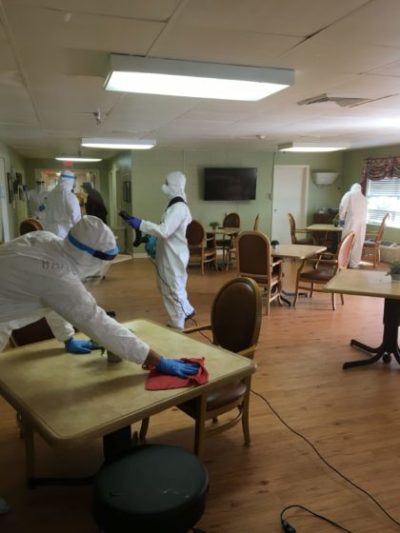 That's a lower percentage than other states are reporting, but the Georgia numbers don't include staffers at these facilities. Nationally, residents and staff members of long-term care facilities make up about 40 percent of COVID-19 fatalities, according to a recent report from the Kaiser Family Foundation.
COVID-19 had claimed the lives of more than 100,000 long-term care facility residents and staffers as of the last week in November, the Kaiser Foundation said.
"COVID has struck the long-term care industry harder than any other industry, and I know the toll, both physically and mentally on your caregivers, staff, and residents has been tremendous,'' Kemp said in prepared remarks.
The state has committed more than $46 million in funds throughout the pandemic to support additional staffing in more than 160 nursing homes through the end of the year, Kemp said. (Here's a GHN story about a company supplying temp workers under a state contract.)
Filling staff positions has been a huge challenge for nursing homes, industry leaders told Kemp on Monday.
"We lost a lot of staff,'' said Mark Todd, president and CEO of Americus-based Magnolia Manor, which operates several facilities. Many staff have been afraid of getting infected by the virus. "There's a fatigue with our staff right now. People have worked extra shifts.''
More than 9,400 staffers at nursing homes, assisted living facilities and large personal care homes in Georgia have tested positive for COVID during the pandemic.
The AJC recently reported that Georgia ranked 43rd nationally for average hands-on care staffing at its nursing homes during the second quarter of 2020, according to a new report by the Long Term Care Community Coalition. The state ranked even lower — 48th — for hands-on RN staffing, according to the report.
Research conducted in California found that nursing homes that weren't staffed with the recommended numbers of nurses were more likely to have COVID-19 outbreaks, Charlene Harrington, one of the nation's top experts on long-term care, told the AJC's Carrie Teegardin.
Marshall, of the Georgia Health Care Association, told GHN that the state has helped ease the staff shortages by creating a temporary nurse aide program that has brought thousands of new employees into long-term care facilities.
The industry has seen labor and supply costs rise at the same time that nursing home occupancy has dropped, Marshall added. "That loss of revenue will not come back quickly."