Thanks to a $200 million donation, the new hospital being built by Children's Healthcare of Atlanta will be named the Arthur M. Blank Hospital.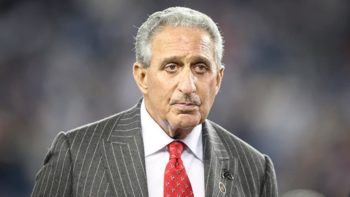 The naming gift for the $1.5 billion Brookhaven project came from the Arthur M. Blank Family Foundation. Blank, a co-founder of Home Depot, is the owner of the Atlanta Falcons.
It's the single largest naming gift to a freestanding pediatric hospital, Children's said Monday.
The 19-story hospital is the largest health care project in state history, and is expected to open its doors in 2025. Employee support buildings and the Center for Advanced Pediatrics have already opened on the 78-acre campus, located along I-85.
"It's a great honor for me and my family to be connected to Children's, and a great honor for us to be connected to a system that has dealt with research, illness and disease for the most precious commodities that we have in the world, our children," Blank said in a statement. "Children's is one of the greatest pediatric hospitals in the United States. The work they are doing right here in our backyard will make a difference forever, and that's very meaningful to me, my family and our associates."
The project features additional beds and expanded services that will allow Children's to relocate from Egleston Children's Hospital, on Clifton Road in Atlanta, to the North Druid Hills property in Brookhaven.
It will continue the nonprofit organization's dominance in pediatric care in the region.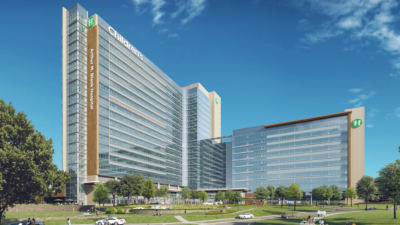 Health system officials said that visits to Children's, including Egleston, are increasing faster than overall population growth, causing the need for additional beds.
The new 446-bed hospital will feature several family-friendly features. It will have larger single-patient rooms, meeting modern standards of care for pediatric hospitals, and will allow for families to stay overnight with their children more comfortably.
More than 75 percent of rooms for patients will have views of the garden, and the campus will feature 20 acres of greenspace and walking trails. Other amenities include family kitchens, business centers, shower facilities and laundry rooms, playgrounds, libraries and school-support spaces.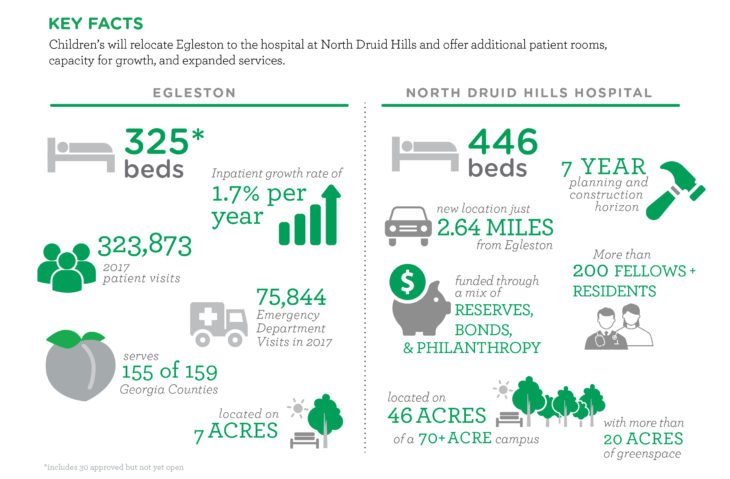 Attached to the hospital will be an 11-story medical office building that will house outpatient clinics, a high-tech simulation center and medical conference space.
"As the largest and only freestanding pediatric health care system in Georgia, it's our responsibility to serve both current and future generations of children," said Donna Hyland, CEO of Children's, in a statement.
"Today's milestone marks an important step in making this hospital a reality, which will ensure we can meet the growing patient demand, bring hope to families and provide access to the unique specialized care offered by Children's,'' Hyland said. "We are beyond grateful to Arthur and his family foundation for this generous donation to help our mission grow and inspire others to give to Children's."
The Arthur M. Blank Hospital will be designated as a dedicated Level 1 pediatric trauma center, the only one in Georgia.
After the construction of the new hospital is complete, Children's will no longer operate an inpatient facility at Egleston.
Blank, through the foundation and his family's personal philanthropy, has given more than $600 million to various charitable organizations.