The surge of COVID cases among college students has surfaced again, this time at the University of Georgia.
University officials Wednesday reported hundreds of new cases of COVID-19 in the first week of classes in Athens.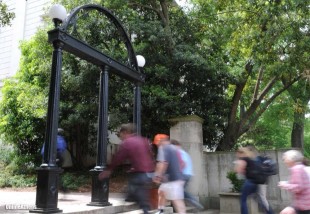 Officials said a total of 821 positive tests for the virus were reported through the University's DawgCheck reporting system for the period of August 24-30. Of those, 798 were students, 19 were staff members, and four were faculty members.
More than 1,800 asymptomatic students, faculty and staff were tested, and a total of 97 were positive. Of these, 95 were students, one was a faculty member, and one was a staff member, UGA said.
The UGA case count comes as colleges around the country are reporting thousands of students infected. Several schools, including the University of North Carolina at Chapel Hill and Notre Dame, have suspended in-person classes after major outbreaks.
The top 10 metro areas for highest rates of new COVID-19 cases over the past two weeks feature all college towns – including Statesboro, where Georgia Southern University is located, and Milledgeville, home to Georgia College. (Here's a GHN article on the two colleges.)
Dr. Mark Ebell, a public health professor at UGA, called the new COVID-19 numbers on campus "very concerning.''
Based on the asymptomatic testing, he estimates that about 2,400 students are infected but not exhibiting symptoms.
"The chance that one or more students is infectious in a class of 10 is now almost 50 percent,'' Ebell told GHN. "How we can remain open with thousands of actively infectious students is beyond me. Also, these data are now five to nine days old."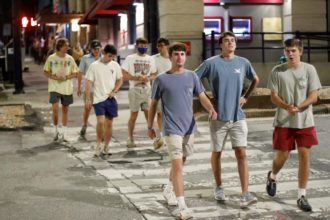 UGA also announced Wednesday that it has set aside nearly 300 rooms on campus and is supplementing those with hundreds more in the local community where students may stay in isolation or quarantine if they are showing COVID-19 symptoms, have tested positive, or have come in close contact with someone who has contracted the disease.
The University of Georgia community has nearly 50,000 students, faculty and staff.
UGA President Jere W. Morehead issued a statement to students via UGA's Twitter account:
"The rise in positive tests last week is concerning. It is critically important that all of our students continue to make every effort to prioritize their health and safety by taking the proper steps to avoid exposure to this virus. I urge you: continue to wear your masks, maintain your distance from others, make wise decisions, and stay away from social venues where appropriate distancing is impossible to maintain. Resist the temptation to organize or attend a large social gathering."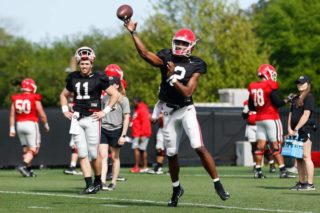 And Morehead warned those people heading out of town over the Labor Day weekend to be "very careful and think about the health of everyone around you. All of us must take our responsibilities very seriously as we seek to reduce the spread of COVID-19."
Also at UGA, graduate transfer quarterback Jamie Newman has opted out of playing the 2020 season, citing fears over COVID-19. Several top football players at other schools, including LSU, have also opted out.
Surveillance testing under way
Dr. Harry Heiman, a public health expert at Georgia State University, told the Georgia Recorder that there is no standardization of testing and reporting of COVID-19 cases across the University System of Georgia's colleges and universities.
"So while you would hope that there would be some state-level leadership around creating guidance in uniform testing and reporting, in fact, it's been kind of kind of like every other aspect of how we've managed this pandemic at the state level, every institution for themselves," Heiman said.
A Georgia Southern epidemiology professor, Isaac Chun-Hai Fung, told GHN on Monday that many universities, including his, lack the resources to test students who aren't showing COVID-19 symptoms.
The University System of Georgia has directed institutions "to provide information they feel is most appropriate for their campus community" while adhering to privacy laws, said USG spokesman Aaron Diamante.
Georgia State University and Georgia Tech, along with the University of Georgia, are performing surveillance testing. That means some students without symptoms are being asked to get tested for the coronavirus, to help determine the level of infections on the campus as a whole.
Georgia State, for example, is selecting about 300 students per week to be tested and using the results to determine the likely spread, Heiman said.
Georgia Tech reported 544 COVID cases among the student body and the staff in August, with another 14 students reported infected on Tuesday, according to a university website.
In the past week, four Georgia Tech athletes tested positive for COVID-19, perhaps an indication of the increasing challenges of keeping Yellow Jackets athletes away from the virus on campus, the AJC reported. The four positive tests were reported, in addition to three positive tests from the previous week that had not initially been reported.
"There's this narrative that, well, it's college students and they're young and healthy, and it's rare for them to end up sick in the hospital, so if a few college kids get sick, it's not a big deal,'' Heiman said, according to the Georgia Recorder. "But the reality is, what we're seeing is outbreaks in fraternities, outbreaks in residential settings, and what happens when they send them home to isolate? They're with their family, including older people and family elders, who were at greater risk."
Campus workers are also at a higher risk, Heiman said.