This article was jointly reported by Brenda Goodman of WebMD and Andy Miller of Georgia Health News
Story updated
Recent air testing in neighborhoods around a medical equipment sterilization facility in suburban Atlanta has detected significantly more cancer-causing ethylene oxide gas than when the plant was not operating last fall.
The new, higher levels have come even though Sterigenics, the company that runs the south Cobb County plant, has installed new pollution control equipment — including a negative pressure system aimed at capturing stray ethylene oxide before it leaks into the outdoor air.
Two different sets of tests show the rise in levels of ethylene oxide — a toxic gas that the facility uses to sterilize medical supplies — since the plant reopened in April after having been closed since August 2019.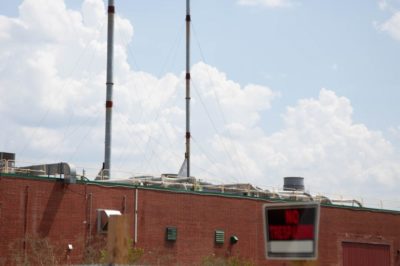 One set of tests comes from sampling by the private company GHD, hired by a coalition of governments to conduct independent testing on behalf of area residents. The other comes from regular air monitoring by the Georgia Environmental Protection Division (EPD).
The GHD testing shows that average ethylene oxide levels sampled across the areas of Cobb and Fulton counties that are near the plant have increased by more than 900 percent since last September, when the Sterigenics facility was closed. The levels jumped from an average of .19 micrograms per cubic meter of air to 1.97 micrograms per cubic meter of air in July.
GHD reported that some samples were tainted by another chemical, which caused some ethylene oxide readings to be falsely elevated. But the increases remain even after discarding results from samples the company flagged as skewed by the interference.
After reviewing the GHD results, local residents opposed to the Sterigenics plant say it's clear that the levels of the toxic gas are higher when the plant is operating. "The plant is open now, and every sample they took had a lot of ethylene oxide,'' said Tony Adams of Stop Sterigenics Georgia, who lives near the facility.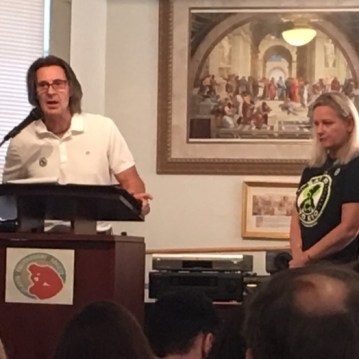 The EPD's testing, which started last September, shows a more modest increase. Average and midpoint levels of ethylene oxide (also known as EtO) in the state's testing have roughly doubled since Sterigenics reopened in April compared to levels measured when the facility was shut down. They rose from about .3 micrograms per cubic meter to about .6 micrograms per cubic meter of air.
Ethylene oxide moves with the wind. When wind direction data is overlaid onto the EPD's results, ethylene oxide levels measured downwind of the Sterigenics site can be as much as 10 times higher than upwind measurements, pointing to Sterigenics as the source of the gas, according to an analysis of the figures. Wind direction doesn't seem to have any influence on the results measured by GHD, however.
Outraged residents demanded independent testing after state air regulators failed to alert them to unsafe levels of the toxic gas in several neighborhoods around the Sterigenics facility, which uses ethylene oxide to sterilize single-use medical devices and other products.
WebMD and Georgia Health News first reported the dangerous levels of EtO in Georgia last year, citing a federal analysis that found 109 census tracts across the country where cancer risks were elevated because of exposure to airborne toxins. Most of the risks were driven by just one chemical: ethylene oxide.
Georgia had three affected census tracts, all in metro Atlanta — two near the Sterigenics plant, and one in Covington, near a sterilizing plant run by the company BD.
The ethylene oxide controversy led to state regulatory scrutiny, legislation in the Georgia General Assembly, and a recent flurry of litigation.
In the court cases:
** Sterigenics sued Cobb County in late March, accusing officials of blocking the plant's reopening over requirements for safety upgrades. A federal court ruling allowed Sterigenics to resume operations until the court case is resolved.
** Warehouse workers in May sued Sterigenics and ConMed, a company that has a Lithia Springs warehouse where sterilized equipment is stored, over alleged exposure to EtO and health effects at the Lithia Springs facility. Sterigenics has strongly disputed the allegations.
** Sterigenics filed a lawsuit against Cobb's Board of Tax Assessors, which, citing air quality concerns, approved a 10 percent reduction on residential property valuations within a two-mile radius of the facility. The reduction affects more than 5,000 homes.
** In a series of lawsuits, people with health problems have sued Sterigenics and BD, alleging those problems were linked to ethylene oxide exposure. A spokesman for Sterigenics said that the company "empathizes with anyone battling cancer, but our Atlanta facility's safe operations are not responsible for causing the illnesses alleged in these lawsuits. We intend to vigorously defend against the plaintiffs' unfounded claims."
In a recent statement, BD said it does not comment on pending litigation. The company, though, added that recently measured concentrations of ethylene oxide in metro Atlanta suggest that "those who live in communities with sterilization facilities are exposed to similar amounts of EtO as those who do not live near the facilities, because of other sources of EtO, including naturally occurring sources."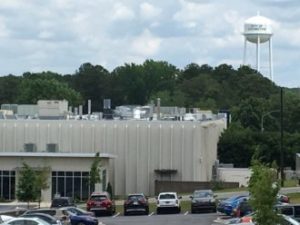 Standard of risk
GHD, in a recent public presentation, said its air testing results showed levels that weren't harmful, and weren't conclusively determined to be coming from Sterigenics.
Dyron Hamlin, a chemical engineer with GHD who supervised the testing, told the Air-Quality Oversight Committee that the levels found were consistent with background concentrations of the chemical. The term "background" refers to the amount that may be naturally occurring or come from widespread human activities rather than a specific source.
Hamlin said the levels of ethylene oxide the company measured were similar to levels it has seen in "areas associated with high vehicle traffic." He added that "there are other potential causes for those high background levels."
The company gauged its results against a risk value set by the Texas Commission on Environmental Quality (TCEQ).
That panel's draft standard, released last June, is 3,500 times weaker than the standard developed by the U.S. Environmental Protection Agency (EPA). The minutes of a meeting of the Ethylene Oxide Sterilization Association suggest that the Texas risk value was heavily influenced by the chemical industry, according to The Chicago Tribune and The Intercept.
TCEQ's final standard, released in May 2020, is even less protective. It sets a long-term safety threshold of 2.4 parts per billion, or about 4 micrograms per cubic meter of air. The draft threshold was 1 part per billion.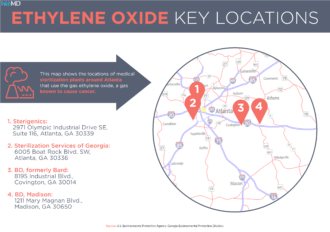 Industry groups and companies that produce and use ethylene oxide have spent millions of dollars lobbying the Trump administration to reject the current federal risk value and instead adopt the Texas risk value as its safety standard.
GHD did not respond to multiple requests for comment about its testing results.
The EPA says the long-term exposure to any ethylene oxide higher than .02 micrograms per cubic meter of air presents an unacceptable health risk. At that level, exposure over a lifetime may cause as many as 100 cases of cancer for every 1 million people exposed, according to government risk analyses for the gas, which has been linked to the development of blood and breast cancers.
Average levels measured by GHD are about 100 times higher than the benchmark level of 0.02 since Sterigenics reopened the sterilizing plant in April. Average levels measured by the state EPD are about 30 times higher than the federal EPA's threshold level.
In the past, Sterigenics has denied that sterilizing equipment by means of ethylene oxide is causing a problem, and the company has suggested that exhaust from traffic and other background sources such as cigarette smoke may be significant contributors to the presence of the toxic chemical in the air.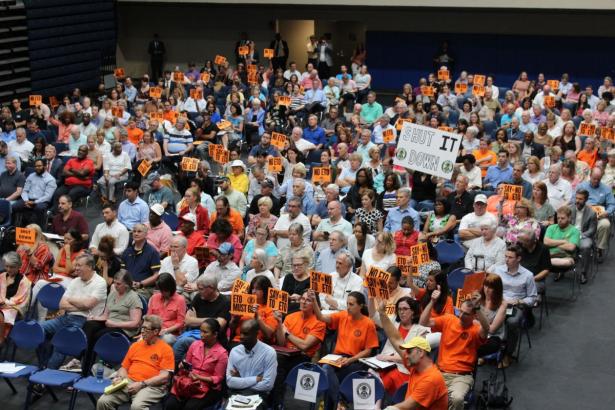 Traffic patterns don't explain the recently measured increases. As more people work from home during the pandemic, traffic in Atlanta was down 15 percent to 20 percent in July 2020 compared to July 2019, according to data from the Georgia Department of Transportation.
"The recent results reveal dangerously high levels of EtO — significantly higher than the levels captured last year and almost all above the threshold considered to be safe by the EPA. Now there is no doubt as to where the EtO is coming from – Sterigenics," said state Sen. Jen Jordan, a Democrat who represents neighborhoods near the sterilizing plant in Cobb.
"The bottom line is this: If Sterigenics can't operate without endangering our community then it shouldn't be operating, at least not at its present location," Jordan said.
Asked for comment on the new test results, a spokesperson for Sterigenics said in a statement:
"Following the voluntary installation of our emissions control system enhancements, Sterigenics resumed operations and has safely sterilized over 50 million vital medical products in Atlanta, including life-saving IV tubing, blood filtration and surgical devices, as well as protective barriers to prevent infection. Under the Georgia EPD's supervision, a third party tested the enhancements and verified the effectiveness of our negative pressure system and a total EtO removal efficiency of over 99.99%. This verification clearly demonstrates that our enhancements are functioning as expected and represent a world-class standard of emissions control technology.''
In an August 2019 press release, Georgia's EPD said Sterigenics' new pollution controls would reduce emissions from the plant to average levels of .0005 micrograms per cubic meter, a level that would be undetectable by the laboratory methods currently available to study the chemical.
A marked increase
When the first round of GHD testing was conducted last September, the Sterigenics plant had been shut down to upgrade its pollution control equipment under a rushed consent order signed with the state.
The first tests by GHD collected air samples at 23 different locations around the plant. These locations varied in their proximity to the facility, from a quarter-mile away to five miles away. In the tests, 80 percent of samples detected no ethylene oxide.
The second round of testing ran from July 7 through July 15. This time, all samples picked up measurable levels of ethylene oxide, and the averages were far above those seen when the plant was not operating.
Average levels increased steeply at all the sites, according to an analysis of the results performed by Richard Peltier, PhD, an associate professor who runs the Peltier Aerosol Lab at the University of Massachusetts in Amherst. Peltier specializes in measuring chemicals in air. He performed the analysis as the request of WebMD and Georgia Health News.
The lowest average increase — 50 percent — was recorded near an Argos plant (run by a large cement and concrete company) that sits about three-quarters of a mile southwest of the Sterigenics plant, across the Chattahoochee River. There, ethylene oxide levels increased from an average of 1.63 micrograms per cubic meter of air recorded when the Sterigenics plant was closed, to 2.46 micrograms recorded when it was operating.
The average levels of ethylene oxide measured at the Argos plant are 123 times higher than the EPA threshold standard, representing 1 additional case of cancer for every 81 people exposed over the course of their lifetimes.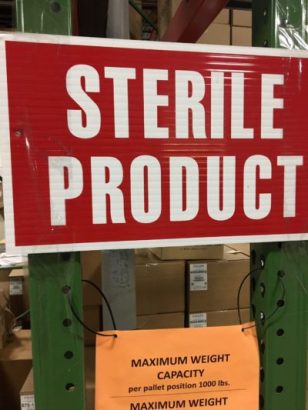 Jennifer Jinot, a former EPA scientist who helped develop the agency's cancer assessment for ethylene oxide, says "it's irrefutable'' that the July levels are higher than last September's readings. The July readings, she said, "are not background levels.''
Ethylene oxide levels measured at many sites increased by more than 1,000 percent compared to levels measured during the Sterigenics shutdown. The highest relative increase — more than 5,000 percent — was measured outside Boyd Elementary school, about 3.5 miles south of the Sterigenics site. There, average levels increased from .04 micrograms per cubic meter of air to 2.18 micrograms per cubic meter of air.
"This is a clear and consistent increase in ethylene oxide in this community and most certainly warrants my concern," Peltier said. "On average, across the entire Smyrna region, it's approximately 1,000 percent increase. This 'teaspoon' of carcinogens in a swimming pool is now more than a gallon; I'd rather swim elsewhere," he said.
Other experts agree. "The levels were clearly higher than the September [2019] levels which were mostly below the limit of detection," said Kyle Steenland, PhD, a professor of environmental health and epidemiology at the Rollins School of Public Health at Emory University. Steenland's studies were integral to the development of the EPA's current risk value for the gas.
"I also did not hear any clear discussion about why" the levels were higher, said Steenland, who listened to the public presentation of the results, "although that would seem to be an important question." Steenland noted that the recent measurements around Sterigenics in Cobb County by GHD are similar to levels measured around another Sterigenics plant, in Willowbrook, Illinois. That facility was shut down by the state after residents demanded better protections from contaminated air. The company eventually decided not to try to reopen in Illinois in the face of this opposition.
In his presentation for the air quality committee, GHD's Hamlin explained that the July sampling had some glitches. Interference by another chemical — isobutane, a component of natural gas — caused some of the samples to read artificially high. GHD flagged all the samples where isobutane was detected. Peltier left those samples out of his analysis.
A sharp contrast
In the EPD's testing, average levels measured at its sampling canister #3, which sits about a half-mile southeast of the facility, increased from .27 micrograms per cubic meter, in samples taken while the Sterigenics plant was closed, to .53 micrograms in samples taken after the company resumed operations in April.
Sampling canister #2, which is three-quarters of a mile to the west of the Sterigenics facility, recorded average levels while the facility was idle of .30 micrograms per cubic meter, and .65 after operations resumed.
To make sure the averages weren't affected by outlying extreme values, Peltier also calculated median, or midpoint, values of the data collected by the EPD. The pattern observed was the same — roughly a doubling in ethylene oxide concentrations after Sterigenics reopened this spring.
"The absolute concentrations are still relatively low, but it's hard to argue that this is caused by some other source," Peltier said.
In a further analysis, Peltier assumed that the average "background" level of ethylene oxide in the air in the Smyrna area was .4 micrograms per cubic meter of air. This is in line with recent estimates by the EPA that "background levels" of ethylene oxide, measured at air testing sites away from known sources, range from about .2 to .4 micrograms per cubic meter of air.
While Sterigenics was shut down, only 6 out of 26 samples — or 26 percent — taken by canister #1 rose above that level. When it reopened, 8 out of 15 samples (53 percent) rose above that value. At canister #2, 16 percent of samples were above background levels during the shutdown, while 92 percent were above background levels after Sterigenics reopened. Similar patterns were observed at the other two canisters.
The EPD said in a statement Friday that the agency's data, "averaged monthly for each site, indicates a slight upward trend of ethylene oxide at all sites since March 2020, including background sites. For these reasons, we urge caution in drawing definitive conclusions about the impact of Sterigenics resuming operations based upon the data analysis you describe.''
It's not clear why the tests run by GHD detected levels of ethylene oxide that were so much higher than the testing conducted by the state. One explanation could be the difference in sampling methods. GHD sampled more locations — more than 20 — and took those samples consecutively, while the EPD is regularly testing air samples from just four sites and is sampling those sites once every few days.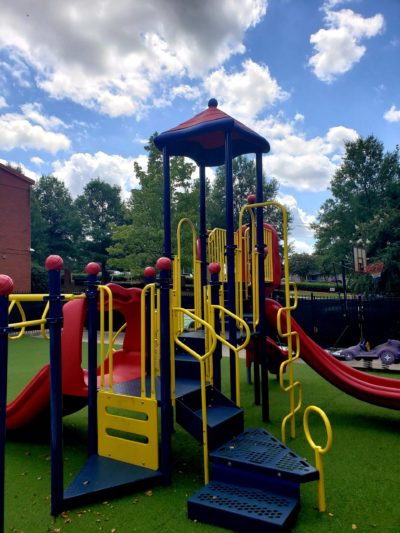 One of the EPD canisters sits at the playground at Benjamin Preparatory School, which serves infants to second-graders and is about a mile away from the Sterigenics facility.
The school's director, Nicole Kelly, has urged state EPD officials to take action to curb emissions.
At a time when many people feel safer in outdoor air because there's less likelihood of COVID-19, Benjamin Prep's students are being kept indoors during recess to avoid exposure to EtO.
The test results "are telling me that the air is not safe for the children to be outside,'' Kelly said Friday. "They can't tell me it's safe."