David was working as a laborer at a North Georgia construction site in May when he began to feel body pains and chills.
A Latino from El Salvador, David, who requested anonymity for this article, was eventually admitted to a hospital with a severe case of COVID-19. His brother, who like him does not have legal status in the United States, was diagnosed with it also. He, too, was hospitalized.
David is feeling better now, but the virus has affected his endurance. And he can't get work anymore.
After the 10 days in the hospital, he received a medical bill for $81,000. His brother got a high bill as well.
David has no health insurance. He spoke with GHN with the help of a translator. Gigi Pedraza, of the Latino Community Fund, a nonprofit that has helped his family with rent and food.
At the site where he worked, David said, the company did broad testing that found dozens of workers infected with the coronavirus.
From farmworkers in South Georgia to restaurant employees in Atlanta to poultry factory workers in northeast Georgia, Latinos in the state have been hit hard by COVID-19.
Nationally, Latinos have been hospitalized for the virus at a rate that's four times that of white Americans, according to the CDC. They have higher death rates than whites as well, though not as high as African-Americans.
The federal government classifies Latinos as an ethnic category, not a race, and overall they are a very diverse group. In Georgia, the large Latino population has mostly arrived over the past generation, and many of its members are low-income immigrants from Mexico and Central America.
It's difficult, from current Georgia data, to determine exactly what percentage of overall coronavirus cases in Georgia involves Latino/Hispanic people. Roughly 1 million people in Georgia are Latino, representing about 9 percent of the state's population.
COVID Tracking Project says 21 percent of known Georgia cases are among Latino/Hispanic people. That may stem, at least in part, from Latinos being overrepresented in "essential workforce'' jobs, and thus being more exposed to the virus.
"Our community members are and have always been essential workers, with no health insurance or able to afford or access it, without sick paid days, with limited resources to afford a safe and expansive home where we could isolate,'' Pedraza says. "The virus is ravaging our communities in great numbers.''
A recent testing event on Buford Highway, a metro Atlanta area known for its ethnic diversity, focused on Latinos/Hispanics. About 20 percent of those tested were infected.
David's work site was in the Commerce area, and he indicated that while he didn't know the name of the company, he said it was a battery factory.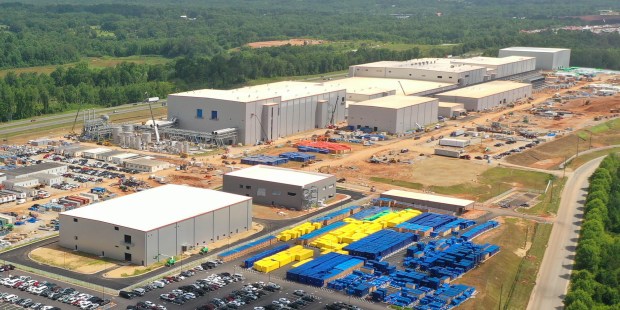 "They did testing, and 70 people were infected,'' David said through translator Pedraza. "The company never provided any protection.''
SK Innovation, a South Korean company, is building a massive plant in Commerce, northeast of Atlanta, that will supply batteries for electric vehicles.
A spokesman for SK Battery America told GHN that "a number of [COVID-19] cases were discovered in May at the site.''
The company closed the site, tested workers, then "sanitized the site and established procedures that go beyond CDC guidelines to help prevent the spread of infection,'' said the spokesman for SK, Joe Guy Collier, who added that workers at the site are predominantly employed by contractors or subcontractors.
Only workers who tested negative for COVID-19 have been allowed to work at the site since then, he said. "Since reopening the site on June 1, SK has found no new cases among workers who were identified as non-infectious from the COVID-19 test, but it continues to closely monitor the situation and provide testing to workers.''
Poultry industry felt the blow
The impact on Latino communities in Georgia first surfaced in April, when outbreaks occurred in the poultry industry, centered in northeast Georgia.
Hundreds of poultry workers in Hall County – many of them Latinos — tested positive for the coronavirus.
''It was a national hot spot, mainly because of the chicken plant workers,'' said Dave Ward, CEO of Medlink Georgia, which operates a community health center in Gainesville where roughly 90 percent of the patients are Latinos. He said close-quarter working conditions in the poultry plants contributed to the transmission rate. "They were on top of each other, they couldn't practice social distancing.''
The outbreak in Hall County got the attention of Gov. Brian Kemp, who asked state Insurance Commissioner John King, who speaks Spanish, to do outreach in the Latino community in the area.
The Medlink clinic in Gainesville is again seeing rising numbers of infections, Ward said recently.
Nationally, multiple outbreaks of COVID-19 have struck meat and poultry processing facility workers. The CDC reported that these work environments—processing lines and other areas in plants where they have close contact with coworkers and supervisors—may contribute substantially to potential exposures.
Efforts to protect Georgia's poultry workers have been "too little, too late," Vanesa Sarazua of Hispanic Alliance Georgia, a nonprofit based in Gainesville, told the AJC in May. "These workers needed to be protected from the get-go," she said.
Meanwhile, King, the insurance commissioner, has continued his outreach in the Dalton area, where many in the Latino community work in the area's carpet industry.
Housing conditions a factor
Amid Georgia's recent spike in newly reported COVID-19 cases, Grady Health System clinics have seen increases in Latinos testing positive, said Dr. Paulina Rebolledo, an assistant professor of medicine and global health at Emory University School of Medicine.
Many of them have continued in their jobs as essential workers, in restaurants, grocery stores, landscaping, the food industry and construction, Rebolledo said. Physical distancing is often limited because of the work they do, she added.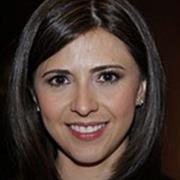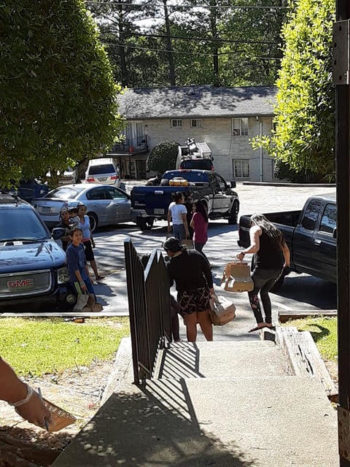 Many have undiagnosed hypertension, diabetes or obesity, each a condition that is a risk factor for severe health impact from COVID-19, Rebolledo said.
Latinos also often live in dense, multi-generational housing conditions.
Henry, 43, who requested anonymity, works three part-time jobs in the construction and restaurant businesses.
He recently contracted COVID-19, and said through translator Pedraza that he was ''really sick for two weeks.'' Henry, an undocumented Latino immigrant from Mexico, said he's feeling better now.
Henry subleases a room in an Atlanta apartment. "The family had to get tested'' after his test result came back positive. "The virus — it's not a myth, and people need to take it seriously,'' he told GHN.
Farmworker cases surge
South Georgia counties have linked surges in COVID-19 cases to farmworkers testing positive there.
Coronavirus cases in Lanier County nearly tripled in 24 hours, the Valdosta Daily Times reported in June. The spike came from migrant farmworkers getting tested, said a Public Health official there. Earlier, Echols County saw cases skyrocket after a testing event for migrant farmworkers revealed a high rate of positive cases.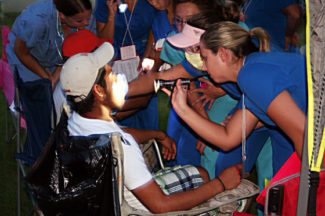 "They're essential workers. It's hard for them to shelter in place or quarantine,'' said Roxana Chicas, a nurse who's a post-doctoral fellow at Emory School of Medicine who has studied agricultural workers. "Often the job requires close contact, and growers aren't implementing things to keep them safe.''
Many of them have visas to allow them to work on local farms, she said. They often live in "cramped housing,'' Chicas said.
Many don't know how to get tested, she added.
Dona Maria works in the restaurant business in southwest Georgia. Her husband contracted COVID-19 as a farmworker in the area, as did his brother, "who infected the rest of his family.''
"Farm owners did not provide PPE,'' said Dona Maria through a translator, referring to masks and other garments that can help protect people from virus transmission.
The family self-isolated when the infection surfaced. Dona Maria, who requested anonymity, said many community members "live in close quarters of 20 to 30 per household or in tight trailer parks.''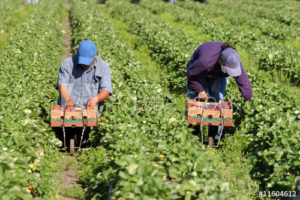 Dona Maria's husband passed away from COVID-19. She said she received a $200,000 bill from the hospital, but it later forgave the debt.
But another family member faces a $300,000 medical bill after hospitalization.
Testing for COVID-19 has been haphazard at best in the Latino community.
And there's fear about the need for documentation in medical testing, and about government health agencies sharing information with immigration authorities, said Dr. Rebolledo.
Testing is often done in a way that's not accommodating to the Latino community, said Chicas. It's often done in English, and with a connection through a website.
"It's a great system for people with flexibility and time, but not for Latinos or low-income workers,'' Chicas said. She noted that the company that processes the county's lab work requires that a tested person have a Social Security number, or "you don't get your results.''