Story updated
Gov. Brian Kemp and state Attorney General Chris Carr are suing Atlanta Mayor Keisha Lance Bottoms and the Atlanta City Council to block the city's mask mandate issued last week.
Several cities, including Savannah, Augusta and Athens, have mandated mask wearing in public, despite Kemp's executive order that precludes local jurisdictions from adopting stricter COVID-19 regulations than the state's. Some mayors have indicated they will not comply with his order to end compulsory mask-wearing.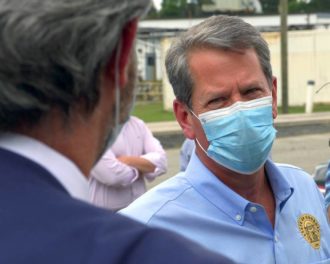 Kemp has strongly encouraged Georgians to wear masks to fight COVID-19, but has said he will not make it a requirement.
The state lawsuit, filed Thursday, also challenges Bottoms' July 10 decision to revert to "Phase One" guidelines that push restaurants to close dining rooms and urge residents to leave home only for essential trips.
"This lawsuit is on behalf of the Atlanta business owners and their hardworking employees who are struggling to survive during these difficult times," Kemp said in a statement Thursday after the lawsuit was announced.
"Just like sending in the Georgia National Guard to protect those living in our capital city from crime and violence, I refuse to sit back and watch as disastrous policies threaten the lives and livelihoods of our citizens. We will fight to stop these reckless actions and put people over pandemic politics."
Kemp again defended his lawsuit in a news conference Friday. "While we all agree that wearing a mask is effective, I'm confident that Georgians don't need a mandate to do the right thing," Kemp said. He said Bottoms is "playing politics" with her COVID-19 restrictions.
On Wednesday, Kemp issued his latest executive order extending Georgia's COVID-19 guidelines. In that order, the governor banned the mask mandates that local governments across the state have adopted.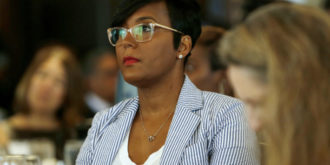 "I am not afraid of the city being sued and I'll put our policies up against anyone's, any day of the week," Bottoms said during a video news conference, telling reporters the city's order is still in effect.
And she tweeted in response to Kemp's lawsuit that "3104 Georgians have died and I and my family are amongst the 106k who have tested positive for COVID-19. Meanwhile, I have been sued by @GovKemp for a mask mandate. A better use of tax payer money would be to expand testing and contact tracing. #ATLStrong."
Savannah Mayor Van Johnson claimed Kemp had ''overstepped'' his authority by banning local mask mandates.
Johnson said Thursday that the city will continue to enforce the mask mandate within city limits and will legally challenge the governor's order.
During a news conference Thursday, Bottoms said regardless of the governor's order, she is still going to require people to wear masks in city-owned buildings like the airport and City Hall.
"It's a simple thing to do. It's an easy thing to do. We will continue to push and ask people to do it, despite the disagreements that we may have," Bottoms said.
Bottoms said she wants to follow science and slow the spread of the virus.