This article was reported and written in collaboration with WebMD
By Debbie Koenig and Andy Miller
The number of young adults testing positive for COVID-19 has increased dramatically in recent weeks across many states.
The spike among those ages 20-39 could be explained by a combination of increased testing, rejection of social distancing and masks, and a continued misconception among young people that they're not likely to become infected. While younger people rarely get seriously ill or die from the virus, they often catch it and can spread it to more vulnerable populations.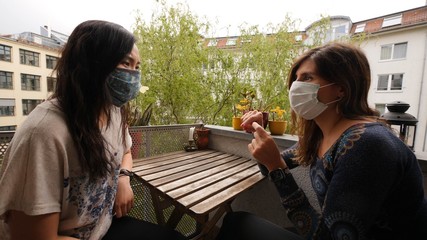 The age group in Georgia with the most infections is people from ages 18 to 29, according to state data.
"I see people in my cohort who aren't social distancing and wearing masks," says Hayley, 23, a graduate student in nursing at Emory University who asked that her last name not be used. She had COVID in March, and she's not sure where she caught it. "To see people not taking it seriously is frustrating."
Vice President Mike Pence acknowledged the situation Monday on a conference call with governors.
"We are seeing more people test positive under the age of 35, particularly in our discussions with the leadership in Florida and in Texas," he said, according to ABC News. "The better part of half of the people that are testing positive in the new cases are people under the age of 35."
While Florida and Texas both relaxed restrictions early, more cautious states like California have not escaped the trend. People under the age of 35 now make up more than 44 percent of new cases in the Golden State, up from 29 percent in May, according to an analysis in the San Jose Mercury News.
"We've built up this illness with the myth of it being siloed by age, and it's not," says Lawrence Kleinman, MD, professor and vice chair of Pediatrics at Rutgers Robert Wood Johnson Medical School in New Brunswick, N.J. "Now that we have young adults flouting social distancing, we're seeing the disease at a population level. If enough people are exposed enough, they're going to get the virus — and they're going to be spreaders and super-spreaders."
A widespread trend
The CDC has been tracking demographic data for almost 2 million confirmed cases in the United States. Accounting for 17 percent of the total, the 18-29 age group is second only to people 50-64.
The problem goes well beyond Texas, Florida and California. Clusters with a larger proportion of young people have been noted in a number of other states, including Arizona, Colorado, Georgia, Louisiana, Mississippi, North Carolina, South Carolina, Washington and Wisconsin.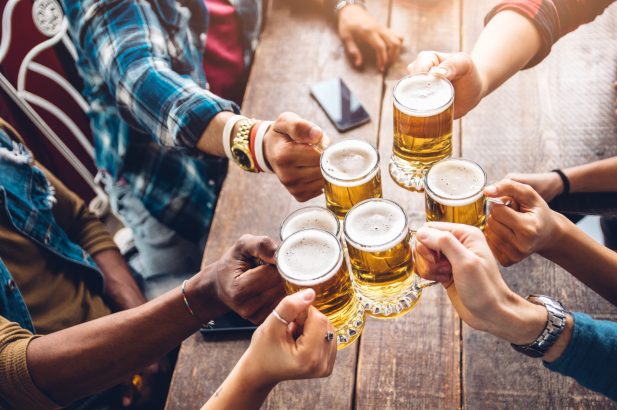 In Baton Rouge, LA, at least 100 cases were linked to the Tigerland nightlife district near Louisiana State University (LSU). Fraternity rush parties at the University of Mississippi have been blamed for an outbreak in the city of Oxford, where more than 80 percent of new infections were in people ages 18 to 24, according to The New York Times.
A University of Georgia student, who had COVID from mid-March to mid-April of this year, says she thinks she was infected on a trip to New Orleans with friends. Meredith, who requested that her last name not be used, is 21, and said New Orleans was just starting to see a COVID-19 surge when she visited.
"It was on our minds. All of us were washing our hands, but we weren't necessarily wearing masks," she says. "The day we drove out of New Orleans, they were shutting down Bourbon Street."
Now she's back in Athens, home of UGA, and the situation has her worried. "Bars are opening up. I don't see a lot of college kids wearing masks," she says. "It's concerning."
Explaining the spread
In a CDC survey of attitudes toward stay-at-home orders and social distancing guidelines, people aged 18-24 were significantly less likely than other groups to agree that nonessential workers should stay home.
Less than 30 percent said they were consistently staying six feet away from other people, and only 44.4 percent said they always wore a mask in public.
"There's a normal sense of invincibility at this age," says Kleinman, the Rutgers professor. "Plus the additional confidence that comes from the myth that this age group is spared."
Mark Ebell, MD, a professor of epidemiology at University of Georgia's College of Public Health, agrees. Up to 90 percent of younger people who have the virus don't show symptoms, plus "they tend to be willing to take more risks," he says.
Some officials attribute the increase in COVID-19 cases among younger people to more widespread testing. In the beginning of the outbreak, only people with symptoms got tested, if a test was available. Now many places offer tests to anyone who wants one.
But public health experts point out that because younger people are more likely to ignore restrictions, they're making it easier for coronavirus to spread.
"This creates a reservoir of disease moving around in the population, 'simmering,' if you will," Judith Malmgren, an epidemiologist at the University of Washington, told NPR. "This can spike to uncontrollable levels in more vulnerable adults very quickly."
Twenty-three-year-old Gayeon, another young adult who requested that her last name not be used, just graduated from UGA. She is being careful not to get infected. "I keep hearing about people having house parties or frat parties. Georgia loosening up gives the impression we're not in a pandemic," she says.
College athletes testing positive
Another possible source of the spread of the disease among young people is the recent resumption of practice for college athletes. As programs screen players, they discover new cases:
Several football players at the University of Alabama have tested positive, including at least one who participated in player-led workout sessions.
At the University of Texas, 13 football players have tested positive for the virus or are presumed to have it. Clemson University in South Carolina confirmed that 23 football players have tested positive.
At least 30 of Louisiana State University's 115-member football team have been isolated after testing positive or being in contact with someone who has.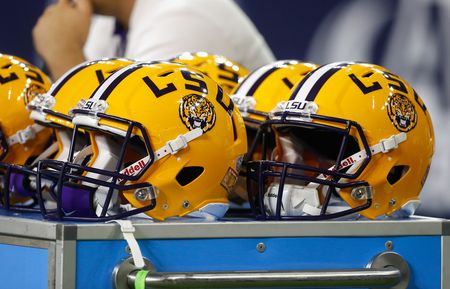 Some members of LSU's team have been quarantined after going to bars in the Tigerland district, the source of an outbreak cluster.
"When you do contact tracing and get some honesty from kids, it's very easy to see where it came from and what happened," Shelly Mullenix, the school's senior associate athletic trainer, told Sports Illustrated. "I can talk to them about wearing a mask, but if your mask is under your nose, you're not wearing a mask."
Age and risk
Part of many young adults' lax attitude may stem from the knowledge that if they do get COVID, they aren't likely to become seriously ill. CDC statistics show less than 4 percent of patients ages 20-29 require hospitalization, and just 0.5 percent need intensive care. And only 0.1 percent of patients from that age group die from COVID.
But that doesn't mean there's no risk at all.
"There may be people in your circle who are at higher risk but don't want you to know, because they have private health concerns," says Kleinman. "People with obesity, diabetes — and there's some evidence that smoking and vaping puts you at higher risk."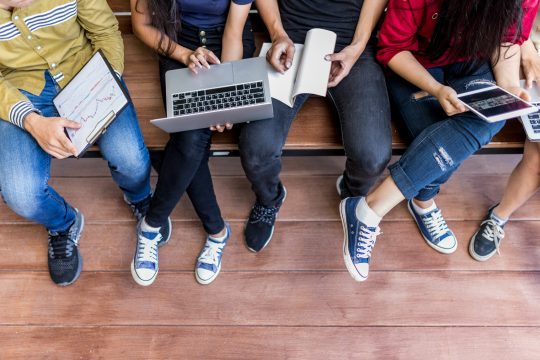 Kleinman warns that every time young people gather without taking precautions, they increase their risk of catching coronavirus. "It's like playing roulette — the more you spin, the more likely you are to land on zero," he says.
And while the actual danger may not be great for young people, spreading it to older family members poses very real risks. CDC data show that over age 50, the hospitalization rate for the coronavirus rises dramatically.
Instilling responsible attitudes
So how can authorities keep young adults from spreading coronavirus among themselves and their loved ones? Experts have several ideas.
Kleinman suggests taking cues from effective anti-smoking campaigns. "We learned that young people didn't want to feel like they were being manipulated by higher forces," he says. "So with that as background, think about the fact that the virus is out there trying to get us – that is metaphoric and real. Social distancing, handwashing, wearing a mask, these are all things we can do to foil the virus."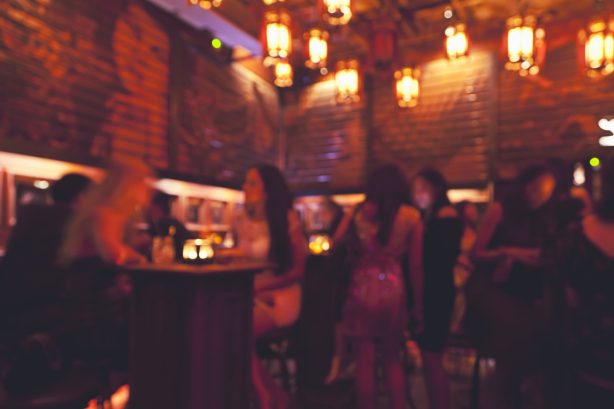 Thanks to the Black Lives Matter protests, many young people are aware of the racial disparities of COVID outcomes, says Hayley, the Emory nursing student. Wearing masks and observing social distancing "also saves black lives," she says.
Reaching young people in the right way is essential, Malgrem told NPR. "They are not reading print media. You need to be on social media. You need to use short sentences. You need to use very direct messaging," she said.
And then there's the leadership factor. "The illness is contagious and our behavior can be, too," Kleinman says. "This is where leadership comes into play. It can be writ large at political levels but also with families, friends, peer groups — natural leaders are looked to by their peers, so their behavior really matters."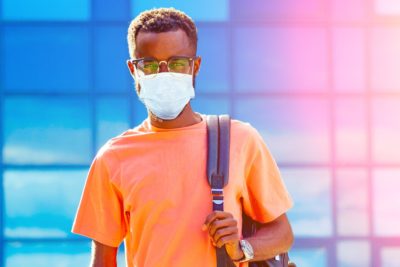 Ebell, the UGA epidemiologist, says college administrations and even individual professors can make a difference. "I'm going to ask students in my class to wear a mask," he says. "Hopefully if students are strongly encouraged, they will wear one.''
Meredith, the UGA student, points out that the school is providing two masks and a digital thermometer to each student and employee. "My group of friends are pretty serious about wearing masks. It will be frustrating if students choose not to wear masks," she says. "It doesn't take money.''
Kleinman says, "You can't put Humpty Dumpty back together again. Once you're sick, COVID will do what it does. Once you transmit it to someone else, it's out of your control. Once you put a group of people together in a spreading or super-spreading situation, it's out of your control."
Debbie Koenig is a writer who specializes in health, food, and family, and the author of the cookbook Parents Need to Eat Too: Nap-Friendly Recipes, One-Handed Meals & Time-Saving Kitchen Tricks for New Parents (William Morrow). She lives in Queens, N.Y.