This story is jointly reported by Brenda Goodman of WebMD and Andy Miller of Georgia Health News
One of Alexandria Pittman's jobs at ConMed in Lithia Springs had her working near a dock where trucks would unload boxes of freshly sterilized medical supplies.
Those supplies had been sterilized with a toxic gas called ethylene oxide at the Sterigenics facility in Cobb County.
A lawsuit filed in Cobb County on Wednesday argues that those medical products were not properly aired out before being transported to the ConMed warehouse. As a result, the lawsuit says, the products released unsafe levels of ethylene oxide into the air at the warehouse — a process known as off-gassing.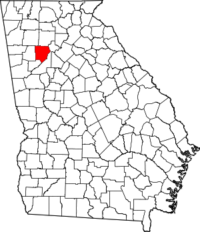 In September 2019, the Occupational Safety and Health Administration (OSHA) cited ConMed for serious violations of worker safety. In a Notification of Penalty letter, the agency said the company exposed workers to concentrations of the gas above permissible limits. The company was fined more than $13,000 for the violation. ConMed contested OSHA's findings.
Pittman says neither she nor her co-workers were warned that exposure to ethylene oxide could cause cancer or a host of other health problems. According to OSHA, harm to workers who are exposed to the chemical can include difficulty breathing, nausea, blurred vision, miscarriages, nerve damage, muscle weakness, and impaired thinking and memory.
Pittman, who worked at ConMed for nearly three years from 2016 to 2019, remembers suffering from skin rashes. Her throat would swell up, and her eyes were often irritated.
"I used eye drops a lot," says Pittman, 49, who lives in Atlanta.
In December, Pittman was diagnosed with multiple myeloma, a type of cancer that affects white blood cells.
While it is very difficult to determine whether a chemical exposure has caused any individual's cancer, exposure to ethylene oxide has been linked to the development of breast and blood cancers, including multiple myeloma.
"Multiple myeloma, there's no cure for that,'' she said. "It's a horrible chemical. It has changed my life."
Pittman and 52 other people who worked at ConMed are suing both ConMed and Sterigencs and several supervisors at both companies over their exposure to ethylene oxide. The complaint says that in some cases the exposures continued for nearly 10 years without any warning. Three of the plaintiffs are deceased.
"The lawsuit filed today seeks to hold Sterigenics and ConMed liable to the 53 injured victims for exposing them to large quantities of ethylene oxide gas over a long period of time without their knowledge or consent and concealing the existence and danger of ethylene oxide," says attorney Eric Hertz, who is lead counsel for the plaintiffs.
"Workers who serve as key links in the chain to getting much needed sterilized medical equipment to hospitals and patients must not be sacrificed in the process," Hertz says.
ConMed did not respond to requests for comment before deadline.
In a statement issued in response to the lawsuit, Sterigenics and its parent company Sotera Health pushed back against the lawsuit's claims.
"Sterigenics and its employees did not cause any injury to the plaintiffs. The allegations asserted in this lawsuit against Sotera Health, Sterigenics and Sterigenics' employees are baseless, and we will vigorously defend against them," the company said in an emailed statement.
Warehouses have recently become a focus of concern over ethylene oxide emissions.
In December, the Georgia Environmental Protection Division served BD, which also sterilizes medical equipment with ethylene oxide, with a Notice of Violation for operating a warehouse in Covington without an air pollution permit.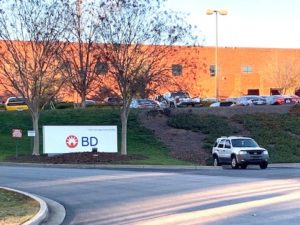 Tests conducted by the company at the warehouse, which had no air pollution control equipment, revealed that products off-gassing in the warehouse were releasing some 5,600 pounds of ethylene oxide into the air a year. The company was eventually fined and required to apply for a pollution permit for the warehouse.
In comments submitted to the federal EPA, officials of the state Environmental Protection Division wrote, "Georgia EPD has identified significant ethylene oxide emissions from a large warehouse storing medical products sterilized using ethylene oxide. No sterilization was conducted at the warehouse. Georgia EPD encourages EPA to consider the impacts of offsite off-gassing and the storage of products sterilized using ethylene oxide in any revisions" to the national emission standards for the chemical, which are under review at the agency.
BD says that its warehouse emissions of ethylene oxide have been significantly reduced.
Kevin Chambers, a spokesman for the Georgia EPD, said the agency was not aware of the ConMed warehouse situation and would be looking into it.
In Georgia, facilities with the potential to release more than two tons of the hazardous air pollutant are required to have a permit.
"To our knowledge, the Cobb County Sterigenics facility does not store sterilized materials in offsite warehouses in Georgia," Chambers said.
Sterigenics drew the ire of Cobb County residents and local and state officials in 2019, when reporting by WebMD and Georgia Health News revealed that the sterilization facility was releasing ethylene oxide into the air in neighborhoods around the plant at levels above new EPA safety standards.
The company defended its record, saying that its emissions have always been within legal limits.
Sterigenics entered into a consent order with the state while it upgraded its pollution controls and shut down in order to install new equipment.
Cobb County officials prevented the facility from reopening, saying that the building violated fire and building codes.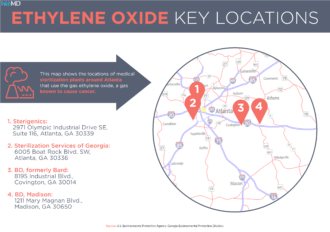 The plant remained closed until last month, after the company filed a lawsuit against county officials.
On April 1, a federal judge allowed Sterigenics to temporarily resume full operations, and days later, a consent order let the company continue normal sterilization at the plant until the legal dispute was settled. Federal officials had pushed for the reopening of the plant amid concern over supplies of medical equipment during the COVID-19 pandemic.
"The claims [in the lawsuit] do not relate to Sterigenics' state-of-the-art emissions controls at its Atlanta facility. They also do not concern its dispute with Cobb County and its officials or Sterigenics' right to continue its operations under the court-approved Consent Order," the company said in an emailed statement.
Janet Rau of the activist group Stop Sterigenics Georgia said Wednesday that the group has been focused on warehouse emissions after the report on BD's distribution center in Covington. "We have long suspected they [Sterigenics] have had warehouses elsewhere where there is off-gassing,'' she said.