Besides its deepening medical toll, COVID-19 is taking sizable chunks out of the budgets of hospital systems and government health programs in Georgia.
Hospitals have lost surgical, diagnostic and outpatient revenue during the pandemic, and industry leaders say recent federal grant funding has not been enough to offset those losses.
Emory Healthcare on Thursday became the latest hospital system to announce staff furloughs.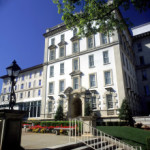 State health agencies, meanwhile, have outlined their plans for 14 percent spending cuts as required by Gov. Brian Kemp.
The state agency that runs Georgia's Medicaid program, the Department of Community Health, has seen its financial pain eased by an enhanced federal matching rate aimed at cushioning COVID-related financial distress.
But Community Health also plans a subtraction of about $100 million from payments to the managed-care companies that provide services to most Medicaid and PeachCare members. The Georgia Quality Healthcare Association, an industry trade group, said Thursday that it's studying the impact of that cut on insurers.
And the agency warned that when the extra federal Medicaid funding runs out, "if the department does not receive funding to sustain its operations in the benefits program, there will be drastic reductions that include across-the-board providers rate cuts.''
The Department of Behavioral Health and Developmental Disabilities is expected to have outlined more than $150 million in spending reductions.
And the AJC reported substantial cuts in the agency that's steering the state's response to COVID-19, the Department of Public Health. That agency will have to furlough staffers — including those working in disease control and epidemiology — one day a month. Public Health also will slash grants to county health departments by almost $18 million and cut a number of other programs.
Other health care reductions will affect the agency that investigates child abuse complaints and enrolls Georgians for food stamps and Medicaid, where employees will have to take days off without pay. Grants to fund medical school training at Mercer and Morehouse schools of medicine will also be cut, the AJC reported.
Furloughs and belt-tightening
Emory cited a projected revenue shortfall of about $660 million through August as it announced that it will implement schedule changes and furlough up to 1,500 of its employees. Executives and senior managers will take a pay cut of up to 25 percent.
'While never more proud of our team's response, COVID-19 has had a significant negative impact on our normal revenue and operating expenses,'' said Dr. Jonathan Lewin, president and CEO of Emory Healthcare, which has 11 hospitals.
"We take any action that affects our employees extremely seriously; however, the magnitude of the revenue loss due to cancellation and postponement of the majority of our surgery, procedural and diagnostic cases far exceeds the $142 million in federal grant receipts,'' Lewin said.
"The HHS grants [from the Feds] are much appreciated, but like any business, we must right-size our expense base to address the loss of revenue by matching our expense trends to our revenue trends – both in the short and long term.''
Earlier this week, Wellstar Health System, which also has 11 hospitals, said it will furlough 1,070 employees and reduce the hours of another 1,800 workers. Wellstar is also cutting executive and physician pay. The Marietta-based system cited lower surgery revenue, ER visits and hospital admissions.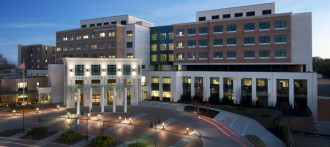 The number of furloughed workers is about 4.4 percent of Wellstar's workforce of 24,300. Cost-saving measures, as well as almost $140 million in federal CARES Act support, won't make up the shortfall Wellstar faces, according to Jim Budzinski, the system's chief financial officer, the Marietta Daily Journal reported. The system is anticipating a $400 million to $600 million loss through 2020, he said.
Other health care systems in Georgia told GHN that they are taking a range of steps to offset losses.
Piedmont Healthcare, based in Atlanta, said Thursday that it's "reducing operating expenses and flexing staff to match patient volumes. We deeply appreciate the ongoing dedication of our team, on the front lines and those supporting them from afar, and feel fortunate that these efforts enabled us to avoid any large-scale furloughs or layoffs at this time.''
Atlanta-based Northside Hospital says it hasn't furloughed any employees, but has felt the revenue impact. Northside is reassigning some employees to other areas of need within the system.
"All areas of Northside patient care have been impacted by COVID-19, and returning to previous levels of volume and revenue will take time,'' said Lee Echols, a Northside vice president.
Like other hospital systems, Northside has seen patients delay treatment for health conditions. "We expect they now will begin making appointments, scheduling surgeries, and seeing their doctors again. As our volumes rebound, revenue should follow, and we'll continue to navigate our new health care world with flexibility and focus.''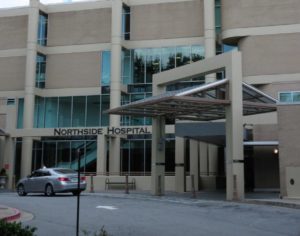 Macon-based Navicent Health said it has not resorted to furloughs, and is redeploying employees to areas of need. "While we did see a decline in elective appointments and cases during the spring, we are beginning to see a return to pre-COVID volumes,'' said a spokeswoman, Megan Allen.
HCA Healthcare, with nine Georgia hospitals, also has not laid off or furloughed any employees because of the pandemic.
"We have implemented numerous financial resiliency measures across the company,'' said Dale Hooks, a spokesman for Memorial Health in Savannah, an HCA entity. "These included reduced discretionary spending, senior level and corporate salary cuts, and freezing certain initiatives. Additionally, we reduced capital spending and suspended the company's dividend and share repurchase programs to preserve capital.''
Gov. Kemp addressed hospitals' financial plight at a news conference at the state Capitol on Thursday, urging patients to get the medical and dental care they need.
"I want to strongly encourage everyone to get important check-ups on their calendar,'' he said. "Please go to your doctor for a check-up if you are due for one."