By Rebecca Grapevine
From obtaining COVID-19 tests and protective gear to resolving workers' day care problems, clinics that serve low-income people across metro Atlanta are facing serious challenges in dealing with the pandemic.
The impact has been felt deeply at Southside Medical Center, a federally qualified health center with 10 metro Atlanta clinics.
Three of Southside's staffers tested positive for COVID-19 and are in quarantine, and so are some other staff members who were exposed to them, said Dr. David Williams, CEO of Southside Medical.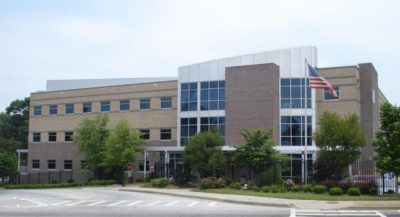 Testing capacity for COVID-19 has been sporadic, he added.
Southside purchased testing kits from a Sandy Springs lab, but that supply ran out last week, halting coronavirus tests at the clinics. Williams said he expects the lab's supplies to be replenished and hopes to begin drive-up testing soon.
But like other health care facilities, the Southside clinics are running low on personal protective equipment (PPE). Full PPE is required for the professional administering the virus test. Southside is trying to purchase the gear from private suppliers, although in past emergencies the federal government has also provided PPE, said Williams.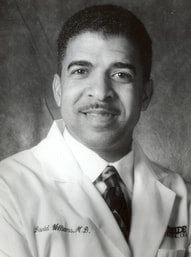 Due to the shortage of resources, some staff members have even been enlisted as shoppers, sent to search the shelves of local stores for items such as toilet paper and cleaning solution.
"It's so hard to get supplies," Williams said. "By the time they come in, you've used them all up."
Southside received a $102,234 federal grant through the Health Resources and Services Administration last week. This was one of 35 grants for Georgia community health centers under the recent federal funding package.
The money will help the clinics cover uninsured patients and ensure that anyone who needs testing can get it, Williams said. Private insurers are covering the costs for insured patients.
Since the crisis began, the clinics' revenues are down about 70 percent, said Williams, because fewer patients are coming in. Southside closed three of its 10 locations in the Atlanta area due to this drop in patient visits and the shortage of staffers. And the Southside clinics that remain operational have reduced the number of days when they are open.
Fewer than half of the usual workforce of 300 is actively working, due to a combination of closings, furloughs, and quarantines, said Williams.
Testing in the parking lot
Whitefoord Clinic in east Atlanta, a community health center, has found about 25 percent of patients tested for COVID-19 to be positive. Only patients first screened by phone and deemed to be high-risk are tested.
CEO Jean O'Connor said the clinic tried to order additional supplies of protective gear last month as COVID-19 news broke, but found its orders canceled. Staffers purchased construction goggles and disposable painting suits at Ace Hardware to bridge the shortfall.
Since then, the clinic has obtained protective gear from the Georgia Department of Public Health as well as agencies via the Georgia Association of Primary Health Care. And some businesses have donated construction masks. Still, O'Connor said, "We have a much more limited supply than we would like to have."
Whitefoord received a grant of $53,735 from the money earmarked for Georgia under the relief bill passed by Congress. The money is "hugely helpful," noted O'Connor.
As at Southside, the Whitefoord clinic has lost patients during the pandemic and had to close its community early childhood education program, causing a halt to that funding stream.
Setting up a hotline
Good Samaritan, a charitable clinic on the west side of Atlanta that treats primarily uninsured patients, is not testing patients for coronavirus. Instead, the clinic set up a hotline to help screen and refer patients to testing resources if deemed necessary.
The hotline uses trained volunteers who may not otherwise be working, which alleviates some of the strain on medical resources.
Good Samaritan obtained donated N95 masks that are construction-grade rather than medical-grade (meaning they were not designed for medical settings but still provide some protection). The clinic's triage provider is using an N95 mask regularly, said Breanna Lathrop, chief operating officer. Each mask is being used for three days and the supply of PPE is "sufficient."
South of Atlanta, the Coweta Samaritan Clinic has suspended regular operations during the COVID-19 crisis. Patient appointments are continuing by telephone, the Newnan Times-Herald reported.
"We are doing our office visits via phone, and asking patients to be at their phone at their appointment time," said Dr. Kay Crosby, medical director of the clinic, which offers free health care services for low-income residents.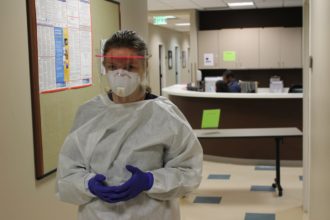 Reaching out to the homeless
Mercy Care, a federally qualified health center, plans to set up a testing site next week at the Gateway Center, a support facility for homeless people, said CEO Tom Andrews.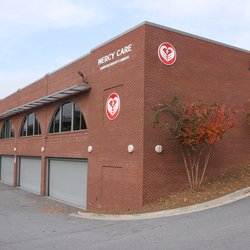 About 65 percent of Mercy Care's patients are homeless and 75 percent have no health coverage. Mercy Care plans to refer homeless patients who test positive for COVID-19 or have symptoms to the quarantine hotel that is set to open in Atlanta.
A task force formed by Gov. Brian Kemp acquired the hotel for homeless patients. The hotel is able to house up to 173 patients in isolation, said Cathryn Marchman, executive director of Partners for Home, in an interview with Georgia Public Broadcasting.
The hotel is needed because existing shelters would not be able to provide sufficient space for people to self-quarantine, said Andrews. But he added that patients discharged from the hotel may need to return to shelters or transitional housing centers, because there are probably not enough special residential units available to house them.
Mercy Care's six standing clinics continue to operate, although it shut down its mobile units because the small size of its examination rooms posed too great a risk of transmitting infection. The mobile team has been reassigned to Mercy Care's other clinics, including those in homeless shelters like Gateway.
Mercy Care's Chamblee clinic is providing a large, empty space for volunteers to bottle hand sanitizer purchased from Old Fourth Distillery. The first two days of operation yielded close to 1,200 bottles.
Partners for Home helped secure funding for the project and is aiding with distribution around the city. Homeless people often lack good hand-washing facilities and the organizations want to prevent the spread of the virus in shelters and camps, said Mercy Care's Diana Lewis.
Outreach teams report that most homeless people in encampments are aware of the COVID-19 danger, and some have actively been trying to practice social distancing, said Andrews.
Teams from his organization and others are using maps from previous homeless counts in the Atlanta area to find homeless people, educate as many as possible about COVID-19 and distribute hand sanitizer to them.
'All hands on deck'
Child care issues are proving a challenge for Whitefoord's staff.
"Our workforce is 98 percent women, and many of those women have children, and right now they don't have great child-care solutions — and yet everyone is telling them to come to work,'' O'Connor said recently.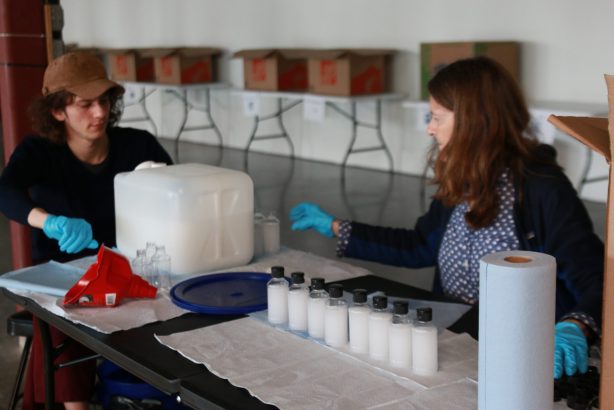 The organization held a meeting to determine staff needs, and most have been able to find family members to help them in the short term, said O'Connor. The clinic is now exploring the possibility of a more formal system to provide child care to front-line health workers during the crisis.
It's "all hands on deck" at Good Samaritan despite major changes in the way the clinic works, said COO Lathrop. All of Good Samaritan's health-care providers are working, although some support staff have had to take family leave to stay home and care for their children.
The recent federal grants provide a welcome "shot in the arm," said Mercy Care's Andrews, but they are just a start. "It will take months to see this play out," he said.
Operating on narrow margins even in normal times, safety-net clinics are now being stretched thin as they deal with the COVID-19 crisis. But the services they provide are more essential than ever.
Rebecca Grapevine writes about public health in the United States and India. She has worked in clinics and hospitals and in both countries and holds a doctorate in history from the University of Michigan.