By Naomi Thomas
A bus mobilized during the COVID-19 pandemic is bringing behavioral health care to two rural counties.
The mobile health unit, run by CarePartners, a local agency, has been traveling through Emanuel and Candler counties in east Georgia to bring services to people in need.
Since the virus appeared in the state, the bus has served about 175 people, according to David Crooke, the CarePartners CEO and co-founder. About 80 percent of these people have been children.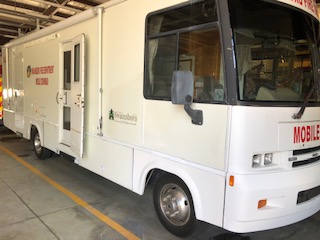 The unit has been named the THRIVE bus. The acronym stands for Taking Hope, Recovery, Integrated care and Vitality Everywhere.
Traveling aboard the bus are a registered nurse, a certified addiction counselor and a community support worker. All wear protective masks and maintain a sanitized, hygienic space.
Katie Ward, the nurse, checks people for symptoms of the coronavirus, ready to refer them for treatment if they are infected. Fortunately, no one with COVID-19 symptoms has been identified so far, but plenty of people have gotten help with other issues thanks to the mobile team.
Ward's job includes giving each person a basic medical screening. She takes individuals' vital signs and asks about the medicines they take. (She reminds them how important it is to take their medicine regularly as directed.) She also does mental health screenings.
If people are exhibiting health problems, physical or mental, Ward and her colleagues work to address their issues.
Thanks to the generosity of local food banks, the THRIVE bus also brings food to families that need it. Many of these people have little economic security, especially now.
Because of COVID-19, social distancing is part of the protocol with the program. To keep things as orderly as possible, CarePartners calls patients and clients it has worked with before and sets up appointment times for them to meet the bus.
If there is more than one person waiting at a particular stop, the staffers set up markers to show people how far apart they need to be. Some people wait in their cars.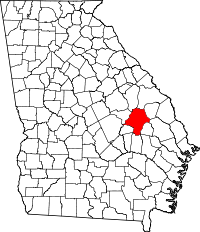 THRIVE offers an array of services for a patient experiencing trouble. The help may come from a counselor, a community support worker, or a psychiatrist.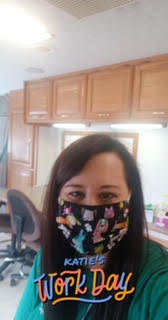 Such resources are vital now. The devastation of the COVID-19 pandemic has caused countless people to be uncertain about the future. A crisis like this can worsen people's mental health and behavioral health problems, Crooke says, while some people find themselves experiencing such problems for the first time.
Since the pandemic, he and his staff on the bus have seen an uptick in behavioral health crises and people thinking about suicide. They are seeing parents who fear that their children will be orphaned, and children who are afraid of something happening to their parents.
CarePartners has been helping local people for years, but Crooke says the group realized that normal operations wouldn't work during the pandemic. There was a concern that some patients might "drop out of care" just when they needed it most, "so we wanted to have a way that we could continue the services despite COVID-19." The bus was the answer.
The coronavirus outbreak, with its extraordinary impact on everyday life, has put a strain on people that can affect their mental and behavioral health.
According to Isha Metzger, a licensed clinical psychologist at the University of Georgia, people are worrying about running out of food, about losing their jobs or incomes permanently, about struggling to pay for housing and utilities, and about child care problems, especially with children unable to go to school.
Metzger says many low-income and rural populations are especially at risk of behavioral health problems, because they were already facing stress and inequities in their daily lives. "These stressors place them at a heightened risk for mental and behavioral health problems, including anxiety, hopelessness and substance misuse," she says.
Melissa Haberlen DeWolf, research and policy director of the advocacy group Voices for Georgia's Children, notes the terrible pressure on many families: While they worry about their livelihoods and wonder whether they can continue to meet their basic needs, they also face the danger of catching a new disease. If parents and children were already struggling with mental health issues, this is the time when they "need access to care to manage symptoms and prevent crises," she says.
Care they wouldn't get otherwise
The staff at CarePartners has been looking after the behavioral health needs of people in Emanuel, Candler and Bulloch counties since the group launched in 2003.
Initially the organization helped provide non-traditional behavioral health care to children in homes and at school. Since then, it has begun to serve adults as well. Crooke has sometimes seen people he helped as children return to CarePartners years later to seek help for their own children.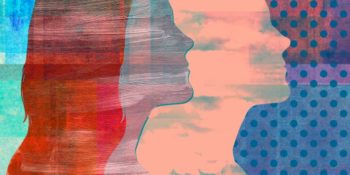 Haberlen DeWolf of Voices for Georgia's Children points out that the simple lack of a ride can be a great barrier to getting health care in rural areas. People live a long way from medical facilities, many don't have regular access to cars, and in the best of times there's little public transportation. The bus makes a big difference
"Even before the COVID-19 crisis, people in our rural areas struggled to access physical and mental health care. Forty percent of children ages 3 to 17 in Georgia can't get the mental health treatment they need," says Haberlen DeWolf. "By bringing services within walking distance of people in need, CarePartners' Mobile Access and Engagement Unit has overcome that obstacle."
"Access to mental health care saves lives, reduces negative impacts of illnesses over the long term and supports families in times of crisis," she says. "It truly can be an issue of life or death."
Some financial barriers still exist to the kind of care that CarePartners would like to deliver. The group can't bill the state for treating adults who have no health insurance, and there are many uninsured people in rural Georgia.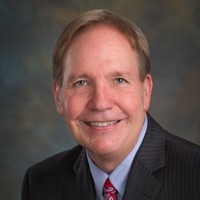 Nevertheless, CarePartners has built an effective program by networking with organizations such as food banks.
"That little outreach from the food banks has really bought us in contact with some high-risk families, and those families have decided that they want to receive behavioral health services," says Crooke. "So that's been kind of a positive fallout from this experience."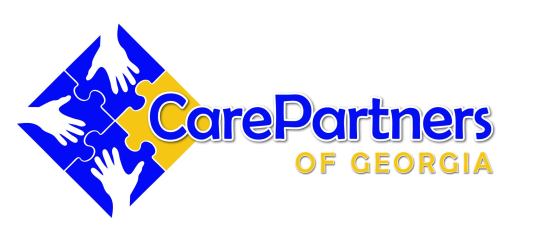 The group has also partnered with local school systems, using schools' Internet connections to stay in contact with school counselors and administrators.
The Swainsboro fire department made the most basic contribution of all to the success of the mobile unit. It loaned CarePartners the bus and the driver.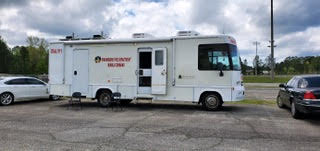 Crooke is thankful to all the organizations and individuals that have been part of the effort.
"The other thing that's really, I think, a testament to our communities, our stakeholders, and the people we serve is that, one of the things oftentimes in rural mental health, one of the big barriers to mental health services in rural areas is stigma," he said. "There's been no hint of a stigma."
Naomi Thomas is a freelance journalist based in Athens with a focus on health journalism.