A new federal initiative on Medicaid could wind up altering Georgia's waiver proposal on extending coverage to low-income adults.
The Trump administration said Thursday that it's encouraging states to seek a cap on federal Medicaid funding for covering working-age adults, in exchange for more state autonomy in running that program.
The new option would not extend to Medicaid coverage for children, pregnant women or the disabled, or those in nursing homes covered by the government insurance program, said the federal Centers for Medicare & Medicaid Services (CMS).
But by targeting low-income adults, the policy shift would appear to create a new wrinkle for Georgia's attempt to gain a federal 1115 waiver, which would extend coverage to that same group.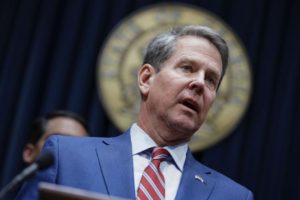 The administration of Gov. Brian Kemp, which recently submitted the waiver proposal to the feds for approval, said Thursday that it would review the new option, called "Healthy Adult Opportunity.''
Kemp said in a statement that he appreciates the White House's flexible approach.
""We all know that a one-size-fit-all, top-down approach limits innovation and hampers states' ability to provide the highest quality care for their citizens,'' the governor said. "Georgians will soon benefit from greater flexibility afforded to states through our Georgia Access and Georgia Pathways waivers, and I look forward to working with the administration to continue our goal of providing Georgians with high-quality, affordable, and accessible health care — no matter their ZIP code."
The Kemp administration could revise its waiver approach by injecting some new benefit ideas – and raising hopes for state savings — included under the White House plan, experts say.
The Trump administration's approach – commonly known as block grants – has been embraced by Republicans who have advocated giving states more flexibility to run their Medicaid programs. Tennessee has already applied to turn its whole Medicaid program into a block grant. And in Oklahoma, Republican Gov. Kevin Stitt said Thursday said his state would be one of the first to pursue a block-grant program with moderate premiums and work requirements for eligibility, the Wall Street Journal reported.
Democrats, consumer groups and some provider organizations criticized the initiative as potentially cutting funding for Medicaid and reducing access to medical services.
The White House plan would almost certainly face a legal challenge.
The leaders of the American Hospital Association and the American Health Care Association, a group that represents nursing homes, warned that the White House offer could lead to a cut of $50 billion a year in national Medicaid funding.
"Entire communities could lose access to care under this proposal, especially in rural areas where 15 percent of hospital revenue and nearly two-thirds of nursing facility revenue nationwide depend on Medicaid funding," Rick Pollack of the AHA and Mark Parkinson of the AHCA said in a joint statement.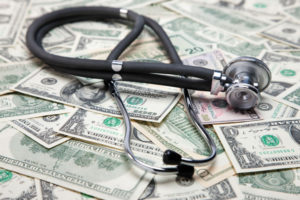 Under the current system, the federal government matches state Medicaid funding, and as a state's enrollment or spending rises, the federal amount of funding rises with it. A cap on this federal funding would represent a major shift in how the program is run.
Under this new program, a state could decide upfront how much it wants to spend on its adult Medicaid population, then get the federal share in either a predetermined lump sum or a fixed amount for each beneficiary, the New York Times reported.
Georgia's waiver plan, as currently proposed, would add uninsured adults under 100 percent of the federal poverty level to Medicaid, provided they meet eligibility standards. These would include a requirement that the applicants are working, doing community service, or involved in school or job training.
The new White House option will technically be available to all states. But it appears to be targeted at the 14 states — including Georgia — that have not expanded Medicaid under the Affordable Care Act, offering them a more conservative alternative to expansion in covering poor adults, the Times reported.
Medicaid currently covers more than 70 million Americans, including 2 million in Georgia.
The CMS, under the new option, would require a minimum set of benefits but let states cover fewer prescription drugs for this adult coverage. The agency would also allow participating states to change cost-sharing requirements.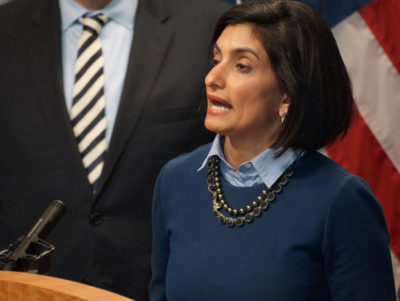 "By incentivizing value, this approach won't simply result in higher quality care for beneficiaries in the present, but will also safeguard quality care for future beneficiaries by putting the program on a sustainable path," CMS Administrator Seema Verma said on a media call Thursday.
States selecting the new option could also stop covering retroactive benefits for people who received care in the few months before they technically signed up for Medicaid.
"Vulnerable populations deserve better care. Data shows that barely half of adults on the Medicaid program report getting the care they need," Verma said in a statement. "This opportunity is designed to promote the program's objectives while furthering its sustainability for current and future beneficiaries, and achieving better health outcomes by increasing the accountability for delivering results. We've included opportunities for states to earn savings that have to be reinvested in strengthening the program so that it can remain a lifeline for our most vulnerable."
But adopting this approach could backfire on a state if a recession were to occur, said Bill Custer, a health insurance expert at Georgia State University. During hard economic times, more adults lose jobs and suffer reductions in income, and many could end up qualifying for Medicaid. If there were a hard cap on federal funding, the state might have to choose between denying coverage to some of these people or raising its own spending substantially.
"It puts the state at [financial] risk,'' Custer said
Many Republicans say Medicaid spending needs to be reined in. Under the Health Adult Opportunity initiative, states would have the opportunity to share cost savings with the federal government and extend Medicaid coverage to more people in exchange for taking on more financial risk.
Laura Colbert of the consumer group Georgians for a Healthy Future said the CMS move "should worry all Georgians.''
"Block grants are simply camouflaged cuts to the Medicaid program," Colbert said. "If Georgia were to adopt this approach, fewer dollars would be available to provide care to Georgians. The so-called limits of these spending cuts to low-income Georgia adults and parents do not protect other groups, like children, people with disabilities, and pregnant women. The state would have less money to ensure all Medicaid members have the care and coverage they need.''