This article is part of an occasional series on rural health care in Georgia. These articles are supported by a grant from the Arthur M. Blank Family Foundation.
Metro Atlanta is often characterized as the epicenter of Georgia's HIV crisis.
Earlier this year, in fact, President Trump announced an anti-HIV plan targeting four populous counties in greater Atlanta — Fulton, DeKalb, Gwinnett and Cobb — among 48 counties in the nation.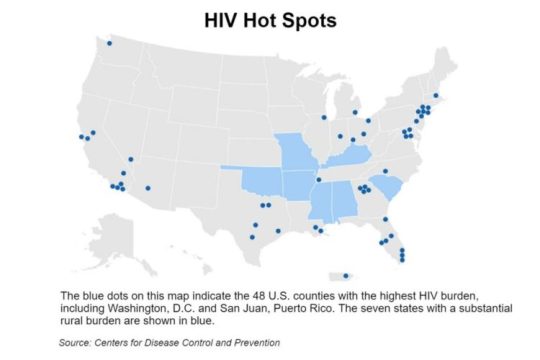 But many rural Georgia counties, though their overall populations are not large, have high rates of HIV, says Aaron Siegler, an associate professor at Emory University's Rollins School of Public Health.
"Fulton and DeKalb counties dominate in terms of number of cases, but rural areas have new diagnosis rates only slightly lower than these urban areas. These rural areas likely need different strategies for HIV prevention, and ways to ensure access to treatment and prevention services," says Siegler, who has produced research on HIV prevention.
Rural residents have more obstacles in getting medical care or in preventing HIV in the first place, he adds.
"The whole U.S. South has substantially high rates of new diagnoses in its rural areas,'' Siegler says.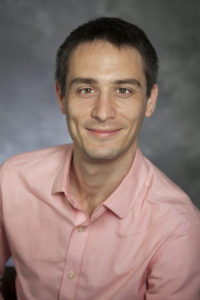 HIV is the virus that causes AIDS, a disease that has killed millions around the world. Much progress has been made in keeping patients alive by thwarting the development of the full-scale disease, but a key to anti-HIV strategy is preventing new infections.
In the United States, the Southern region accounts for 52 percent of new HIV diagnoses and 47 percent of deaths attributable to HIV/AIDS.
Besides the 48 county "hot spots'' that have been designated, federal health officials are focusing their anti-HIV strategy on seven states with high rates of the disease in rural areas. The seven — Oklahoma, Missouri, Kentucky, Arkansas, Alabama, South Carolina and Mississippi — are all in the Southeast or on its periphery.
The South has a number of factors leading to these statistics. They include lower health literacy and a lack of access to care and to preventive services, Siegler says. "It's harder to get access to a culturally competent provider'' in this region, especially in rural areas, he adds.
CDC officials also say income inequality, discrimination and poorer health outcomes are more widespread in the South.
Georgia has the leading rate of new diagnoses among states. The state ranks No. 3 in HIV risk in the nation, trailing only Ohio and Nevada, according to the study from Health Testing Centers, which used data from the CDC.
Daniel Driffin, 32, who co-founded Thrive SS, a nonprofit that provides support services to 900 African-American men in Georgia who have HIV, said earlier this year that Southern states have an access-to-care problem that he linked to high rates of uninsured people.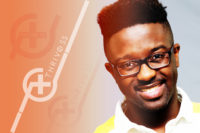 "Access to care can be a problem for black and brown people in the Deep South,'' said Driffin, who has HIV. "Many people often go without meds.''
Care can be hard to find
The AIDSVu map, created by Emory's Patrick Sullivan, shows prevalence rates of at least 500 people living with HIV per 100,000 in the following rural South Georgia counties: Stewart, Clay, Wilcox, Decatur, Crisp, Telfair, Quitman, Irwin, Wheeler, Calhoun, Randolph and Colquitt.
(If a county has a total population of less than 100,000, then its actual number of people with HIV would be far less than 500.)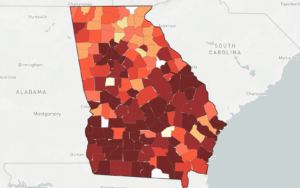 "The challenge for many rural patients is transportation, and a lack of qualified providers in their area,'' says Dr. Wendy Armstrong of Emory University, medical director of the Infectious Disease Program at Grady Health System. "Furthermore, rural patients live in small communities where there is less education about HIV and a far greater concern about losing anonymity with doctor visits, etc. ''
Frank Tant of the Rome-based AIDS Resource Center, which serves several rural counties in northwest Georgia, says stigma surrounding HIV can be a problem in those areas.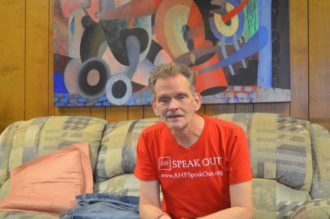 Tant, who has lived with HIV for 31 years, told GHN in 2017 that in northwest Georgia, there is still considerable prejudice against people who are gay, lesbian, bisexual or transgender. Fear of being stigmatized motivates some people to travel out of the area for HIV care or for PrEP, a medication regimen that can block HIV infection.
Through daily use, PrEP (pre-exposure prophylaxis), people at high risk of getting the virus can lower their chances of becoming infected. But the pills can be expensive.
Rural areas often don't have nonprofit organizations doing outreach to the community for HIV education or testing, says Cathalene Teahan of the Georgia AIDS Coalition.
Many health departments in Georgia can offer PrEP, Teahan says.
Emory's Siegler, meanwhile, points to areas where access to this preventive medication can be difficult.
Siegler has developed the PrEP locator, a national database of clinics prescribing PrEP where people can easily locate places in their area that prescribe the medication.
There are many "PrEP deserts,'' where access to this medication is a long drive away, he says.
"People are usually not willing to travel more than 30 minutes for preventive care," he adds. One in eight men having sex with men live in what Siegler calls "PrEP deserts.''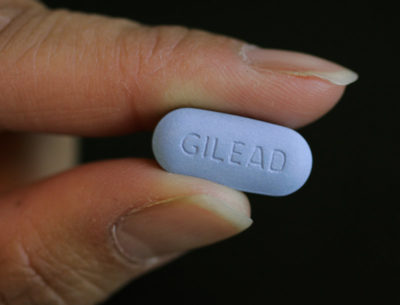 "This disproportionately impacts rural areas,'' Siegler says.
The dearth of PrEP providers offering services in rural and Southern areas has led him to launch a clinical trial in which men who have sex with men would be linked with a clinician through telemedicine.
"Individuals can do a telemedicine visit through an app,'' Siegler says. "We are working with pharmacies with electronic prescriptions.''
In this way, he says, an individual can get clinical help ''in the privacy and comfort of their home.''