Just one of Gov. Brian Kemp's waiver proposals was unveiled Thursday. But that one part, announced at the state Capitol, is still a lot to grasp.
The so-called 1332 waiver proposal is designed to make fundamental changes in the health insurance system for individuals and families in the state. The goal is to make coverage less expensive, with more competition among insurers and fewer enrollment snags – and lead to more Georgians having health insurance.
It calls for a ''reinsurance'' program, plus a plan to replace the state's current healthcare.gov website procedure with what officials say would be a new, consumer-friendly enrollment process. The waiver proposal also aims to help employees of small businesses afford coverage.
Kemp announced the plan in his office, surrounded by lawmakers and government officials. He said Thursday that the waiver plan "is a Georgia-centric approach that will lower health care costs and insurance premiums for Georgia families, enhance access to top-notch doctors and state-of-the-art services, and ultimately improve health outcomes for every Georgian."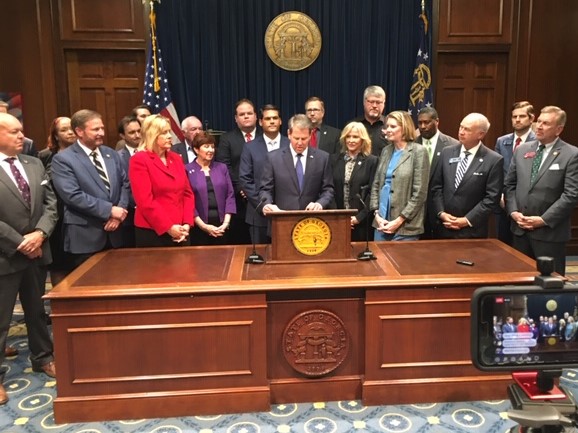 A waiver proposal is a request to the federal government to waive certain health care regulations so a state can make its own rules in certain areas. The changes can be made only if the feds give the OK.
If federal officials approve the 1332 waiver, the state of Georgia would take control of the $2.7 billion in subsidies that are offered to offset the premium prices for consumers in the insurance exchange. The exchange was created by the Affordable Care Act (ACA) so people who don't have coverage from their employers — or from government programs such as Medicaid and Medicare — can buy health insurance at a reasonable price.
Georgia is dealing with a growing problem of people with no health care coverage. The state now has the third-highest overall uninsured rate in the nation, and just this week, a report found that Georgia had a spike in the rate of children without coverage. Having large numbers of uninsured people is bad for the overall health and prosperity of a state. Many such people will go without routine care, and eventually may need very costly care at public expense.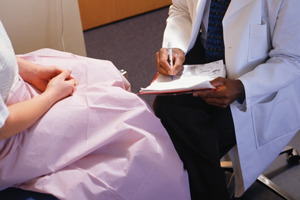 If the waiver goes through, the state will be assuming more control of the individual insurance market.
People from across the political spectrum agree "that insurance premiums are too dang high,'' Kemp said, adding that health care for many Georgians "is the largest and most unpredictable expense in the family budget.''
Kemp administration officials say they've been in constant contact with the federal Centers for Medicare & Medicaid Services and with the White House about their waiver plans.
On Monday, Kemp is expected to roll out his other waiver plan – potentially revamping eligibility for the Medicaid program. That's expected to draw criticism from Democrats, who argue that a full expansion of Medicaid, as outlined by the ACA, would cover more Georgians at a lower cost than the coming Kemp plan. Republicans who control Georgia government, including Kemp, his predecessor and state legislative leaders, have consistently opposed full expansion as too costly.
"While I'm glad that Governor Kemp is beginning to understand what Democrats have been saying for years, his plan doesn't go far enough," state Sen. Gloria Butler told the AJC. Butler, a Stone Mountain Democrat, said Kemp's proposal would still leave hundreds of thousands of Georgians without adequate health insurance.
State officials have been working with Deloitte consultants to craft the waiver proposals, which will trigger a series of public hearings across Georgia and be submitted to the feds by the end of the year.
Reinsurance
The reinsurance program would seek to stabilize the exchange market and reduce premiums for consumers by an estimated average of 10 percent. It would reimburse health insurers a portion of their high-cost claims – those from $20,000 to $500,000 in medical claims.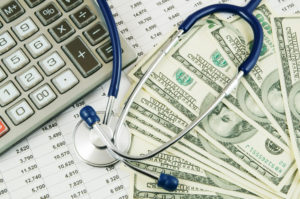 The feds have approved such programs in a dozen states. Georgia's plan differs from most in that it takes a regional approach. It's designed to produce bigger premium decreases in South Georgia and other regions where the prices of exchange plans are most expensive – as much as $1,100 a month.
State officials say the monthly premium decrease may only be about $30 in metro Atlanta — a more competitive, less expensive market – and up to $282 a month in the most expensive areas.
South Georgia had some of the highest premiums in the nation when the ACA kicked in. "We had the biggest premium differential among the states,'' said Bill Custer, a health insurance expert at Georgia State University, who was asked to comment on the Kemp proposal.
The governor's office says the state would have to fund reinsurance with an outlay of $104 million, which would then draw another $260 million from the feds. This change would provide "more choice and more competition in the marketplace,'' Kemp said
"Reinsurance appears to be a win/win for consumers and the feds, and insurers are happy with it,'' Custer said.
With an anticipated quick approval by the Trump administration, reinsurance would begin for coverage in 2021.
Small business employees
The 1332 proposal contains other significant changes that are not expected to start until 2022.
By assuming control of the consumer subsidies – available for people with incomes from 100 percent to 400 percent of the federal poverty level — the state could gain some flexibility on how they are distributed. And one group to benefit could be workers in small businesses.
Under current law, employers cannot help offset the cost of an employee's health insurance plan purchased through the federal exchange. Georgia's waiver plan would end that restriction, so that workers in small firms could gain both subsidies and contributions from their employer.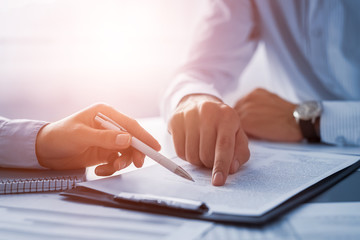 It would help the company that doesn't offer health insurance but wants to help the worker buy it on the exchange.
That could lead to some small businesses dropping coverage for their workers, Custer said.
But it could also expand coverage, he said, giving lower-wage workers a financial benefit to afford insurance and offering them more choice of health plans.
But if more Georgians overall receive subsidies, that could reduce the amount of discounts that some receive now, Custer said. Waivers are required to not cost the federal government extra money.
When asked about the subsidy impact, state officials say they are working on that distribution issue now with federal health officials.
"Small businesses are the backbone of our state's economy,'' Kemp said.
The state director of the National Federation of Independent Business, which represents smaller employers, said the group "is very excited'' about the waiver goals.
"For two decades, health insurance has been at the very top of [small businesses'] issues and concerns,'' said Nathan Humphrey, who attended the Kemp announcement.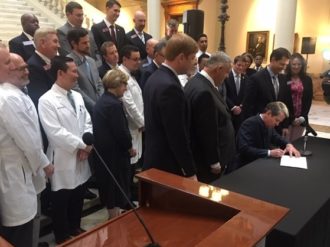 A new online approach
Kemp administration officials say that healthcare.gov, the consumer portal for the current exchange in Georgia, is difficult to navigate. The website, Kemp said, "is confusing, cumbersome and forces some to just give up and simply go without coverage.''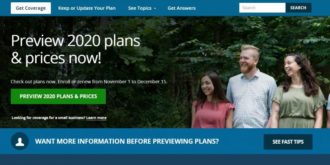 Their solution is to create a different digital experience for consumers. They would click on healthcare.gov and immediately be whisked to a new landing page, which will offer choices for them to click directly to insurance brokers and health insurers themselves.
The state would certify those vendors. Administration officials say private companies will likely end up creating this new portal.
But Custer said that to "make it less clunky and to maintain it, the state would be at [financial] risk for that.'' And if a consumer problem arose, he said, "the state would have to rectify that problem. There's a cost to that.''
Laura Colbert of the consumer group Georgians for a Healthy Future, when asked to comment on the IT change, said the current federal website "provides an unbiased place to compare plans'' that consumers now rely on.
Non-ACA health plans
The administration is also asking the feds for permission to offer health plans that may not have the comprehensive benefits required by the ACA — and allow subsidies for that coverage.
Officials give the example of a 60-year-old single man not wanting coverage for maternity. With a health plan that doesn't have that benefit, the man could save on premiums.
The Kemp administration would prohibit any of these non-ACA plans from discriminating against people with a pre-existing health condition (which is known as "medical underwriting").
"There will be winners and losers from subsidizing non-ACA plans,'' Custer said. He said a young couple wanting maternity coverage may have to pay a higher premium as a result of the new offering.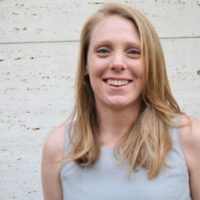 Colbert said that consumers could have difficulty understanding the gaps in certain policies. An e-broker, she said, "may not make clear what the tradeoffs are between health plans.''
Expanding access to non-ACA plans, she said, "is risky. Consumers' expectations are that all plans are comprehensive."
Overall, for the 1332 waiver, "The math here is going to be really important. I am skeptical the benefits [of the waiver plan] outweigh the risks.''
After the Kemp announcement, Butch Miller, president pro tem of the state Senate, told GHN that lawmakers will back the plan. "There will be strong support in both chambers,'' said Miller, a Gainesville Republican.
State Sen. Larry Walker, a Perry Republican who sells health insurance, told GHN that he believes the waiver plan "Is a game-changer for the individual market."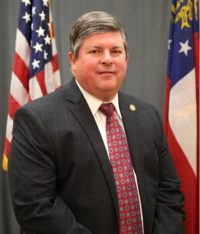 More than 50 counties have only one insurer for that market, Walker said. "This will bring in more competition and more choice and lower premiums."
And Lt. Gov. Geoff Duncan, who also addressed those assembled in the governor's office, said the waiver plan ''puts policy over politics.''
"Other states will follow Georgia's lead," he said.