Brenda Goodman is a senior news writer for WebMD. Andy Miller is editor and CEO of Georgia Health News.
State regulators Friday announced swift approval of plans by a medical device sterilizing company to implement pollution-reduction changes at its Smyrna facility.
Sterigenics said earlier this week that it had just submitted an application for a permit for the proposed facility changes. The company has been the target of protests from Smyrna-area residents concerned about the use of a cancer-causing gas, ethylene oxide, in its sterilization process.
Last year, the EPA identified census tracts in the Smyrna area, just northwest of Atlanta, and in Covington, about 35 miles east of Atlanta, as having increased cancer risks, largely due to the use of ethylene oxide. Covington's BD plant also uses the gas for sterilizing medical devices. (Here's our article about community reaction to the Covington plant's emissions.)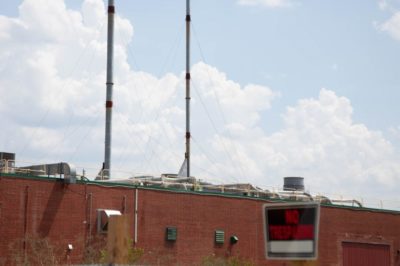 The state Environmental Protection Division said two other Georgia companies also use ethylene oxide for sterilizing medical devices: Sterilization Services of Georgia in Atlanta, and KPR USA in Augusta.
BD also operates a sterilizer plant in Madison, east of Covington.
The EPD said another facility, Stepan in Winder, near Athens, uses ethylene oxide to produce laundry detergent.
The agency said it will use modeling to determine the effects of current emissions of ethylene oxide from those facilities. EPD also said it's developing a plan to conduct air quality monitoring near these facilities and in other areas.
"However, air quality monitoring can be challenging since ethylene oxide is generated from sources other than medical sterilizers and can be found in air samples from areas without those types of facilities,'' the agency said in a statement.
The Sterigenics facility changes are expected to be completed in 12 to 24 weeks, EPD said.
The company's president, Phil Macnabb, said in a statement this week that ''the upgrades we have proposed to the Georgia EPD follow months of discussions regarding how we can implement the best available technology to further reduce the already low level of [ethylene oxide] emissions."
The city of Smyrna this week said it's committed to pursuing independent testing around the Sterigenics plant.
The state EPD, in its Friday statement, said it's working with BD to identify solutions to reduce its emissions in Covington and Madison.
The agency appears to have approved the Sterigenics permit with extraordinary speed.
Permits are legal documents that place conditions on companies that may pollute the environment.
In 2013, EPD began offering an expedited permitting program. The law gives EPD up to 5 months to review and approve a permit after all application materials are received.
A data analysis by Georgia Health News and WebMD of permits approved by EPD since August 2018 found the average time it takes EPD to review a permit after acceptance into the expedited program is 5 weeks.
The Sterigenics permit was approved in 4 days.
State regulators also said Friday the federal EPA is working to develop "a better understanding of ethylene oxide and propose regulatory updates for medical sterilizers.''
The administration of Gov. Brian Kemp is investigating the ethylene oxide risks in the state, the governor's spokeswoman said Thursday.