Singing isn't new for Mike Shortal, who is 81 and lives in Sandy Springs. He loves music, and says being a member of a choir has long been one of the joys of his life.
"I became an engineer because I knew I couldn't make a career out of music, but I've always tried be part of one choir or another," he says.
His passion for singing is one reason he took the news so hard when, at age 73, he was diagnosed with Parkinson's disease
"It was a difficult diagnosis to accept," he says.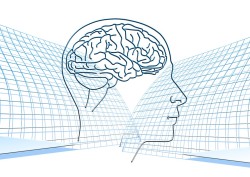 Parkinson's is a brain disorder that gradually affects how the body works. Initially, it can lead to stiffness and difficulty with walking, balance and coordination. As the disease progresses, the vocal cords — along with the ability to swallow — are affected. In addition, mental and behavioral changes, including sleep problems, depression, memory and fatigue, may follow.
Symptoms usually advance slowly. Ultimately, involuntary shaking of the hands, arms, legs, jaw and tongue can accompany slowness of movement and signs of rigidity, making living with the degenerative disease increasingly difficult.
As one might guess, it was the prospect of vocal problems that made Shortal's original diagnosis so distressing. He had suspected he had Parkinson's even before it was confirmed. But once we knew for sure, he had to reckon with the possibility of becoming unable to sing. He wanted to hold on to his beloved hobby for as long as possible.
Then he heard a bit of news that changed his outlook: A therapeutic choral program had been developed in metro Atlanta. He wouldn't have to be silenced by his illness.
Shortal joined up, and the experience has made his life much better than it might have been otherwise.
Three organizations came together to build the success of this unique choir. Most of the funding comes from the Thanks Mom & Dad Fund, which supports programs and services for the aging population.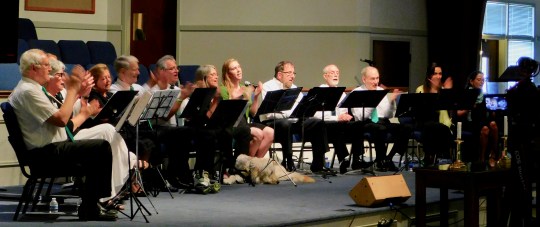 Additional funding comes from two other Atlanta-based organizations, The George Center and the Alchemy Sky Foundation. The former offers scholarships to families, organizations and programs that offer music therapy services. The latter works with community organizations to bring the healing power of music to those who need it.
A debilitating disease
About 60,000 Americans are diagnosed with Parkinson's each year, and more than 10 million people worldwide are living with the disease.
Parkinson's disease is generally associated with aging. Though there is an "early onset" form that strikes people under 50, it is relatively rare. The average age of someone diagnosed with Parkinson's disease is 56.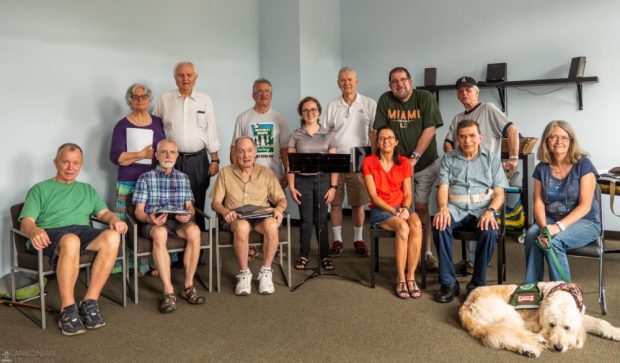 The combined direct and indirect cost of Parkinson's, including treatment, Social Security payments and lost income, is estimated to be nearly $52 billion per year in the United States, according to the Parkinson's Foundation. Medications alone cost an average of $2,500 a year and therapeutic surgery can cost up to $100,000.
Development director Annie Long of the Parkinson's Foundation in Georgia says about 20,600 Parkinson's patients live in Georgia today.
Parkinson's disease is personal for Long. Her mother was diagnosed a few years ago.
"With Parkinson's disease, there is so much beyond our control that you can't anticipate," Long says.
Strengthening the right muscles
A number of research studies support the theory that singing helps strengthen muscles associated with swallowing and respiratory control. And music can reduce signs of stress, mood swings and depressed feelings.
Based on this correlation, patients diagnosed with Parkinson's disease and choral groups provide a perfect setting for research programs.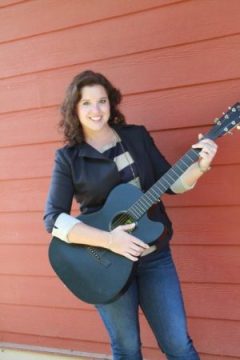 "We're not trying to make them better singers," says Elizabeth Stegemöller, of the Department of Kinesiology at Iowa State University and a music therapist. As a researcher, she has been working to improve the lives of people with Parkinson's disease through music.
Stegemöller's first objective was to help patients enjoy music while acquiring additional facial muscle strength — thereby improving their speaking and swallowing abilities.
Licensed music therapist Jamie George says she's familiar with Stegemöller's extensive research and hopes the word about music therapy will reach more people than ever.
"More media coverage will lead to the spending of additional resources to look at the research and science," George says.
She opened the George Center in 2010 and is pleased to help support the Singing with Parkinson's Choir. "Music should be the gold standard in almost any rehabilitative setting," says George.
George says the "feel good" part is what makes music therapy accessible and motivating — "that's why patients initially want to participate."
Directing the Singing with Parkinson's choral group is music therapist Claire Morison. She, too, is a trained neurologic music therapist.
In addition to clients with Parkinson's disease, the George Center provides music therapy for children and adults with any number of conditions. That includes people on the autism spectrum, individuals recovering from traumatic brain injuries, people with developmental delays (such as cerebral palsy and Down syndrome), and patients with dementia and post-stroke injuries.
Another music therapy believer is Monica Goodman. She was diagnosed with Parkinson's at age 54, which is unusual, and says she was aware of the symptoms at age 46, which would put her in the "early onset" category.
"I have definitely seen a quality-of-life improvement since I started singing," says Goodman, of Canton.
Goodman says speaking can be more difficult in the evening, but not singing.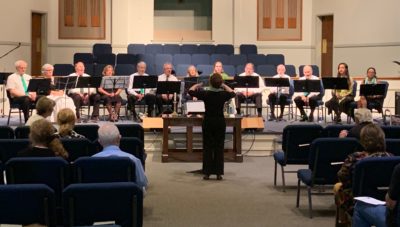 She says she's taken two intense speech therapy programs (16 sessions in four weeks), and feels that this Parkinson's Choir has been even more beneficial for her.
"The choir chooses songs that address different types of voice problems," Goodman says. "For example, we practice with warm-up exercises to expand our lung capacity," she says.
"The director's goal is to improve the tone, the pitch and the quality of our voice, and I believe that these singing exercises do just that," Goodman says.
Picking the songs carefully
"We have very specific goals and objectives that pertain to communication symptoms of Parkinson's disease," says music director and licensed music therapist Claire Morison. The vocal warm-ups and the music itself are designed to enhance neurological music therapy techniques, she says.
Impaired speech quality and slowed speech are problems for many Parkinson's patients. Morison keeps that in mind and "selects music that will help clients improve their breath support, articulation, and tone quality, as well as reinforce muscles that open and close the mouth."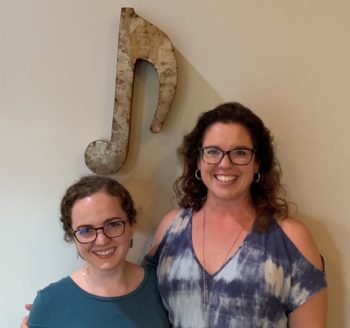 The members of the choir just enjoy what they are doing, says Morison. Most are too focused on the piece they're singing to stop and consider how therapeutic the whole process is.
And that's good, because the choir members are experiencing the music and bonding with one another instead of dwelling on their own individual struggles. "We see an amazing amount of camaraderie within the group and positive social interactions," Morison says.
Of course, any choir is better off when its members get along. But for these singers, socialization with other patients who understand the disease process is a real benefit.
Goodman encourages other people with Parkinson's disease to stay involved with the things they care about. In her case, it's the choir of fellow patients.
"It can be quite a debilitating condition, and attending Parkinson's choir practices and recitals makes my day brighter," she says.
"I love to sing, but honestly, I am terrible," Goodman adds. "I'd never joined a choir or been part of a chorus group before, but when I come to this class, I never feel like I am terrible."
While she's modest about her own vocal abilities, she says several people in the choir have "awesome voices."
"I may never sing like Adele," says Goodman, referring to the acclaimed British recording artist, "but I am strengthening my voice and improving my quality of life."
Judi Kanne, a registered nurse and freelance writer, combines her nursing and journalism backgrounds to write about public health. She lives in Atlanta.
The Thanks Mom & Dad Fund supports GHN's coverage of aging issues.