Editorial note: This is a reporter's tribute to a Georgian beloved by people from all walks of life and all shades of opinion.
As a lobbyist, Dawn Alford was smart, tenacious and effective. As a person, she was unfailingly pleasant, greeting people with a big smile.
And as a woman with disabilities, Dawn set a compelling example of what's possible. She influenced countless individuals she met, affecting how they viewed people with physical or intellectual disabilities.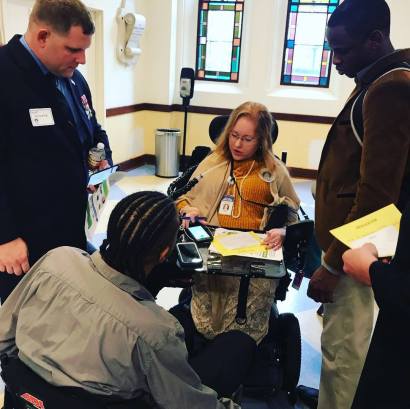 Elizabeth Dawn Alford passed away last week at age 41. Her sudden death shocked friends, colleagues and family in the Temple area in western Georgia, where she lived.
"She really changed people's minds about disabilities and really opened hearts,'' state Rep. Mary Frances Williams, a Marietta Democrat who used to work alongside Dawn as a public policy advocate.
Dawn was a public policy director and lobbyist at the state Capitol for the Georgia Council on Developmental Disabilities. Using a power wheelchair, and accompanied by her service dog Kab, she attended many of the legislative meetings over funding, services and accessibility for people with disabilities.
"She had a great reputation at the Capitol with legislators,'' said Eric Jacobson, executive director of the Council on Developmental Disabilities. "She always had a great smile. She was willing to debate when debate was necessary, and to throw out new ideas.
"We're all struggling with her loss. She was such an inspiration. She inspired younger people with disabilities to be involved – to fight for equal rights.''
Dawn grew up in Temple. She was a poster child for muscular dystrophy, and met President Ronald Reagan.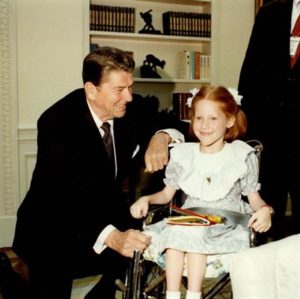 Along with her persistence and good spirits, she had great intelligence. She was valedictorian of Temple High School and later graduated magna cum laude from Georgia Tech with a chemical engineering degree.
"She was one of the most professional, diligent and effective advocates at the Capitol,'' said David Tatum, a vice president of Children's Healthcare of Atlanta. "She had obviously dealt with the physical challenges, and showed they didn't hold her back'' in advocacy and education.
A letter from Gov. Brian Kemp was read at Dawn's funeral last week.
"Having borne her own physical challenges with grit and grace, she became the very face of advocacy in Georgia for others facing similar hardships,'' Kemp said in the letter. "She was tireless in her pursuit of enabling the disabled through effective legislation, enhancing resources and advocating for those things that help overcome physical barriers.
"Dawn truly was a freedom fighter – the freedom to live a joyful life in the face of daunting physical challenges. She was truly a titan of advocacy and will be sorely missed by so many of us who became familiar with Dawn and her constant K-9 companions. We give thanks for Dawn's incredible tenacity, tireless work and joyful celebration of life itself. Let us honor Dawn by celebrating each day that we too, can be of service to another.''
Dawn's faith was a big part of her life, friends said.
At the Capitol, Williams said, ''Dawn liked being down there and was really good at being effective for the disability community. She pushed pretty hard. But everyone liked her.''
''I knew she was in pain but she never said anything about it. ''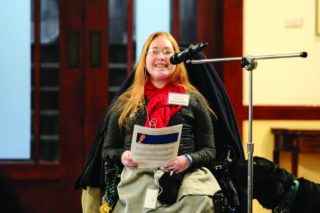 State Rep. Katie Dempsey of Rome worked with Dawn on issues such as opportunities for people with disabilities after they graduate from high school.
"Her mind was strong and alive,'' Dempsey said. "Dawn was a voice for inclusion, possibility and perseverance. She was beloved. She established pathways that will benefit people in Georgia forever.''
This year is the 20th anniversary of the landmark U.S. Supreme Court decision involving people with disabilities. The Olmstead case began with two Georgia women confined in a state-run mental hospital in Atlanta.
The Olmstead ruling held that unjustified segregation of people with disabilities is a form of discrimination and violates the Americans with Disabilities Act.
This decision created new opportunities for individuals with disabilities to live and work in their communities.
Talley Wells, an attorney who has long represented people with disabilities, said Dawn embodied the promise of the Olmstead decision.
"Dawn lived as much as anyone I have ever known. She lived her faith, she lived her friendships, she lived her vulnerabilities. And she loved. She loved God. She loved her friends and fellow advocates. Dawn was Olmstead. She is Olmstead. Dawn Alford will always be Olmstead.''