Metro Atlanta shows mixed results on air pollution in the American Lung Association's latest report, released Wednesday.
The area had fewer days of bad ozone pollution – the main factor in smog – but still ranked 25th among cities for the worst ozone, according to the Lung Association's 2019 State of the Air report.
Ozone exists naturally in the atmosphere miles above Earth, and plays an important protective role. But at ground level — where it is created by the reaction of sunlight on emissions from vehicles and other sources — ozone is unhealthy. Ground-level ozone is especially harmful to children, older adults, people with respiratory illnesses, and those who work outdoors.
The report said Atlanta/Athens/Sandy Springs had worse results on year-round particle pollution than the previous year. The area tied for 19th worst in this form of pollution.
"Particle pollution is made of soot or tiny particles that come from coal-fired power plants, diesel emissions, wildfires and wood-burning devices,'' June Deen, the Lung Association's director of advocacy, said in a statement. "These particles are so small that they can lodge deep in the lungs and trigger asthma attacks, heart attacks and strokes, and can even be lethal."
Year-round particle pollution levels have generally dropped thanks to the cleanup of coal-fired power plants and the retirement of old, dirty diesel engines, she added.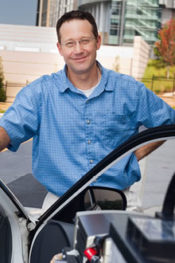 Ozone and particle pollution, or soot, are the most widespread air pollutants and are among the most dangerous for health effects, said Jeremy Sarnat, an associate professor in the Department of Environmental Health at Emory University's Rollins School of Public Health.
"Broadly speaking, both kids and older adults are most susceptible,'' but so are people with heart and lung disease, and conditions such as asthma and diabetes, Sarnat said.
The report – the Lung Association's 20th – appears as concerns swirl about climate change's effect on air pollution, and about the Trump administration's potential weakening of environmental regulations.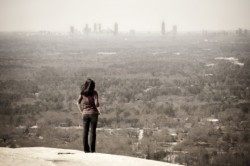 The data in the report come from 2015, 2016, and 2017, which the Lung Association said were the three warmest years on record. "Georgia residents should be aware that we're breathing unhealthy air, driven by extreme heat as a result of climate change, placing our health and lives at risk," Deen said.
The Georgia air pollution results were good in several areas. These include: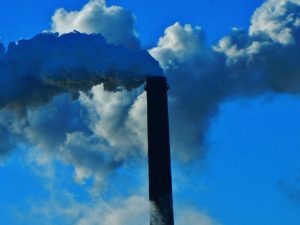 ** Columbus, St. Marys, Macon, and Warner Robins, all of which experienced fewer unhealthy days of high ozone in this year's report.
** Fulton County, the most ozone-polluted county in metro Atlanta, had an improved weighted average of 9.8 days of unhealthy levels of ozone in 2015-17 compared to the 10.2 days in 2014-16.
** On year-round levels of particle pollution, Augusta, Macon, Warner Robins and Columbus all improved and recorded their best-ever year-round levels. Macon also had fewer days when short-term particle pollution reached unhealthy levels.
** Chatham and Glynn counties on the coast and Chattooga County in the northwestern part of Georgia made the list for the cleanest U.S. counties on ozone. The cleanest ozone cities include Brunswick and Savannah/Hinesville/Statesboro.
** Floyd and Paulding counties were cited as among the cleanest for short-term particle pollution.
In the Lung Association report, several metro Atlanta counties received F grades for ozone: DeKalb, Fulton, Gwinnett, Henry and Rockdale.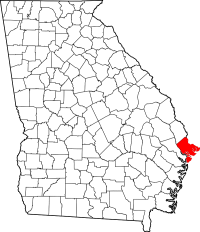 Receiving A's were Chatham, Chattooga, Glynn and Richmond counties, none of which are in metro Atlanta.
Nationally, the air pollution trends are generally positive over the past 20 years, said Paul Billings of the American Lung Association. That's largely due to the Clean Air Act, he said.
"The goal of the American Lung Association [report] is to highlight the complex and complicated topic of air pollution and translate it into grades and ways that the public can understand,'' he said.
Emory's Sarnat said that over the past 30 to 40 years, "most of the urban air pollutants have declined in the U.S. But that's not the case for all types of particle pollution.''
The warming patterns will very likely lead to increases in ozone and some particulate matter, he said.
Sarnat said that with the Trump administration's position on regulations, "there does not seem to be a political will or regulatory will to continue to be vigilant in regulating air pollution.''
The Lung Association report said that the Trump administration "has focused on steps to roll back or create loopholes in core healthy air protections put in place to comply with the Clean Air Act.''
President Trump's policies have drawn the ire of scientists, but he and his allies say some environmental regulations have hampered American business, and argue that the U.S. record on air pollution remains good.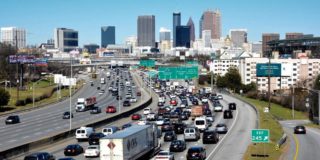 Andrew Wheeler, the EPA administrator, has pushed Trump's deregulatory agenda during his time running the federal agency. Among his efforts have been rollbacks of Obama administration rules that aimed to limit climate-change-causing pollution from power plants and to raise fuel efficiency standards for cars and trucks, the Wall Street Journal recently reported.
"Through our deregulatory actions, the Trump administration has proven that burdensome federal regulations are not necessary to drive environmental progress," Wheeler, a former coal and energy lobbyist, told Congress in January. "Certainty, and the innovation that thrives in a climate of certainty, are key to progress."