This article is published with permission from Rural Health Quarterly, where it first appeared.
Lee Whitton is almost unique among his peers at Morehouse School of Medicine. A white male raised in a small town near Chattanooga — he's a third-year medical student at the Atlanta school, which has a predominantly black and female student body coming mainly from urban areas.
Tall, with a casual demeanor and a silvery faux hawk hairstyle, the 27-year-old Whitton doesn't mind standing out. "My class has about 100 students, and I'm definitely a minority," he says with a smile.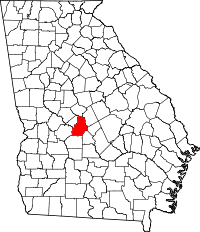 At the time of our interview, he's at the halfway point of his two-week rural rotation, which is a requirement during family medicine clerkship at Morehouse. He works in the office of Dr. Steven Wilson, a primary care physician, just outside the central Georgia town of Warner Robins.
It's eerily quiet here during the lunch hour on this sunny day. Not a single car is parked in front of the nondescript strip mall unit, and the sidewalk is deserted. Yet the lull is temporary. There are about 70 patients on the day's schedule.
Whitton admits that he didn't expect such a heavy patient load. In his first week, he says, he's seen about 100 patients, "and I'll probably double that number by the end of my time here."
Another thing he didn't expect was the variety of patients and their wide range of diseases, from bone disorders to seizures.
"Honestly, I expected some monotony in rural health," he says. "Mostly high blood pressure and diabetes and colds, just doing the same thing over and over."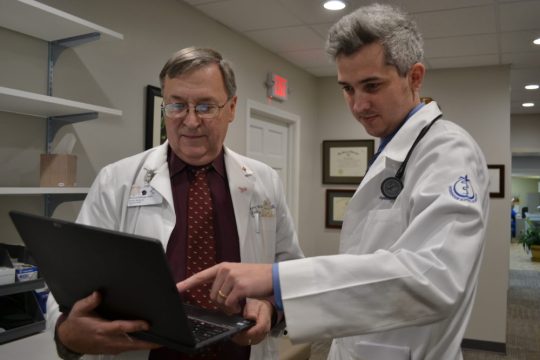 Challenging some of the stereotypes about rural health is part of the rotation's plan, says Dr. Dolapo Babalola, an associate professor of family medicine and director of student education and rural health at Morehouse.
Another goal is to help students "get a feel for what it really means to be a physician on the front lines of primary care, to apply more of their clinical skills instead of relying too much on labs and technology," adds Babalola, who is from Nigeria and completed her medical residency at Morehouse.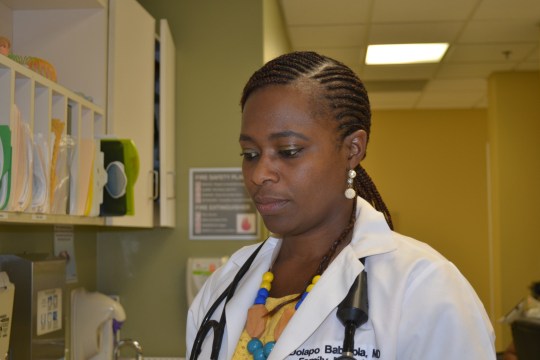 "We want the students to get hands-on experience with the patients," she continues. Take their medical history, do a physical exam, present the case to the doctor.
The hope is that more students will consider a career in primary care in rural areas. That's where the physician shortage in the U.S. has the most daunting impact, according to a study by the Association of American Medical Colleges. The report predicts a shortage of up to 120,000 physicians by 2030. Rural and underserved areas in the South could be especially hard hit, the study suggests.
Morehouse School of Medicine was founded in 1975 as part of Morehouse College, a historically black and all-male liberal arts college. The medical school became independent in 1981, and is now co-educational, with a current enrollment of 541 students on a 13-acre campus in downtown Atlanta.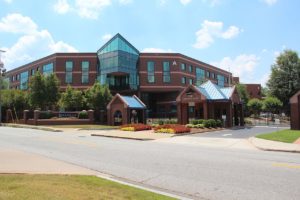 Rural health has been part of the Morehouse curriculum for the past 25 years, but most of the school's graduates gravitate toward underserved urban areas.
"Out of 160 medical schools in the United States, only 30 to 35 have dedicated rural tracks," says Mark Deutchman, a professor at the University of Colorado's School of Medicine, who studies rural programs in U.S. medical schools.
While Morehouse is not among those schools, Deutchman says it is off to "a very good start," with classroom and clinical components fostering rural care. "But in order to make the rural education sustainable they would need to do longer clinical experience," he adds, giving students the chance to really get embedded in a rural clinical environment. Some medical schools in the Midwest, like the University of Minnesota-Duluth, send students to rural areas for up to six months.
Compared to most urban medical schools, however, Deutchman says that Morehouse ranks above the fold in terms of its rural commitment.
The school has increased its outreach efforts, especially through "pipeline" programs targeting high schools and colleges in rural areas. In addition, Morehouse has fostered an alliance with the Area Health Education Centers (AHEC) in Georgia, a network of programs designed to distribute medical students and doctors to underserved areas. Through AHEC and its network of alumni, Morehouse partners with rural physicians willing to take on medical students for their rotations.
In 2009, rural primary care, including a clinical rotation, became a required course for third-year students, Babalola says. Fourth-year students can elect to go back to a rural area.
Morehouse recently introduced a mobile health clinic — a van with three exam rooms that was originally designed for clinical research. It brings free care to rural Georgia patients struggling with transportation. Student volunteers run the clinic, under the supervision of local physicians.
Most Morehouse graduates still prefer an urban practice, but Babalola says she's seen more newly minted doctors willing to set up shop in the countryside.
One of them is Dr. Joy Baker. After finishing her residency in OB-GYN in 2012, she worked at a hospital in Columbus, one of the state's largest cities. But two years later, she moved to Thomaston, a small Middle Georgia town where she now works out of Upson Regional Medical Center, a 115-bed hospital.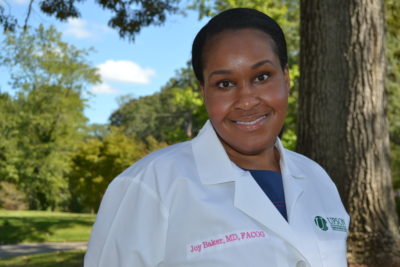 She's one of only two OB-GYNs working in a rural patch that spans eight counties and 2,700 square miles. And she's the only one who actually lives where she works. "So when there's an emergency, I'm it," she says.
Baker, 38, grew up in metro Atlanta. Yet she enjoys the small-town atmosphere, her neighbors, her patients, and her quaint ranch house that has a bright pink front door and a sunroom filled with the aroma of cinnamon candles.
She always thought she'd be a trauma surgeon in a large urban hospital. But two events during medical school prompted her to change course.
The first happened in her rural health rotation, which she did near Rome in northwest Georgia. She vividly remembers: "There was this patient, an older gentleman. The doctor came into the room and immediately asked him, without an exam or conversation, 'What's up? You don't seem to feel well.' "
The physician sent the patient to the hospital, where he was diagnosed with a heart condition.
"And I thought that was amazing, knowing your patient so well, practicing medicine on such a personal level," she says. "There's no chance you could ever do that if you work in an inner city emergency room."
In her final year of medical school, Baker worked in an Atlanta hospital trauma unit. A man with a gunshot wound was wheeled in — his kidney beyond repair, she recalls. When she watched the surgeon toss the shattered organ across the operating table, she thought, "that's not for me. That's not what I want to do for the rest of my life."
She decided to give OB-GYN a try. "There's still a lot of adrenaline," she says, but it also allows her to practice what she calls "happy medicine."
When she first signed her contract in Thomaston, she says, she was a little scared, "because there were no other permanent OB-GYNs here." But she also saw it as "a wide open space without much structure, like a blank canvas that I could create on."
And so she did. She introduced telemedicine for patients with high-risk pregnancies, after she pushed the hospital to apply for a grant. Every Wednesday she holds a high-risk clinic in her office, where she takes ultrasound images and transmits them to a perinatologist in Atlanta, a doctor who specializes in high-risk pregnancies.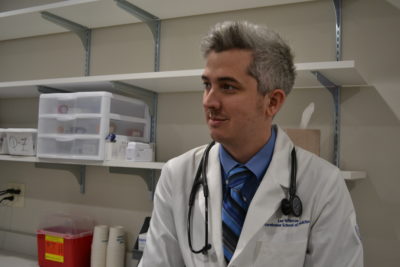 High-risk patients used to have to travel 50 or more miles to see a specialist, and many people in the area don't have the resources to do that, she says.
Baker also launched weekly prenatal care groups to educate women about proper nutrition and fitness during pregnancy; labor and delivery; and newborn care and breastfeeding. "I saw these groups during my residency at Morehouse, and I knew right away that this is what I wanted to implement in my practice."
Baker says she may move back to the city someday. "But right now, I'm feeling very comfortable here."
In Warner Robins, the lunch break is over, and patients start pouring into Dr. Wilson's office. Lee Whitton, the Morehouse medical student on rotation, has to go back to work. If he had to pick a specialty right now, he says he would probably choose general surgery. But after the experience here, family medicine in a rural setting might be another option.
"I enjoy the variety. I enjoy the patient load. And I like small towns," he says. Briefly hesitating, he adds, "Yeah, I could see myself working as a country doctor."
After all, he's used to standing out.
Katja Ridderbusch is an Atlanta-based independent journalist who reports for newspapers, magazines and public radio stations in the United States and Germany.