BioIQ, a health IT company, is moving its headquarters to Cobb County and will bring hundreds of additional jobs here, Gov. Nathan Deal announced Thursday.
Deal said the privately held company will invest more than $5 million in Cobb.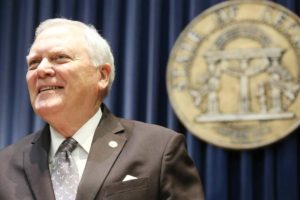 BioIQ already has an office here, but the move of its headquarters from California reflects the lure of metro Atlanta and Georgia as a hub of health care IT. Company officials cited the area's "talent pool'' as a main draw.
The state has promoted itself as the leader in health information technology, with more than 225 companies employing about 30,000 people. The sector's growth is especially strong in metro Atlanta.
Health IT companies provide a range of products and services, from electronic health records, medical billing and revenue management to diagnostics, preserving the security of information exchanges, and consumer health information. IT systems also track the medical outcomes of patients after they receive care.
BioIQ uses an IT platform to coordinate health testing and immunizations. Its customers are employers, health insurers and governments. The company said its services enable individuals to conveniently access care at more than 16,000 locations, including retail pharmacies and lab testing centers across the country.
"BioIQ has significant reach across the nation and has proven itself to be a leader in health care innovation," said Deal, who will be succeeded in office by Gov.-elect Brian Kemp next week. "By locating its headquarters in Cobb County, BioIQ will join Georgia's thriving technology innovation sector and enjoy the benefits of our deep talent pool.''

The company currently employs about 100 in Cobb. The headquarters move will raise the number of jobs here to about 500, said Charles King, chief marketing officer for BioIQ.
"We selected Atlanta as BioIQ's headquarters because of the city's exceptional talent pool, forward-thinking business community, and convenient access to our growing client base," said BioIQ CEO Justin Bellante in a statement. "Our Cobb County headquarters is a reflection of BioIQ's investment in its employees and commitment to bringing together talent, technology and innovation to achieve our mission of positively impacting 100 million lives."
"Congratulations to BioIQ on their decision to locate their headquarters in Cobb County," said Hala Moddelmog, president and CEO of the Metro Atlanta Chamber, in a statement. "Their presence in metro Atlanta creates a significant addition to an already robust digital health ecosystem. With our thriving climate of innovation and business-friendly environment, we look forward to watching BioIQ succeed here."
Maria Thacker Goethe of Georgia Bio, an industry trade association, said the BioIQ move "is outstanding news for Georgia's ecosystem."
"Companies like BioIQ locating here present a strategic opportunity for our growing life science community to better embrace digital health tools to improve outcomes and build better connections to patients," she said. "Georgia Bio looks forward to being a key stakeholder in shaping the policy environment for companies like BioIQ in this rapidly growing area of health care in Georgia."