A gun control advocacy group says it was expecting about 200 people at a Wednesday rally at the state Capitol.
But hundreds more than that showed up, many in red T-shirts filling Liberty Plaza, across from the Capitol building. Organizers estimated the number at 1,500.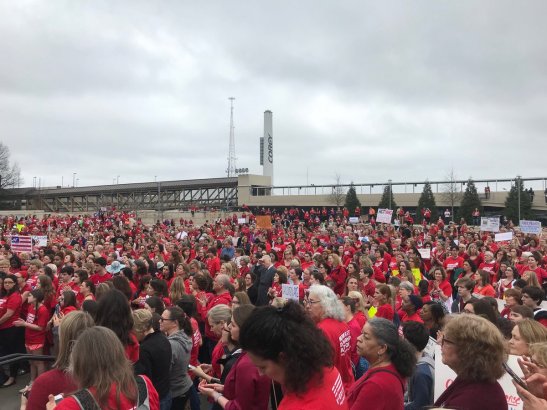 It was clear what drove the higher turnout. "Parkland happened,'' said Laura Driscoll, one of the Georgia leaders of Moms Demand Action, who joined the rally.
A shooting spree at a Parkland, Fla., high school last week left 17 people dead and has renewed calls for increased gun regulations.
Some students who survived the Parkland shooting are calling for increased gun control, and on Tuesday, about 100 students from the school traveled to Tallahassee to press state lawmakers for gun control legislation.
The national Moms Demand Action group has reportedly grown by thousands since the Florida tragedy. The organization was formed after the 2012 Sandy Hook Elementary School shootings in Connecticut that killed 20 students and six adults.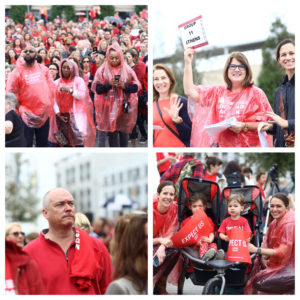 Driscoll noted to GHN that "it's 18 years since Columbine,'' a school shooting in Colorado that killed 12 students and one teacher. "It's unbelievable we've experienced this again.''
Where the gun control debate will end up is an open question. Gun rights advocates point to the Second Amendment's guarantee of the right to bear arms, and the need for people to be able to protect themselves. Critics of gun control note that law enforcement has acknowledged failing to act on warnings about potential violence by Nikolas Cruz, the 19-year-old charged in the Parkland massacre.
But a Quinnipiac University poll released Tuesday found that 66 percent of voters support stricter gun laws, compared with 31 percent who do not. Backing for tighter gun rules is higher than the polling institute has ever measured, and up from 47 percent as recently as December 2015.
NBC News has compiled a list of shooting incidents that have resulted in injuries and/or deaths at elementary, middle and high schools since the beginning of 2018. As of Feb. 20, a total of 20 people have been killed and more than 30 have been injured in these shootings, including the Parkland tragedy.
State Sen. Alan Powell (R-Hartwell), who attended the Atlanta rally, told WGCL-TV that the issue of mental health among potential shooters must be addressed.
"I hear the concern" about the shootings, said Powell, according to WGCL. "But a lot of us have more concerns about the rights, the constitutional rights to have a weapon."
The state Legislature has been supportive of gun rights measures in recent years. Last year, the Georgia General Assembly passed "Campus Carry'' legislation that allowed people with firearms permits to carry concealed guns onto public college and university campuses.
Driscoll said the nonpartisan Moms Demand Action group is not against the Second Amendment. "We have gun owners in our group,'' she said.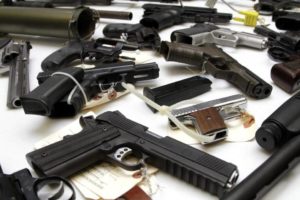 The Moms Demand Action group advocates for closing loopholes in the background check system, supporting "reasonable limits'' on gun carrying in public, and creating laws addressing gun trafficking, among other proposals. Driscoll says the group is committed "to sensible gun laws to enhance safety awareness and prevent gun violence."
On Tuesday, President Trump directed the Justice Department to draft a ban on devices known as "bump stocks," molded pieces of plastic or metal that can attach to a legal semiautomatic gun and allow it to fire up to 100 rounds in seven seconds, similar to an illegal machine gun. A bump stock was used in the Las Vegas massacre last October, which killed 58 people.
WABE, meanwhile, gave a roundup of gun-related measures before the Georgia Legislature this year:
Three separate proposals would allow people to carry firearms without a permit into parks and recreational areas.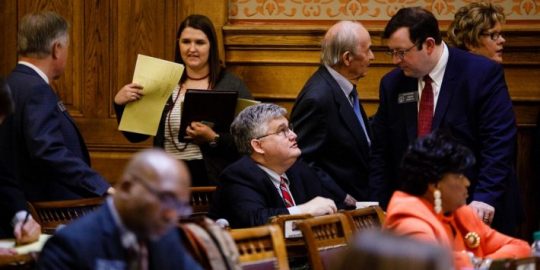 On the gun control side, a pair of bills aims to require proof of some kind of firearms safety training in order to receive a weapons-carry license. Currently, no training is needed in Georgia.
One measure would ban people convicted on domestic violence charges from owning guns.
State Democrats are continuing their push to ban so-called assault weapons and some kinds of ammunition. There's also a proposed state-level bump stock ban, though it could be superseded by the president's ban.
Another measure would change a state law that requires the Georgia Bureau of Investigation to purge records of people permanently prohibited from owning guns due to mental illness. Those rolls are now cleared after five years.