Seven more Georgians have died from the flu, bringing the total to 12 deaths across the state this influenza season, Public Health officials said Friday.
There were 40 hospitalizations in metro Atlanta due to influenza infection during the week of Jan. 7 through Jan. 13, the state Department of Public Health said. So far this season, area facilities have seen 404 hospitalizations due to flu.
Some hospitals, coping with a large influx of flu patients, have put restrictions on visitors for the time being.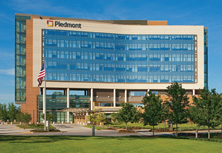 Dr. Van Baker, medical director of emergency services at Piedmont Newnan, said this week that a sudden surge in patients has caused the hospital to remain near – or at – capacity most days, the Newnan Times-Herald reported.
And physicians told wsbtv.com that the recent snow days may lead to another flu spike.
"We're seeing about a 50 percent increase every week that goes on," said Dr. James Yost with Peachtree Immediate Care in Cumming. He explained that when winter storms confine most of the public to their homes or shelters, "people crowd together and more spreading [of flu] goes on."
Dr. Ben Spitalnick, a Savannah pediatrician, said his office is seeing a wave of children whose parents wish they had gotten them vaccinated, or wish this season's vaccine worked better, the AJC reported. "We are seeing much higher volumes, of much sicker kids, than we usually see," Spitalnick said.
Health experts acknowledge that the vaccine has not worked as well as hoped, noting that the strain of flu hitting the country is somewhat different from what vaccine makers foresaw. But the experts continue to urge people to get vaccinated if they have not done so.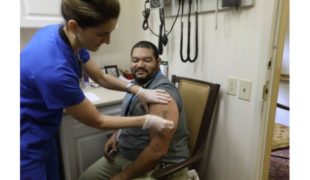 The flu impact remains severe across the country. The geographic spread of influenza in Puerto Rico and 49 states (all but Hawaii) was reported as widespread, the CDC said.
Alabama declared a public health emergency after the sheer number of flu patients began taxing medical staff.
Medical centers nationally are responding with extraordinary measures, including asking staff to work overtime, setting up triage tents, and canceling elective surgeries, Time reported.
"We are pretty much at capacity, and the volume is certainly different from previous flu seasons," says Dr. Alfred Tallia, professor and chair of family medicine at the Robert Wood Johnson Medical Center in New Brunswick, N.J., told Time. "I've been in practice for 30 years, and it's been a good 15 or 20 years since I've seen a flu-related illness scenario like we've had this year."
The number of children who have died from the flu is now up to 30.
Dr. Dan Jernigan, the director of the Influenza Division of the National Center for Immunization and Respiratory Diseases, warned last week that this flu season was very active and was "probably peaking." Whether or not it has passed its peak, it remains intense.
Jernigan and CDC Director Brenda Fitzgerald attribute the high flu activity to the prevalence of the H3N2 flu.
H3N2 is associated with more severe illness, especially among children and the elderly. Flu seasons during which H3 viruses are prevalent are usually worse and come with more hospitalizations and deaths.
Medscape reported that the combination of a severe flu season and reduced supplies of intravenous fluid bags has hospital teams strategizing on alternatives. Part of the IV bag shortage is a result of Hurricane Maria's devastation of manufacturing plants in Puerto Rico in September.
Tara Tehan, nurse director of the neuroscience intensive care unit at Massachusetts General Hospital in Boston, told Medscape Medical News that she has been a nurse for 17 years, and in regard to the bag shortage, "I have never experienced anything like this before."