Georgia remained at 41st in a national ranking of the healthiest states compiled by the United Health Foundation.
Placing in the 40s is a typical ranking for the Peach State on health measures. Other Southern states did equally poorly.
In America's Health Rankings, released last week, Massachusetts, Hawaii, Vermont, Utah and Connecticut ranked as the five healthiest states. West Virginia, Alabama, Arkansas, Louisiana and Mississippi were the least healthy in the 2017 rankings.
The rankings focus on 35 measures covering behavior, community and environment, policy, clinical care and outcomes data.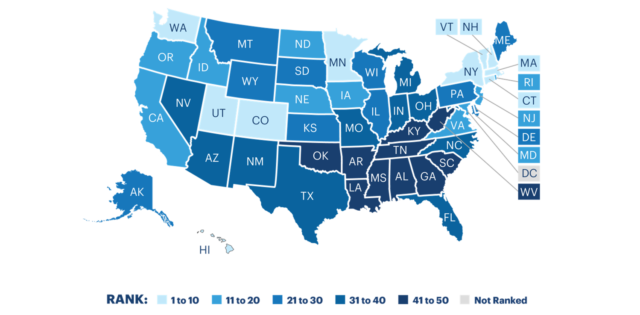 And in another ranking, also released last week, Georgia placed 39th among states in overall access to health care, the Commonwealth Fund reported.
America's Health Rankings is in its 28th year. Georgia scored very well on immunization rates, and with a low prevalence of excessive drinking and a low drug death rate.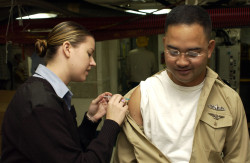 But its ranking was dragged down by measures such as high percentages of people without health insurance, children in poverty, infant mortality and chlamydia infections. The state also has a low number of mental health providers, the report said.
Rural health care in particular faces big challenges, with higher poverty and disease prevalence. A state House committee mentioned the low rankings in its call for improvement of rural health care in Georgia.
"Georgia's overall health status, health system performance and clinical care rankings are low in the nation, and because the scores are an overall average that include metro Atlanta's relatively positive performance and delivery, it means rural rankings are likely even lower,'' said the House Rural Development Council last week.
Among other findings for Georgia:
** In the past five years, preventable hospitalizations decreased 27 percent from 68.4 to 50.2 discharges per 1,000 Medicare enrollees.
** In the past 15 years, Georgia children in poverty increased 20 percent, from 19.3 percent to 23.2 percent of children
** In the past two years, meningococcal immunization among adolescents increased 22 percent from 74.9 percent to 91.4 percent of adolescents aged 13 to 17.
** In the past five years, obesity increased 12 percent from 28.0 percent to 31.4 percent of Georgia adults.
The Georgia Department of Public Health, responding to the ranking, noted that the state is improving in some important areas.

"While Georgia's overall ranking has not changed, we are seeing improvement in measures that we have the ability to move quickly – HPV [human papillomavirus] and preventable hospitalization – from measures that are negative to measures that positively influence the state's overall ranking,'' said Nancy Nydam, a spokeswoman for Public Health.
"With a clear focus on our priorities – early brain development, cardiac care, childhood obesity and the opioid epidemic – we are working aggressively to address our biggest challenges and barriers to protecting lives and keeping Georgians healthy,'' Nydam added.
Colin Smith of the Georgia State University School of Public Health said poverty is a key factor in such health rankings. But he indicated that one of Georgia's strengths — its ability to detect cases of disease — can sometimes make the state look worse. He said because Georgia has a good disease surveillance system, "we're being marked down'' in rankings that include disease rates. He cited the state's finding of a high rate of chlamydia.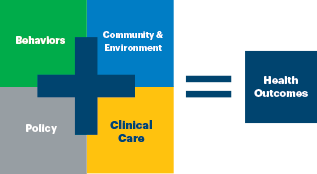 States with less income inequality and/or more government spending on social services typically rank highest in health rankings, Smith said.
The state should focus targeted interventions in geographic areas that have the highest negative statistic, such as infant mortality, Smith added.
Across the United States, the premature death rate increased for the third straight year. 2017 also saw increases in the rates of cardiovascular and drug deaths nationwide. Drug deaths continued on an upward trend, increasing by 7 percent to the highest level recorded by America's Health Rankings and were particularly high among whites.
Fewer uninsured, at least for now
The Commonwealth Fund study reported that Georgia's uninsured rate for adults under 65 dropped from 26 percent to 18 percent between 2013 and 2016. The children's uninsured rate in Georgia fell from 10 percent to 7 percent during that time. The drop was linked, as in other states, to coverage gains from the Affordable Care Act.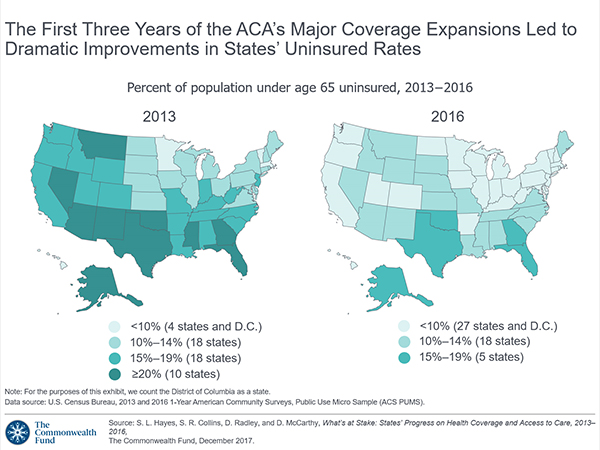 Still, Georgia's uninsured rate remained among the highest in the country.
Between 2013 and 2016, the uninsured rate for adults 19 to 64 declined in all states and the District of Columbia, and fell by at least 5 percentage points in 47 states, the study said.
But the gains in insurance are in danger of ending, with Congress considering a tax overhaul package that would essentially end the ACA's requirement to have health insurance, and with the Trump administration cutting back efforts to reach and enroll people in the insurance exchanges.
"The Affordable Care Act has successfully allowed states to expand health insurance to millions of their residents," said Sara Collins. Commonwealth Fund vice president and a co-author of the study. "If people are going to continue to be able to get and afford the health care they need, it will be essential to hold on to and build on these coverage gains."