Imagine being lost at 3 o'clock in the morning, approaching a house you think is your own, and then being fatally shot.
That's what happened to 72-year-old Ronald Westbrook, a man with Alzheimer's disease who was mistaken for an intruder in Walker County in 2013.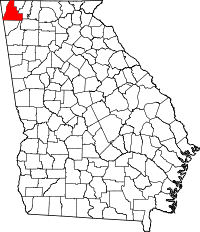 The shooter was a homeowner who opened fire after Westbrook failed to stop moving around the man's property and explain himself. (A 911 call had been made, but police had not yet arrived.)
"It was an unlikely collision between two strangers — one deeply confused, another perceiving a threat," according to an Associated Press story. No charges were filed, and authorities labeled the incident a tragic mix-up.
Westbrook had walked 3 miles from his own home, through frigid November darkness, before arriving at a house occupied by strangers, according to reports. Like many patients with dementia, he was incapable of clearly explaining what he was doing or why. And while his actions probably seemed normal to him, they were frightening to people awakened in the middle of the night.
What happened in the Walker County case was far from typical. But it's not unusual for people with dementia to wander away and become lost, and they face extreme danger if they are missing for any length of time. Most dementia patients are older people in generally frail health, which adds to their vulnerability. Such a person can fall prey to a horrific accident, or simply collapse unnoticed in some out-of-the-way location and not be found in time.
Every case is different, and some deadly incidents involving people with diminished mental capacity may be hard to predict or to avoid. But experts believe there are ways to reduce the number of tragic outcomes.
"When communities are dementia-friendly, situations [that could lead to trouble] can often be de-escalated," says Deke Cateau, chief operating officer at A.G. Rhodes, Atlanta's oldest long-term care and rehabilitation facility located near downtown.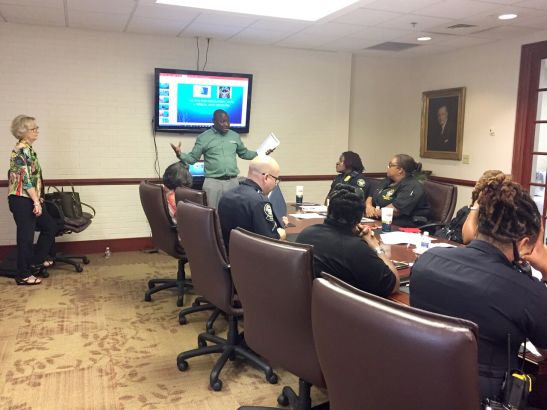 To respond to a growing need that he sees in Atlanta, Cateau arranged for a September training program for officers of the Atlanta Police Department's Community Oriented Policing Section (COPS) to become more aware of dementia and how it affects people who may interact with officers.
Cateau says he hopes all law enforcement officers will be able to identify signs of dementia, and see the condition as a type of disability. Knowing what to do can make a difference, he says.
"Sometimes, you just have to play along," says Cateau. It's called validation therapy, trying to see the situation through the eyes of the disoriented person. "It means you have to enter their reality and emphasize the feelings behind behaviors."
The more effective training that officers have about dealing with dementia patients, the more likely there will be improved overall outcomes for residents and police. People who lack the capacity to avoid risks can be recognized and can get compassionate assistance.
Understanding what the person is experiencing
"We serve approximately 1,100 elder citizens annually" at A.G. Rhodes, says Cateau, and nearly 80 percent are long-term residents. Cateau suggests that about 50 percent of his residents have been diagnosed with some form of dementia.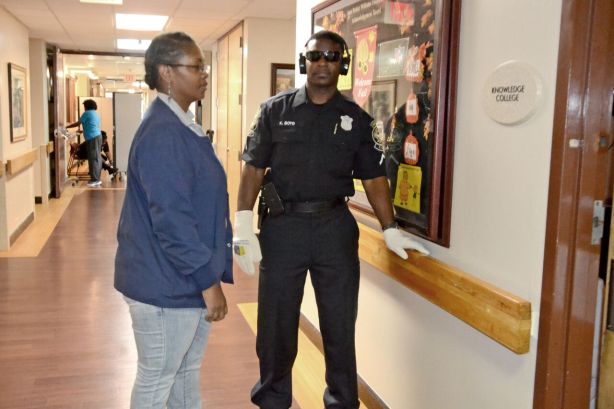 His job includes the safety and security of A.G. Rhodes residents. Atlanta's COPS program builds community partnerships to reduce crime and increase safety, so close coordination between the two organizations makes good sense.
The COPS representatives proactively fight crime through various programs aimed at prevention, early identification, and improving quality of life.
Joining in the training was Dr. P.K. Beville, a geriatric specialist and founder of Second Wind Dreams. As a clinical psychologist, she has focused on granting dreams for elders who live in long-term care facilities. It is an organization she founded in 1997.
Her renowned Virtual Dementia Tour allows family caregivers, professionals and others to experience firsthand what living with Alzheimer's or other forms of dementia can feel like.
Each participant is equipped with modified sunglasses to restrict vision, heavy gloves to restrict manual dexterity and special earphones that interfere with hearing words or commands spoken to the trainee, similar to how patients with dementia might feel.
After the hands-on exercise, Beville joined Cateau to discuss the responses experienced by COPS participants. As Beville has shared with many journalists, the themes are pretty consistent. They include the perception of isolation, fear, and lack of understanding of what simple instructions feel like.
"I'm a proponent of any kind of training for our people," said Sgt. C.M. Hall, "especially when it helps them to do their job better and more effectively."
Quick tips to spot problems
In Dunwoody, an Atlanta suburb, police also have "a very interactive relationship with the Georgia Alzheimer's Association," says Maj. Oliver Fladrich of the Dunwoody Police Department.
"Our department has made it a top priority to get our entire officer contingent certified in mental health training, as well" says Fladrich. Proximity is everything, as the Dunwoody Police Department and the Alzheimer's Association of Georgia are currently located in the same building.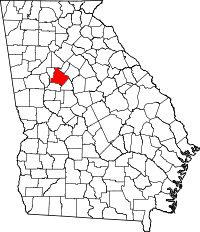 "About three years ago, an individual with early dementia in Henry County was stopped by officers," said Ginny Helms, a vice president of the Alzheimer's Association's Georgia chapter.
The incident involved a woman with early dementia whose niece reported her missing. The woman was pulled over for driving erratically. She told the officer she was lost and he gave her directions. A video later showed she went to the porch of a home that she probably thought was hers.
Reports said the car she was driving was found abandoned.
Her body was discovered a day later, about 50 feet from the location of the abandoned car. The AJC reported the Henry County coroner concluded her death was likely caused by exposure.
This was the kind of case that shows us that law enforcement needs better tools to recognize and assist those with any type of dementia.
In fact, Dunwoody's Fladrich asked Dr. Larry Tune, a geriatric psychiatrist at Emory, to help the Georgia's Alzheimer's Association develop a pocket card for law enforcement.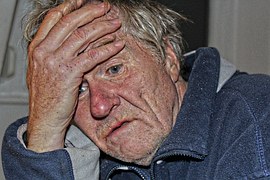 The front of the card gives ways for police to determine a person's situation or mental state: "Ask what time of day it is and have the person tell you where he or she is." Some people may simply be temporarily lost in an unfamiliar area, while others may be in a state of disorientation that requires help.
The back of the card instructs the officer to ask the person for family contact information and, if necessary, to search the person's wallet, vehicle or cellphone for such information. When there is a cellphone, police look for the listing of people to be contacted "in case of emergency" (sometimes abbreviated as the ICE list).
As the population of older people grows, so will the number of patients with dementia. This is especially true in cities like Atlanta. In fact, Forbes pointed to Georgia's capital as the country's No. 1 rapidly aging city in 2016.
While diseases that cause mental deterioration can strike young people, the CDC says advancing age is the best-known risk factor for most types of dementia, including Alzheimer's.
The Alzheimer's Association of Georgia estimates there are currently more than 130,000 Georgians living with Alzheimer's disease, and the number will grow to 160,000 by 2025.
Greater awareness of dementia and its effects is vital, and not just for police officers.
Judi Kanne, a registered nurse and freelance writer, combines her nursing and journalism backgrounds to write about public health. She lives in Atlanta.