By early Monday morning, many counties in South Georgia were reporting damage and power outages from Irma, now a tropical storm but still carrying high winds and heavy rains.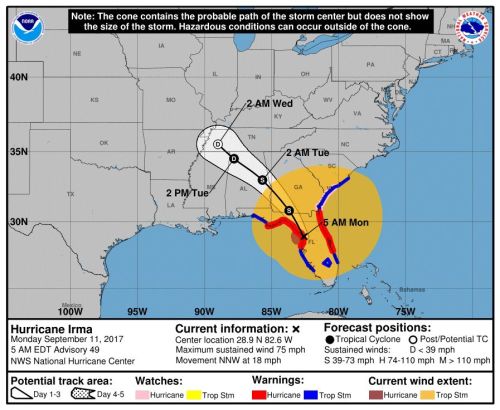 The northern bands of Tropical Storm Irma knocked out power to more than 400,000 Georgia Power and EMC customers in coastal and South Georgia on Monday morning.
More than 80,000 Georgia Power customers were without power in the Savannah area, as were another 94,000 from Brunswick and St. Simons south to St. Marys, at the Florida line, the AJC reported.
Many outages occurred because of trees falling and bringing down power lines, as WALB in Albany reported such damage across its region.
With the brunt of Irma expected to reach the Atlanta area late Monday afternoon and into the evening, it's a good idea to stay home from work if possible, Georgia Department of Transportation spokeswoman Natalie Dale said.
Gov. Nathan Deal on Sunday expanded the emergency declaration related to the storm to include an additional 65 counties. The state of emergency now includes all 159 counties in Georgia.
About 800 flights out of Hartsfield-Jackson Atlanta International Airport were canceled due to the storm.
The massive storm hammered much of Florida on Sunday. Florida's State Emergency Response Team said 58 percent of electric customers in the state — about 5.8 million accounts — were without power. Every county from Key West to the Georgia line was affected.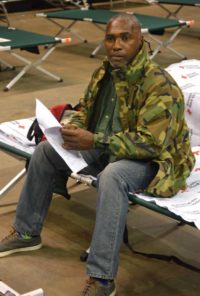 On Sunday, around 125 people sought refuge at the Red Cross shelter set up in the Albany Civic Center, the Albany Herald reported.
That area saw widespread storm damage earlier this year. Baker, Dougherty, Worth, Turner and Wilcox counties were slammed Jan. 22 by an EF3 tornado that packed 150 mph winds and traveled nearly 71 miles in a northeasterly direction.
Five deaths in Dougherty County were attributed to the January twister.