Ahead of heavy rains, strong winds and potential flooding from Hurricane Irma, Gov. Nathan Deal on Sunday expanded the emergency declaration related to the storm to include an additional 65 counties.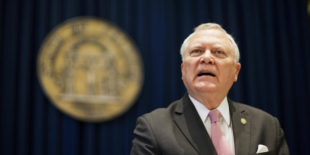 The state of emergency now includes all 159 counties in Georgia. State government will be closed Monday and Tuesday for all employees except essential personnel.
On Sunday morning, after leaving a path of destruction through parts of the Caribbean, Hurricane Irma's eye crashed through the lower Florida Keys. By midday, the National Hurricane Center reported the deadly Category 4 storm had begun to swing away from the Keys — and toward Florida's mainland.
Here's an NPR article on the storm, courtesy of WABE.