This is the sixth in a series of articles reported in Northwest Georgia, an area rich in stories about unmet health needs and about people and programs making a difference. Georgia Health News and the health and medical journalism graduate program at UGA Grady College of Journalism and Mass Communication collaborated to produce this series, made possible by support from the Healthcare Georgia Foundation and the Institute of International Education.
The tan bungalow on the Gilbert Elementary School campus in LaFayette is scarcely bigger than a house trailer.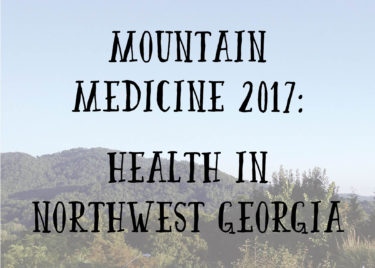 Although it could easily be mistaken for a temporary classroom, the building is a clinic. It's one of six local medical clinics in rural Northwest Georgia run by Primary Healthcare Centers, a nonprofit that is designated as a federally qualified health center.
Five days a week, a team of nurses and a rotating cadre of pediatricians, nutritionists and dentists at the Gilbert Community Clinic see not just schoolchildren but Walker County residents of all ages.
"We try to be there for the community to serve their needs," says Sandy Matheson, a spokesperson for Primary Healthcare Centers. "We take all insurances, Medicaid, Medicare, private-pay insurances, and then we also have a sliding-scale program for the uninsured. A good bit of our population are uninsured. We are all about affordable, accessible, quality health care for everyone in the community."
Although the idea of a general medical clinic on the grounds of a public school sounds novel, it's not a new idea in Georgia. Some Emory University pediatricians launched the state's first school-based clinics more than 20 years ago.
"We opened the first clinic in December of 1994, and there were other models that provided health in schools but not in the extent that we're doing now," says Dr. Veda Johnson, associate professor of pediatrics at Emory and director of PARTNERS for Child and Adolescent Health.
It wasn't until 2010 that the concept really took off in Georgia. The Emory team launched clinics at two schools in Atlanta, both in low-income, largely minority urban areas. Today there are 22 school-based clinics in Georgia, says Dr. Johnson.
The school health centers give basic services for children such as vaccinations, asthma treatment, routine physicals, and exams for sore throats and other ailments. They can also provide dental and mental health care.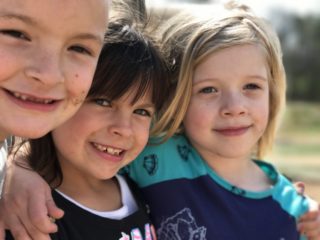 "To our amazement, the majority of our clinics are in rural areas, which is unusual," said Dr. Johnson. "If you look at the national statistics, a majority of them historically have been in urban areas."
"Of the twenty-two [clinics in Georgia], two thirds of them are in rural counties now."
When a new safety net clinic opens in a rural community, bringing affordable care to a needy area, people start coming as soon as a clinic opens its doors, according to Dr. Johnson. And its impact shows up faster, too. Urban start-ups attract patients at a slower pace.
Nevertheless, the value of any of these clinics cannot be understated, according to Polly McKinney, advocacy director at Voices for Georgia's Children.
"When integrated into a comprehensive health care system, such as linking to a federally qualified health center, a school-based health center can be a game-changer not only for an entire generation of children, but for the whole community," says McKinney. "Child and adult health improve, school attendance for students and staff improves, and there is the real potential to help people choose healthier behaviors. It is a winning situation across the board."
A burden off parents
Lafayette's need for a primary care clinic was obvious to Matt Harris, who has been principal of Gilbert Elementary for three years. Harris, who grew up in nearby Rossville and taught at Gilbert before becoming principal, came to know his students and their families well enough to see that they had medical needs which were not being addressed.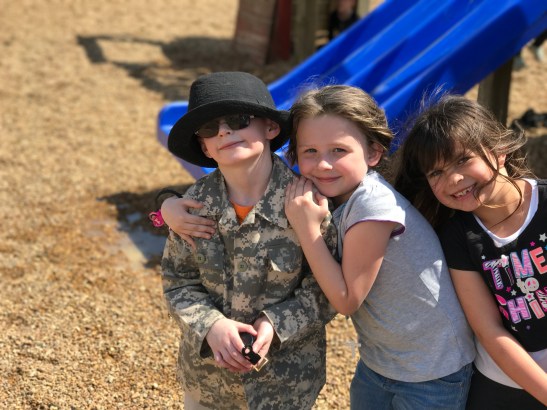 "We're an agricultural community and people are spread out," says Harris. "It might be 30 or 40 minutes to our school and then from our school, it was 40 minutes to the pediatrician. In some cases, it was over an hour or even an hour and a half to get to a pediatrician. It's just not reasonable."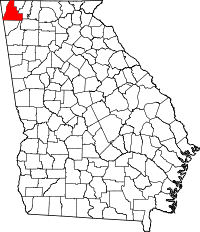 In 2015, he made the connection that brought medical care to the school grounds. "I met Sandy Matheson, who's part of Primary Healthcare, and one of their goals was to add a clinic somewhere [in the area]," says Harris.
Bringing the clinic to Gilbert Elementary, and not to some other Walker County location, took a lot of help from a lot of people. "I think the reason we got it was we had a stack of letters from the mayor down to a parent and her kids requesting a school-based health care center," Harris said.
The clinic is open from 7:30 a.m. until 6 p.m. on weekdays. There are usually four or five staffers on hand, including at least one physician or nurse practitioner, says Matheson. The clinic is open year-round.
Many families who rely on the clinic are headed by parents who work in manufacturing, such as in the carpet industry centered in nearby Dalton, and it is difficult for them to take time off for doctor visits in other towns.
Lisa Millard, a parent living in Lafayette, says that before the clinic opened, her closest options were not really that close.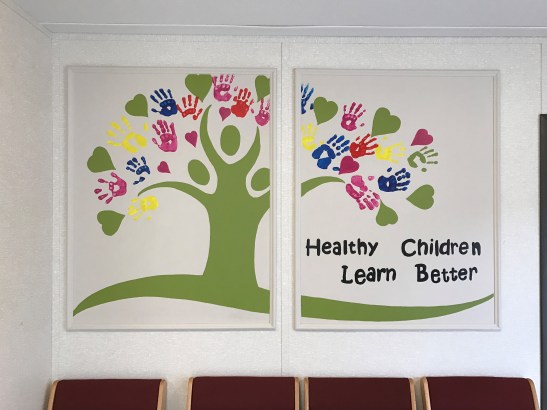 "If we had to go to the ER, we had to go to Chattanooga, which is about a 40-minute drive," says Millard. "The children's doctors were in the next town up, which is about 20 minutes" by car.
Now, with the clinic on a school site, the accessibility makes it far easier for her family and others like them.
"But the clinic has worked out really good for me because I'm at work, I'm not having to leave work to go to the doctor or to take them [her children] to be seen. I'm able to stay at work and they [PHC Clinic] will actually see him, without me having to take off work, go to the other school, take my other child out and drive that 20, 40 minutes out of the way," Millard says.
Parents who once feared risking their jobs by taking work off for a sick child now have access to care close at hand. Children are reaping the benefits.
"In the past, if you had one kid sick, you had to take every kid out [of school] to go the doctor's office because it just took too long" to handle all the children's schedules, says Harris. "Now, those kids don't miss that time."
Abraham Park is a graduate student studying journalism from the University of Georgia. He received his B.A. in history from Wheaton College in Illinois and can be reached via email at abrahampark91@gmail.com