This is the eighth in a series of articles reported in Northwest Georgia, an area rich in stories about unmet health needs and about people and programs making a difference. Georgia Health News and the health and medical journalism graduate program at UGA Grady College of Journalism and Mass Communication collaborated to produce this series, made possible by support from the Healthcare Georgia Foundation and the Institute of International Education.
Students in the Blue Ridge Mountains area are learning about nutrition not just by reading, but with hands-on activities — planting, harvesting and eating their own foods.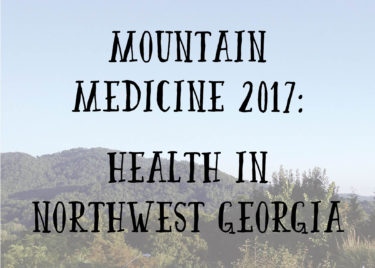 As the bell rings, 30 students file into a brightly lit Fannin County High School classroom, go straight to the refrigerators and take out their cooking supplies. They begin meal prep: measuring ingredients, trimming chicken breasts, and chopping a variety of colorful fruits and vegetables.
It is 1:10 p.m., and Family and Consumer Science class is under way at the school in the town of Blue Ridge.
"I can teach them all the theory they need, but until they're in a kitchen, they don't understand," said Lynn Burch, who teaches the class.
Fannin High, with enrollment of roughly 1,000 students, is the only high school in mountainous, forested Fannin County, which borders Tennessee and has only about 25,000 residents. Burch's class shows that the movement to get Georgia students eating healthier stretches much farther than big cities and suburbs.
The idea of teaching about food in traditionally rural areas of Georgia such as Fannin County may seem paradoxical, but it's necessary partly because times have changed.
Agriculture is still a mainstay of the state's economy, producing foods that are consumed around the world. But farming long ago ceased to be a part of most people's lives. Relatively few Georgians today are intimately connected to the production of the food they eat.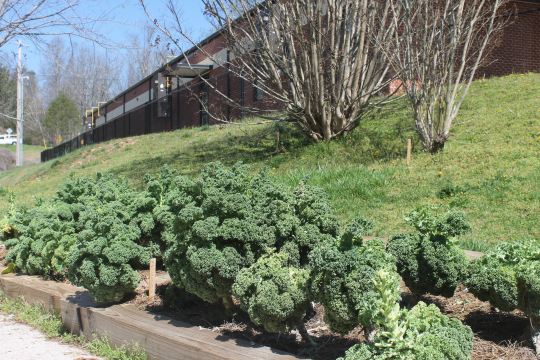 In fact, many rural Georgians nowadays have low incomes and health problems associated with poor diets, such as obesity.
To its credit, Fannin County, despite its relatively high poverty rate, has an adult obesity rate of 26 percent, 4 percentage points lower than the state average.
'Golden Radish'
In the last several years, school lunches nationwide have been improving in nutritional quality, largely because of the Healthy Hunger Free Kids Act of 2010. The legislation allows for nutrition programs across the board to reform school meals. Whether such menu changes actually appeal to kids in lunchrooms is still being debated, but the overall goal in altering students' diets is improving their health.
[youtube]https://www.youtube.com/watch?v=o_D7gXi063k[/youtube]Georgia SHAPE is another initiative combating childhood obesity. The School Health and Physical Education (SHAPE) bill passed in 2011 and was in 2012. It has led to assessments of student fitness levels.
"We were able to collect pretty rich baseline information about where we are as a state in regards to childhood obesity and aerobic capacity," said Emily Vall, Georgia SHAPE project manager. "Our current goal is to reduce the childhood obesity rates by 1 percent each year."
Aided by Georgia Shape and Power Up for 30, a school program to promote student physical activity, the percentage of Georgia students who have achieved healthy BMI has risen from 58.5 percent in 2012 to 60.3 percent in 2015, the state Department of Public Health said last year.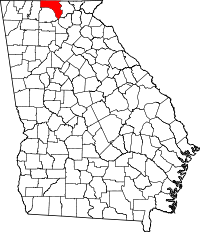 As for Fannin High, not only does the school's nutrition program prove equal to those in more urban centers, but this mountain county may be grooming tomorrow's chefs – or at least home cooks who know what healthy eating is. Two Fannin High student teams created recipes that advanced in Georgia's inaugural Shake It Up! competition for student chefs. Competing teams from all over the state are challenged to make recipes using specific healthy ingredients. Fannin placed second in the salad category with a "Pretty 'n Peaches" salad and fourth in the chicken entree category with a sizzling stir fry.
"The goal of Shake It Up! is to enhance the flavor of school meals and improve the overall perception of our nutrition programs," said Sarah Combs, Shake It Up specialist. "We're focusing on three key areas: tasty meals, friendly cafeterias, and happy schools."
The competition for young chefs is part of this overall plan.
Fannin County School District has been heavily involved in farm-to-table practices for the last five years, winning a Golden Radish Award, which recognizes schools doing an outstanding job with such initiatives. This is joint effort of Georgia's departments of agriculture, public health, and education. They're joined by Georgia Organics, a statewide nonprofit group.
Fifty-three school systems won some level of Golden Radish award, but Fannin was one of only 19 recognized at the "Gold level." Every Fannin campus has its own school garden, and last year school cafeterias served locally grown foods on 135 days of their 180-day school year.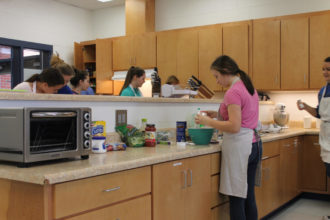 In addition to the Golden Radish, this past March the county scored $30,000 from the local Internet provider, ETC Ignite. Its educational grant program, which funds original student-led projects expected to have a lasting impact on the surrounding community. Grade schools in Fannin County received two $5,000 grants, and Fannin High received two $10,000 grants.
Burch and her students plan to use their $10,000 of the award to build an outdoor classroom and garden; the other grant will be used by the engineering department to build a recording studio.
"We plan to start with growing herbs because we know that we can use them to substitute a lot of unhealthier ingredients," said Burch. "We researched obesity and we learned that kids that grow their own food are more likely to learn how to cook it and really eat it."
If this learning sticks, the next generation of Fannin County residents will be cooking with more basil and less bacon.
Melissa Campbell is a graduate journalism student at the University of Georgia. She received her B.A. from Agnes Scott College in Decatur and is interested in health policy.