"To ensure an on-time arrival, Delta Air Lines requests that all passengers please be present at the gate 30 minutes prior to your departure time . . ."
Exactly what departure is that?
The standard announcement to be on time became laughable, a sad joke for hundreds of people stranded in Atlanta's Hartsfield-Jackson International Airport this week, from Wednesday through Friday and perhaps beyond.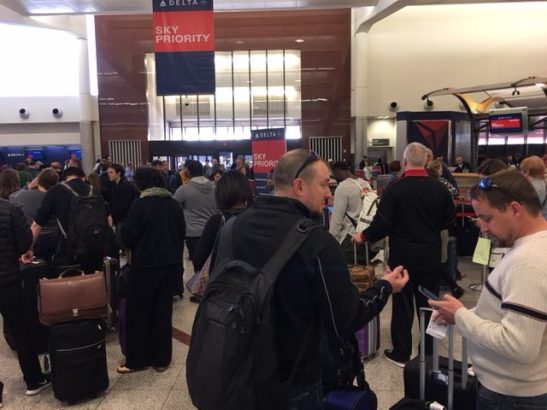 It was a 72-hour mix of anxiety, anger, and mostly forbearance by many of the people stranded.
I was among the masses. At least I wasn't traveling for crucial business or a family emergency, but for a four-day meet-up with high school friends in Florida. And because I live in Atlanta, I could go home at night after the interminable waits.
Amid all the stress, there was good humor, too — more than could be expected under the circumstances. Mothers of babies borrowed diapers from others, a kind exchange between strangers. Many showed an admirable dignity and grace.
People shared their stories, affirming common bonds of misery that somehow could be funny to those similarly affected. "I've been here three days,'' said a guy with a smile. "Me too,'' I replied. We understood each other perfectly.
Someone with military experience said it was like the old days in the Army. Sit around, move to another gate, sit around some more.
I told myself there's a health story in there somewhere. Maybe stress control?
The ordeal started Wednesday, when my departure, like those of countless other people, was disrupted by storms battering Atlanta and much of the East Coast.
Atlanta has always been a center of transportation for the Southeast (which is why Sherman burned the city and its railroad tracks 150 years ago). Today, Hartsfield-Jackson is the busiest airport in the nation and the hub of Delta, and everything with two wings seems to be routed through Atlanta. And because it was Spring Break week, there were even more travelers than usual.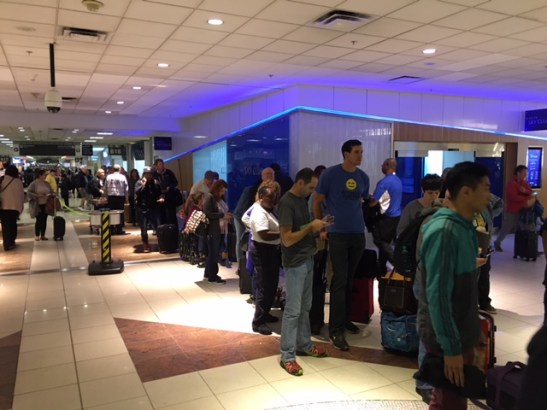 The day and evening of bad weather started a chain reaction of unavailable flight crews that rendered personal plans as useless as the flight times flashing on the giant departure screens.
Throughout the next two days, the weather was fine. Mockingly fine, because travelers were still stranded.
Planes were ready and gassed up, but there were not enough crews to operate them. A flight attendant showing up at a gate would be cheered like a sports hero. An arriving pilot drew applause and chants of "Pilot! Pilot! Pilot!"
But for the flights I was booked on, and many many others, they didn't have the right number of crew members. So we waited, bleary, until the inevitable conclusion: Cancellation.
Getting by and hoping for improvement
People grabbed sleep where and when they could. The best spots appeared to be the darkened walkways between concourses. Travelers sacked out there, looking like the homeless in a forgotten corner of a city.
Lines for customer service seemed to never move, like figures in a painting, dragging along endlessly. On Friday morning, I stepped one wait line off at 90 yards in Concourse B.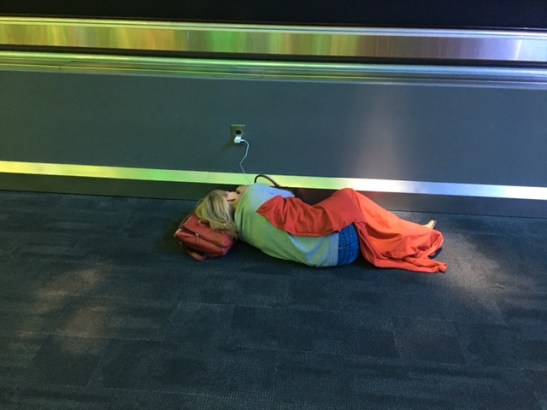 On Thursday, travelers looking for help formed an endless line in the main concourse, winding back and forth like a conga line, but one that was frozen in place.
I'll say this about Delta: All of the staff I talked with were unfailingly polite. They were bombarded with questions and concerns, whether they were pilots and flight attendants, red coats or just random staff in the hallways. There was a news story about pizza being delivered. I never saw that, but I did snag a free granola bar.
One Delta guy manning a cart of goodies told me that he'd been with the airline for eight years, and had never seen anything like this.
There were medical issues. One elderly man fell down next to me at a departure gate. I helped him to his feet and guided him to a chair. He said he was fine. He was heading to Rochester, N.Y., and hopefully he got on a flight at some point.
Another man asked a red coat about his diabetic mother, and whether she could be spared waiting in line.
People in wheelchairs endured quietly.
I emailed a Delta spokeswoman about the ordeal's medical effects on passengers, but was not able to connect.
Meaanwhile, some people had unreal luck. One was ESPN reporter Adam Schefter, whom I met at a gate. His connection appeared to work smoothly, after I told him to bet against it.
One woman swore she would never fly again and would drive everywhere. Another, sitting next to me at a gate, fired off an irate email into the Delta void. A third told me they tried to get back home via rental car, but were told there were none available.
There's a time for every frustrated traveler to blow a stack. I admit I did it myself. Once was when my paper boarding pass didn't scan because, I was told, the ink on the barcode was ''too dark."
A Delta guy got me online and straightened it out. I ran back to security, and presto, the scan worked. Thus I started another day of waiting.
My second eruption was when I discovered my bags were resting comfortably in my original destination, in West Palm Beach. I couldn't get there, though, with all flights full, so I booked travel into Fort Lauderdale, then Orlando, then Sarasota.
Florida, I was coming. Or at least looking south and hoping.
Where Delta got the blame from passengers was the inability to get someone on the phone or airport to help with re-routing canceled flights. On Friday morning, I called their customer service line and the automated voice said to remain on the line, that the wait would be more than . . . three hours.
Right.
In the watering holes, many adult beverages were downed. Coffee bars did a bang-up business. People crowded the eatery tables. At one spot, I had three table partners in 30 minutes. Strangers all.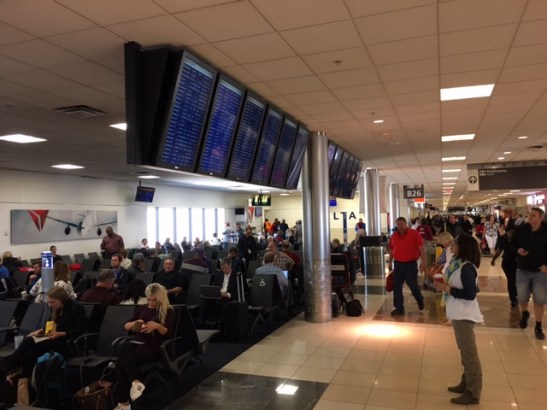 One young man reassured me that it could be worse. It's good to have that youthful outlook. But for a journalist in his 60s who just wanted a few days of fun with old friends, it was a long wait.
Outlets for a phone or computer charge in the concourses were like treasures. In this connected age, the fear of being out of juice adds to the frustration of waiting.
I told a friend that the bad karma for the ATL started at the Super Bowl, and flared again with the I-85 overpass inferno at the end of March.
Maybe most people sharing the experience eventually got to where I was, a state of weary acceptance.
On my way to the airport Friday, I saw a jet in the air. A hopeful sign? But after three delays, I was still waiting. Debating whether to give up.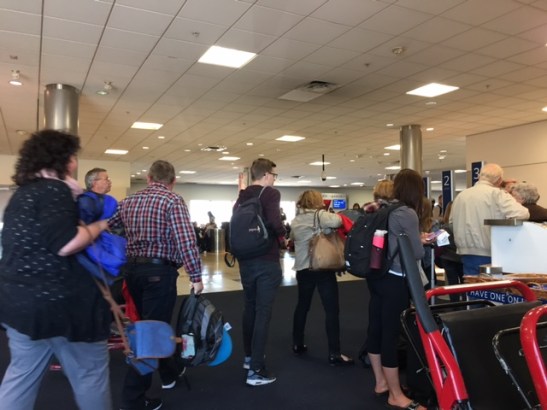 Delta said Friday it had canceled about 3,000 flights this week. The airline issued a statement saying the airline "continues to position aircraft and flight crews Friday after severe weather in Atlanta — the world's largest and busiest airport hub — and in the Northeast U.S. this week.
"Delta apologizes for the extended inconvenience to our customers. Chief Operating Officer Gil West said Thursday evening that Delta's recovery from storms this week has not been ideal, and he apologized to those who have been affected.
"Delta people are working hard to stabilize the operation to get it back to a reliable state."
Stability and reliability are good.
Late Friday afternoon, I finally connected via phone with another apologetic Delta employee, who booked me on a flight to West Palm, and hopefully, a reunion with my baggage.
We'll see, I told myself.
A guy next to me said wearily, "Let us fly."
I asked him where he was going.
"Houston," he said.
"Sounds like a song," I said.
"Yeah," he replied. "An old song."
Finally I boarded an actual airplane at 4:30 p.m. Friday. And just before 7, touchdown in the Sunshine State.