It's a rite of passage. Crowded onto the bleachers in the Clarke Central High School gym, ninth-grade students sit down for the start of a two-week health class. It's their only such class in four years of high school.
That's where Katy Mayfield found herself as a 14-year-old freshman.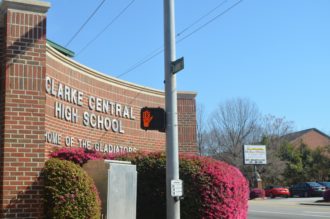 "It consisted of them telling us sex could lead to STIs [STDs], AIDS, pregnancy," said Mayfield, now 16. "But not pressuring [us for] abstinence or anything. And we got a series of diagrams, where basically there was a line drawn to a reproductive organ, and we had to say what its name was."
That's all Mayfield can remember. And it seems likely that she's not alone.
The sex education course at Clarke Central in Athens is taught over two weeks during the first semester of ninth grade. Teachers will continue to talk about sex ed and health topics in the following years of high school, but STIs, birth control methods and HIV/AIDS probably won't be mentioned again.
However sporadic it may be, the F.L.A.S.H. curriculum taught in the Clarke County School District may be better than what's taught in many other school systems around the state.
Georgia leaves it up to counties to decide what health curriculum they want to teach their students. There is a set of state health standards in place, but as long as the local curriculum hits those points, the rest is up to the school district. The standards mention several sex ed topics that must be taught, including disease testing, issues of consent, risks of unprotected sex, and the benefits of abstinence.
But one expert says the one-class-in-ninth grade approach isn't the best way to teach students – especially about sensitive topics like HIV/AIDS.
"Kids just develop and are ready to get that information at different times," said Patrick Sullivan, an epidemiology professor at Emory University. "That one session in ninth grade might be too late for some kids, because they're already sexually active, and might be too early for other kids, who don't know what questions to ask."
The transition from middle school to high school makes ninth grade a high-stress time for most kids. At this stage in their lives, some look like fifth-graders, while others look almost like grown-ups. Inside, their maturity levels are all over the place. They're self-conscious, they're trying to make new friends, and they're facing more stringent academic demands and more homework.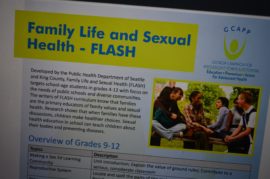 Amid all that, what gets said during a two-week health class may be quickly forgotten.
Yet sex education matters more than most kids realize. About half of the 20 million new cases of STDs reported each year are in people between the ages of 15 and 24 — people who are in high school or only a few years out of it.
And there are 2,339 young people ages 13 to 24 living with HIV in Georgia.
A 2012 CDC report found that of HIV-positive young adults ages 18-24, only 44 percent knew they were infected. Clearly, the education gap needs to be addressed.
Some researchers are pinning their hopes on a mobile app that makes HIV facts as easy to find on your phone as emojis or the weather.
Mobile apps to the rescue?
Sullivan and his research partner, Lisa Hightow-Weidman, are building mobile apps to make that happen. Six months ago, they received an $18 million grant from the National Institutes of Health to start an initiative called iTech.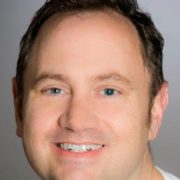 Their apps target three groups of young adults – those who are HIV-positive, those who are HIV-negative, and those who are at risk of becoming HIV-positive. Right now, they're being tested in big cities including Boston, Philadelphia, Chicago, Tampa, Houston, Atlanta, and the Bronx, New York.
The "Get Connected" app targets men who have sex with men. It explains the pros and cons of testing that requires a blood sample instead of a cheek swab, and shows consumer reviews of testing locations. Sullivan said, "We help connect them with a place where they'll have a positive and culturally appropriate experience."
Sullivan and Hightow-Weidman's team also created "My Choices." This app aims at people who are at risk for HIV, and provides self-service tools including locators for testing centers and PrEP clinics. An early version of the app can be downloaded from the Android app store.
"Youth Drive," an app being tested in Atlanta, is designed for HIV-positive young adults. Young people are less likely to take their HIV/AIDS pills than older folks, and the app reminds them to stick to their treatment plan and set personal goals.
However, it's one thing to build an app, and an entirely different thing to create a public demand for it. Especially when the app is developed four years before it may be publicly released.
Sullivan said it's possible the apps will stay in the testing phase during the entire grant period – a full five years. And he's puzzling about how to make sure the tools, once released, will do the most possible good.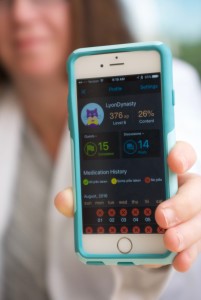 "Where is the best place to bring young people in contact with these apps?" said Sullivan. "Is it the doctor's office? Community center? That may definitely be a part of the research agenda as well."
Sullivan hopes more testing will answer these questions. His team is monitoring the 1,640 participants in the iTech studies to see if the apps change their behavior. So far, the team members are optimistic.
But public health workers say researchers are building a product that may get little use.
Hannah Craswell, assistant director for Live Forward, an AIDS services nonprofit in Athens, says several of her clients have participated in studies testing mobile apps.
"But I don't have a particular one that I recommend, except for using a reminder or calendar app," said Craswell.
Patrick Reilly, a case manager and HIV testing coordinator at the Northeast Health District Specialty Care Clinic in Athens, is skeptical. He said the only technology he recommends to his clients is Oregon Reminders, which texts users when they're due to take pills or have their viral levels checked.
"The only people I know who use the apps are the people in the studies."
Victoria Knight is a graduate student studying health and medical journalism at the University of Georgia. She also works as a health reporter for WUGA-FM, the Athens-area NPR station, and has a bachelor's degree in microbiology from the University of Tennessee. You can follow her on Twitter at: @victoriaregisk