Nobody knows exactly how the Bluff got its name, says Mona Bennett.
Somewhere in the run-down neighborhood about a mile west of downtown Atlanta, there may be a land feature from which the moniker was derived. But a more popular theory, says Bennett, is that the name is an acronym for a cautionary sort of neighborhood motto: "Better leave, you fool!"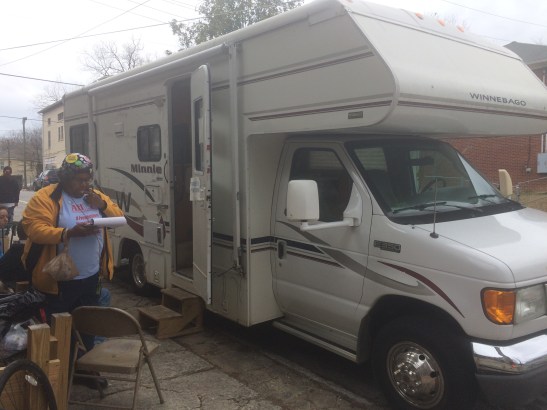 Countless windows in the community are covered with graying plywood. Graffiti sprawls across brick and siding, clustering on groups of buildings as if contagious.
People new to the neighborhood might be so distracted by the blight that they hardly see the people sitting on front porches and standing on dried-up lawns. But Mona Bennett sees them, and she greets them all, leaning her head out of the car window with a boisterous "How y'all doin'?"
Almost everyone she speaks to looks up and immediately smiles, and almost everybody waves hello. Bennett is a familiar face on the streets of the Bluff: For the past 22 years, she has been shuttling in and out of the neighborhood at least twice a week in an old RV, collecting used needles and syringes and distributing new ones.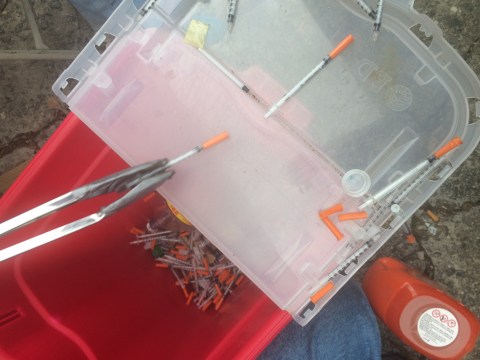 The RV belongs to the Atlanta Harm Reduction Coalition, which administers Georgia's only "above-ground" syringe and needle exchange program. Bennett, who co-founded the organization, is careful not to call the program "legal," because, she admits, "there's a question of legality." But it operates out in the open.
Under Georgia law, it is not permitted to distribute syringes or needles without a "legitimate medical purpose," and Bennett says AHRC has such a purpose. The group is trying to stop the spread of HIV, hepatitis C, and other blood-borne infections, she says, "and just promote general health and wellness."
Injection drug users become infected and transmit viruses to others through the sharing of contaminated syringes and other injection equipment. Syringe distribution services are meant to prevent this dangerous sharing.
The idea of giving clean syringes to people who inject drugs has long had its critics, who see it as subtly encouraging destructive behavior. But medical experts say it's a very effective tactic against the spread of disease.
In a recent report, the CDC found that a decrease in HIV diagnoses among black injection drug users was likely related to increased access to sterile syringes within those people's communities.
Syringe services are broadly considered by the scientific community to be an important method of reducing HIV transmission among people who inject drugs, and to facilitate uptake of substance abuse treatment.
Availability of syringe services has been associated with a nearly 60 percent reduction in HIV transmission in a variety of international settings, and in one study, clients of a syringe exchange program were five times as likely as non-clients to enter substance abuse treatment. And availability of syringe services has not been found to be associated with increases in injection drug use.
Local law enforcement seems to agree with the program's purpose – the police are not called to AHRC's outreach site. But while state law has been interpreted to allow AHRC to provide syringe and needle exchange services, it is not currently seen as permitting federal funding of its programs, says Dr. Mojgan Zare, AHRC's executive director. That severely limits the amount of funds available to the organization – and the amount of good it can do, says Zare.
Problem goes beyond the inner city
Syringe services are often part of a much larger package provided under the umbrella of harm reduction services. In AHRC's case, needle and syringe exchange is an entry to testing and treatment for HIV and hepatitis B and C, as well as an opportunity to distribute naloxone kits for drug overdose reversal, condoms, and basic needs like food, water, and clothing.
Moreover, the program allows for positive interactions between people who inject drugs and health care workers, and provides an entry point into substance abuse care and treatment.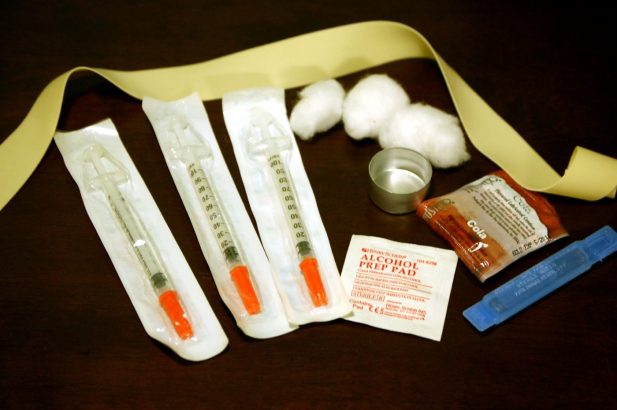 The needle exchange programs are cost-effective: The lifetime cost of treating an HIV-positive person ranges between $400,000 and $600,000, while a course of hepatitis C treatment costs $60,000 to $100,000. Meanwhile, the annual cost of providing syringe and needle exchange services ranges from $23 to $71 per person per year.
AHRC currently operates on a relatively lean budget of about $100,000 a year, and last year distributed 106,000 needles. The organization has also distributed hundreds of naloxone kits. Since the kits' distribution to first responders was first approved in Georgia in 2014, more than 700 overdoses have been reversed statewide.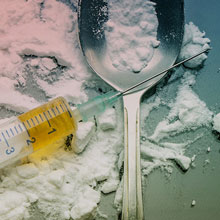 Intravenous drug use has increased explosively in Georgia, with a 40 percent rise in deaths due to drug overdose over the past five years in metro Atlanta. The most dramatic increases are outside urban areas, in suburban neighborhoods where intravenous drug use was uncommon until recently. Mirroring nationwide trends, intravenous drug injection in Georgia is increasingly common among white people younger than 36.
The CDC recently reported that although half of the people who inject drugs live outside urban areas. 70 percent of syringe exchange programs are in cities, resulting in a lot of unmet needs in rural and suburban areas.
Many of AHRC's clients are from Atlanta, but because it is the only legal syringe services program in Georgia, people travel from as far away as Chattanooga and Savannah to receive services.
With a large and sustainable funding stream like a three-to-five-year federal grant, AHRC could expand its reach, says Zare.
"We could reach out to a much larger population and a higher number of geographic areas," she says, "understanding that there's need all over," including in the Atlanta's suburbs that have seen large increases in intravenous drug use.
States with publicly funded syringe services are more likely to have decreased HIV incidence. Currently, 17 states and the District of Columbia have laws explicitly authorizing syringe exchange, making them eligible for federal funding of the programs.
A sensitive political issue
Last year, a provision of a bill that would have promoted syringe services programs in Georgia was approved by the Georgia House of Representatives, but opposition in the Senate resulted in the provision ultimately being dropped.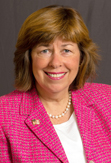 "There were objections based on money, and there were objections based on principle," said Representative Betty Price (R-Roswell), the main supporter of the 2016 effort in the Georgia House of Representatives. Incidentally, she is the wife of U.S. Rep. Tom Price of Georgia, a doctor who is President Trump's nominee to head the U.S. Department of Health and Human Services.
Senator Renee Unterman (R-Buford), a nurse who chairs the state Senate Health and Human Services Committee, acknowledges the effectiveness of needle exchange programs in reducing HIV transmission and facilitating recovery among people with substance use disorders. Furthermore, she says, decreasing the number of people in the state who are infected with HIV would save the state a lot of money.
But funding syringe services programs remains controversial among other members of the Senate, she says.
Although Unterman is working on an omnibus bill with a five-pronged approach to the state's epidemic of opioid abuse, increasing funding for syringe services programs will not be included. "I just don't think politically that the time is right," she says. Proponents of these programs "haven't done enough education . . . and I'm not willing to risk the other bills that I'm trying to push forward with something that's controversial."
Price indicated that she intends to raise the issue again in this year's session.
In November 2016, the Fulton County Board of Commissioners passed a resolution supporting syringe services programs as a legitimate medical intervention for the prevention of blood-borne diseases. Fulton, the state's most populous county, contains most of Atlanta. The resolution was a "great big tiny victory," says Bennett. While no funding is attached to the resolution, it opens the door for the Fulton County Health Department to apply for federal funds, says Zare.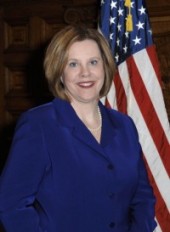 By law, federal funds can be used to support the high-cost administrative and staffing costs associated with syringe services programs, but cannot be used to pay for syringes, needles and drug preparation materials such as cookers and cottons. Even if AHRC received federal funding, it would still require at least some private support to pay for the syringes, needles and other materials it distributes.
Robust syringe service programs can result in major cost savings, even when implemented within the confines of an urban area rather than on a state level. In the District of Columbia, for example, an infusion of $650,000 yearly into harm reduction services between 2008 and 2010 prevented an estimated 120 cases of HIV, saving the city an estimated $45.6 million.
Bennett says Georgia needs more than a single program, limited to Atlanta. "As far as we know, we are the only syringe exchange in Georgia," she says. "I hope I'm wrong. I hope maybe there's something going on underground . . . Maybe somebody is working out of the back of the trunk of a car, or somebody's got a backpack making sure the sterile syringes get into the right hands."
"We need more syringe services programs in Georgia," she says.
Keren Landman is a practicing physician who writes about topics in medicine and public health. She is trained in internal medicine and pediatrics with specialties in infectious diseases and epidemiology.