More than 1,300 people have been registered as medical cannabis patients in Georgia, state officials said Tuesday.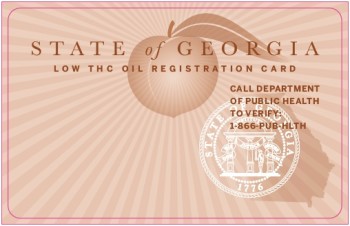 That patient number has grown since the first Georgia medical marijuana registration card was issued in July 2015.
Sheila Pierce of the Department of Public Health told the agency board Tuesday that 311 physicians have registered to certify patients for medical cannabis.
Almost half of the 1,309 patients were listed as having a seizure disorder, the state data show. That's one of the eight diagnoses that the 2015 Georgia law allowed for possession of medical cannabis oil.
State officials said about 1 in 4 patients were children, while another 33 percent were 50 and older. Public Health said it does not know how many of these patients have died since, or how many are actively using the oil.
In Georgia, these patients or their caregivers can possess the oil, but cannot bring it into the state legally. "They're obtaining these materials from out of state,'' said Sid Barrett, attorney for the agency.
Possession of marijuana products remains illegal for the general public in Georgia.
More than 30 states have legalized cannabis for medical purposes, said Barrett. Federal anti-marijuana laws remain in place.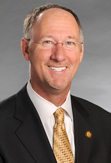 Under the 2015 Georgia law, patients and caregivers of patients who obtain a card are allowed to possess 20 fluid ounces of "low THC" oil within the state. THC is the ingredient in marijuana that produces the "high."
The eight diagnoses in line for this treatment are cancer; ALS; seizure disorders related to epilepsy or trauma related head injuries; multiple sclerosis; Crohn's disease; mitochondrial disease; Parkinson's disease; and sickle-cell disease.
Rep. Allen Peake (R-Macon), the General Assembly's biggest advocate of medical cannabis, has pushed for in-state cultivation, and for increasing the number of conditions that the oil can legally be used to treat. WABE reported recently that Peake is planning to try to put the question of in-state cannabis cultivation before Georgia voters in the form of a referendum.
A Zika birth defect
Public Health officials also said Tuesday that the state has documented one Zika-related birth defect in Georgia.
Nancy Nydam, a spokeswoman for the agency, said the department is not giving out any details of the family affected.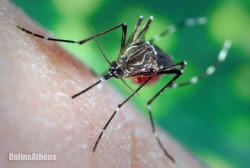 Zika, a mosquito-transmitted viral disease that occurs mostly in the tropics, can cause serious birth defects, though it rarely does much harm to infected adults. There have been 111 travel-related Zika infections in Georgia, seven of which were in pregnant women, said Cherie Drenzek, the state epidemiologist.
She also said that Legionella cases are on the rise in Georgia and nationally. Preliminary data from 2016 show there were 126 confirmed or suspected Legionella cases in Georgia, up from 38 cases a decade earlier.
Four employees at the Lockheed Martin Marietta facility recently were confirmed to have Legionnaire's Disease, which is caused by the Legionella bacterium. The disease gets its name from a 1976 outbreak that occurred when several people attending a convention of the American Legion in Philadelphia were diagnosed with the previously unidentified lung infection or pneumonia.
Public Health officials, citing CDC information, said the national increase may be due to an aging or older U.S. population; more at-risk individuals such as those whose immune systems are compromised; and overall aging plumbing infrastructure in many facilities with large water systems. People can develop the disease from inhaling air that contains droplets of water contaminated with Legionella.
The increase may also stem from increased testing for Legionnaires' disease.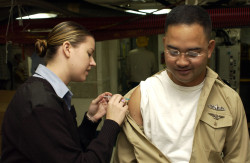 Drenzek said Georgia public health officials have identified Legionella clusters or outbreaks in settings such as hotels, hospitals, nursing homes and workplaces.
Separately, the state announced Georgia's first flu-related death of the flu season. The individual who died was an elderly adult, state officials said.
Flu activity is increasing statewide, along with the number of hospitalizations due to flu-related illness. There have been 108 hospitalizations in Georgia for flu so far this season, up from 33 this time a year ago.