Despite the specter of repeal of the Affordable Care Act, enrollment in the health insurance exchange in Georgia shows a slight increase.
Federal figures Wednesday showed 352,282 Georgians have enrolled in a 2017 health plan in the insurance exchange through Dec. 19.
That total is slightly above the 345,736 figure from a year ago at this time.
Neither number includes people who were automatically re-enrolled in coverage. That figure will push up the overall state enrollment substantially when it's reported in January.
Nationally, 6.4 million consumers have signed up for exchange plans through HealthCare.gov, an increase of 400,000 plan selections compared to last year at this time, the U.S. Department of Health and Human Services announced.
Open enrollment for 2017 coverage began Nov. 1.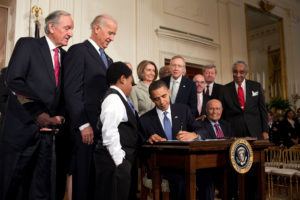 The ACA, or Obamacare, which created the state health insurance exchanges, is in greater political danger than at any time since its passage in 2010.
Republicans in Congress have fought to repeal the health law for years, but with the election of Donald Trump as president, the possibility of gutting or eliminating it is strong. Trump has vowed to scrap the ACA, and has picked Rep. Tom Price (R-Ga.), a longtime Obamacare foe, to be Health and Human Services secretary
The current HHS secretary, Sylvia Burwell, said Wednesday that the call center for enrollment has fielded tens of thousands of calls from consumers asking about possible repeal.
The 2017 exchanges also were rocked by the departure of big insurers Aetna and UnitedHealthcare, and by news of large premium increases by remaining health plans.
Yet the subsidies that people receive to afford the exchange coverage also have trended upward, shielding many from those premium hikes, said Bill Custer, a health insurance expert at Georgia State University.
About 85 percent of people in the Georgia exchange receive subsidies, he said.
The steady exchange enrollment "makes immediate repeal that much more difficult,'' with millions potentially losing coverage, Custer said.
The ACA's increased penalty for not having coverage may be having an impact on enrollment. For 2017, people who are not exempted from the penalty must pay $695 or 2.5 percent of adjusted gross income – whichever is higher.
Georgia's enrollment total for 2017 coverage exceeds that of all other states in the federally run exchanges except for Florida, Texas and North Carolina. Georgia is among 39 states that let the federal government operate its exchange.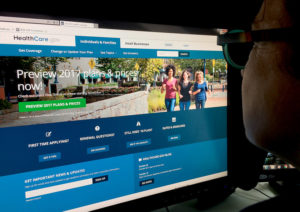 More than 75 percent of the state's exchange enrollees are in metro Atlanta, the HHS figures show. The Atlanta total is higher than for any metro area studied except Miami/Fort Lauderdale, according to the federal report. Open enrollment for 2017 continues through Jan. 31.
"People have responded in large numbers to the health insurance options made available through the Affordable Care Act despite the political uncertainty surrounding the future of the law,'' said Cindy Zeldin of consumer group Georgians for a Healthy Future, which supports the ACA. "They have responded by enrolling themselves and their families in health insurance because it meets a basic need for financial protection and access to the health care system. That need isn't going to go away.''