The Philadelphia College of Osteopathic Medicine, which already has a campus in suburban Atlanta, is moving to develop another med school location in Georgia.
PCOM has signed an agreement with Colquitt Regional Medical Center in Moultrie, in southwest Georgia, to produce a feasibility plan and present it to an accreditation committee for osteopathic colleges. The agreement was announced Monday.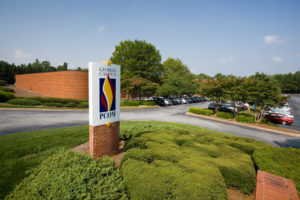 The plan, if realized, could help address the major physician shortage in rural Georgia.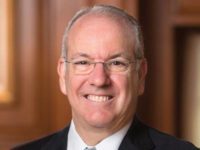 "The positive impact this endeavor to establish a location in South Georgia will have on physician recruitment and workforce development will be substantial," said Colquitt Regional CEO Jim Matney in a statement. "Building a premier site for rural medical education has been a long-term goal for Colquitt Regional, and we are glad to partner with PCOM in bringing a campus to this region. I am pleased that our regional academic institutions are interested in enhancing the medical education pipeline.''
PCOM established a branch campus in Suwanee, in Gwinnett County, in 2005. It graduates physicians (DOs) and pharmacists, and offers graduate degrees in biomedical sciences. It also recently launched physician and medical assistant programs.
"We look forward to bringing our college's 117 years of experience in educating physicians and health sciences professionals to the South Georgia area,'' Dr. Jay Feldstein, president of PCOM, said in a statement. The memo of understanding with Colquitt Regional, he said, "begins the extensive process with our accrediting agency to make this possibility come true within the region. While much has been done to get us to the point of signing this agreement, we all recognize that much remains to be done. We enthusiastically look forward to a successful outcome for all."
The state's doctor shortage is most critical in primary care/core specialties, which are generally defined as family medicine, internal medicine, pediatrics, OB/GYN and general surgery.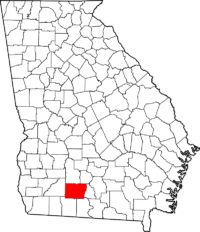 And those primary care gaps are more acute in rural counties and some inner-city areas.
A new med school campus in South Georgia "would be outstanding news,'' said Jimmy Lewis, CEO of HomeTown Health, an association of rural hospitals in the state. "We've got hospitals that are in desperate need for doctors.''
Most physicians now graduating from Georgia medical schools either wind up practicing in urban or suburban areas, or leave the state, Lewis told GHN.
The initiative would help the osteopathic college fulfill its goal "to recruit and educate students from Georgia and the surrounding states, to retain graduate osteopathic physicians, pharmacists, biomedical scientists and other health care professionals, and to serve the health needs of the region," Dr. H. William Craver III, dean and chief academic officer of Georgia Campus – Philadelphia College of Osteopathic Medicine, said in a statement.
The Georgia South Family Medicine Residency Program, which began at Colquitt Regional this year, is already affiliated with PCOM.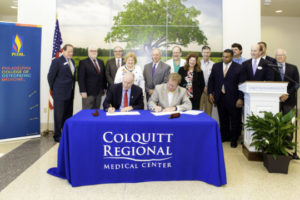 "We have enjoyed a very productive and reciprocal relationship with PCOM through our residency development," said Dr. Kirby Smith, director of that residency program. "I look forward to the opportunity to continue growing the medical education pipeline in southwest Georgia. This project sends a message to our students and communities that we have committed partners in place working on long-term solutions to health care."