The disparity between breast cancer death rates for black and white women in Atlanta is greater than in any other major U.S. city, a new study has found.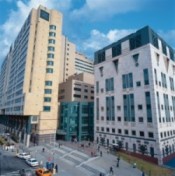 Among black women in Atlanta, 44 per 100,000 died of breast cancer in the period 2010 to 2014. Meanwhile, 20 white women per 100,000 died of breast cancer in Atlanta.
The differential is the largest in the nation – and the gap is growing. Atlanta also had the largest increase in the black/white disparity on breast cancer mortality.
Nationally, there has been a longtime disparity in health outcomes between blacks and whites, which was reflected again in this study, from Sinai Urban Health Institute and the Breast Cancer Research Foundation.
The study's findings on Atlanta "are very surprising,'' said Dr. Sheryl Gabram, director of the Avon Breast Center at Grady Memorial Hospital in Atlanta. She said her center's medical outcomes for breast cancer are similar to other hospitals in the area.
Health officials in Atlanta "are taking this extremely seriously,'' Gabram said. "I know we can do better for the women in Atlanta."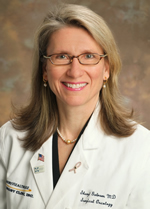 Gabram cited several factors in the disparity in Atlanta death rates. African-American women in the area were hit harder than white women by the economic downturn of a few years ago, she said.
In addition, there's fear among some women about the survivability of breast cancer and the possible harmful effects of treatments. "We can dispel myths,'' Gabram said.
And black women may not all be aware of programs that can help them with screenings and treatment even if they are uninsured, she added.
The study, funded by the Avon Foundation for Women, found that since 2010, breast cancer mortality rates for black women in Atlanta had increased by 30 percent, but the rates for white women had decreased by 38 percent.
Dr. Derrick Beech, a cancer surgeon and senior associate dean for clinical affairs at Morehouse School of Medicine, said Monday that the study results were "disheartening."
Some young African-American women have aggressive breast cancer, he said. "We have to be more proactive" with early screening and treatment, he added.
The breast cancer disparity has emerged in the past two decades, said Marc Hurlbert of the Breast Cancer Research Foundation, and a co-author of the study.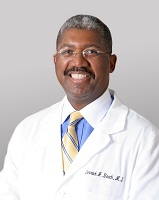 He said the advances in breast cancer detection and treatment during that period — including "really remarkable progress'' in mammography — have not been equally shared.
Overall, black women in the United States are 43 percent more likely to die from breast cancer than white women. The difference in the death rates has increased since 2009, when it was reported at 39.7 percent. In 42 of the 43 cities included in the analysis, black women with breast cancer were dying at higher rates than whites.
The breast cancer mortality rate in the United States was 30.7 deaths per 100,000 women. That rate for white women was 21.4 deaths per 100,000 women.
Hurlbert noted that Chicago has launched a citywide effort that has begun to lower black women's death rates from breast cancer. "I believe that's what's needed in Atlanta, a citywide effort," he said.
Gabram of Grady said Atlanta stakeholders have come together on this issue.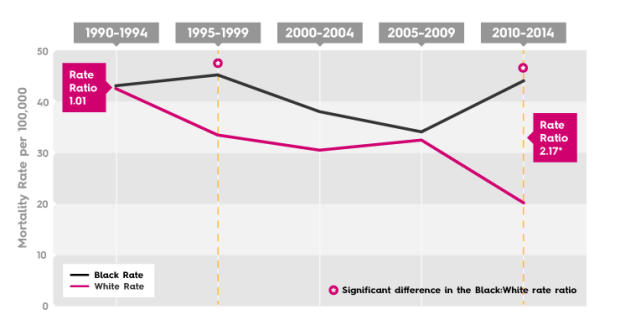 The nine other cities with the highest disparities in breast cancer deaths, after Atlanta, were (in order) Austin; Wichita; San Antonio; Kansas City; Dallas; Memphis; Los Angeles; Oklahoma City; and Chicago.