Larry Barfield returned home to southwest Georgia from military duty in Iraq nine years ago.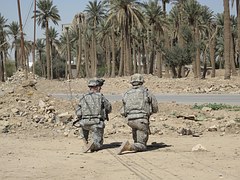 Barfield was diagnosed with post-traumatic stress disorder, a result of regular mortar attacks and what he witnessed as a Navy construction mechanic.
His wife, Pam, 54, is his full-time caregiver, helping him cope with his condition at their Leesburg home.
"He has a lot of memory issues,'' says Pam. Larry, 57, also has suffered from anger, depression, panic attacks and flashbacks to scenes from war.
Pam Barfield is among the estimated 5.5 million caregivers for military veterans in the United States. More than 1 million of them, like Pam, are caring for post-9/11 veterans.
With Larry returned home with PTSD, "our lives changed a lot,'' Pam said Wednesday. She had to take care of him and also shoulder the responsibility of running the household. She had to resign from her DFCS job in 2010 as the challenges at home mounted.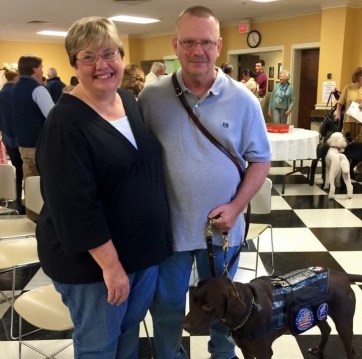 Caregivers can often feel overwhelmed.
Pam found help for her own needs last year through Operation Family Caregiver, a program that's part of the Rosalynn Carter Institute for Caregiving at Georgia Southwestern State University in Americus.
OFC connects caregivers with a coach who helps them better manage problems and challenges they face. The coach teaches problem-solving skills and gives ongoing support, encouragement and motivation.
Her coach was somebody Pam Barfield could talk with about her situation. "They could make suggestions,'' she said Wednesday. "It was very helpful to have that support."
A need for appreciation and support
Last Friday, the Carter Center in Atlanta was the venue for a summit on military caregiving, hosted by the Rosalynn Carter Institute for Caregiving.
It brought together both caregivers and leaders of organizations that help these family members and friends cope with the struggles that they confront.
Those organizations include the Elizabeth Dole Foundation's Caring for Military Families, the Easter Seals Dixon Center for Military and Veterans Services, and the Military and Veteran Caregiver Network. (Elizabeth Dole is a former U.S. senator and the wife of another former U.S. senator, Bob Dole, who survived a severe wound in World War II that left him with some physical disabilities.)
Former first lady Rosalynn Carter told the summit about how as a girl in southwest Georgia, she became a caregiver to her father. The institute named for her has been focusing on caregiving since its founding in 1987.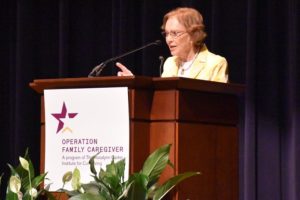 Caregivers often ''do not know where to go, what to do,'' Mrs. Carter said. Of military caregivers, she said, "We realized how enormous the problem was."
Many service members returning home have a physical disability from their war experiences. They may also suffer with mental health needs, including depression and PTSD, and the effects from traumatic brain injury.
The new stresses in caregivers' lives can lead to depression, financial and emotional strains. They often neglect their own health with their focus on a loved one, experts say.
"Military caregivers give so much of themselves that sometimes their physical and mental health suffer,'' said Col. Will Johnson, executive director of Joining Forces, at the Carter Center Summit.
The dangers of burnout
Joining Forces is a White House initiative started by first lady Michelle Obama and Jill Biden, wife of the vice president. It brings together the public and private sectors to ensure that service members, veterans, and their families have the tools they need to succeed throughout their lives.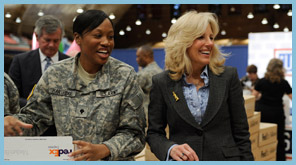 Many post-9/11 caregivers, though, are not connected with a support network. There's a prevalent feeling of isolation among these family members and friend, a Rand study in 2014 found.
Caregivers need a chance for respite, mental health support, and help on legal and financial issues, said Steve Schwab, executive director of Caring for Military Families at the Elizabeth Dole Foundation.
Col. Duncan Milne of the Easter Seals Dixon Center for Military and Veterans Services said his organization has trained 35,000 caregivers to date.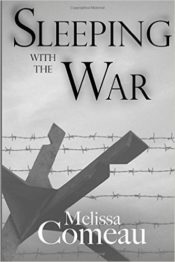 Melissa Comeau cares for her husband, Stephen, of whom she says, "in every way, he is my hero." He came home after being medically retired from the Marine Corps after several combat-related injuries. They live in Arizona.
The caregiving strain left her depressed, Comeau told the summit. "I was tired all the time. I'm a stress eater, and I ate all the time."
Comeau found release through her writing — poetry, a journal and eventually a book, "Sleeping with the War."
Self-care is important, Comeau said last Friday. "I'm a better caregiver for going through'' Operation Family Caregiver. "Caregiving is a marathon, not a sprint."
As caregivers are unsung heroes themselves, so are the people who help them.

Pam Barfield said two of her daughters live nearby and help her out at home. A service dog, named Camo, has helped Larry as well.
"It's hard to think about'' self-care amid all one's other concerns, she said. "But you have to take care of yourself. If you burn out doing it, you're really in a mess."'
"There are organizations out there to help you get through, to figure out a new way to do things."
Operation Family Caregiver's Laura Bauer said that by going through its coaching program, caregivers report they are more satisfied with their lives, feel better prepared to take care of their families, and have fewer health complaints.