After months of contract limbo, the head of a state agency has denied health insurers' appeals of the selection of vendors in a multibillion-dollar Medicaid and PeachCare procurement.
In a letter dated Friday, obtained by Georgia Health News, the commissioner of the Department of Administrative Services said he concurred with a March decision by an agency official to deny the appeals.

The launch date for the new contract – worth an estimated $4 billion over six years – was originally scheduled for this month. But the appeals process dragged on to the point that the Department of Community Health has extended the current deal twice.
Now the start date is set for a year from now, at the earliest. Meanwhile, the companies protesting the contract decision still have the right to take their case to the courts.
State health care contracts often involve very large sums of money, and protests by unsuccessful bidders are not unusual. But this dispute has been especially protracted.
Last September, the state chose four winners — Amerigroup, Peach State, WellCare and CareSource — for the Medicaid/PeachCare contract that serves mostly children.
The bidders that lost out challenged the selection through the administrative appeals process.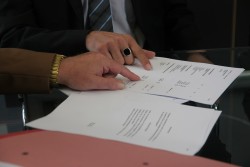 The Department of Administrative Services, which handles contracting, heard the appeals from unsuccessful bidders Americhoice, Humana and AmeriHealth Caritas. The three companies raised questions about the contract evaluation process, the scoring of proposals, and the evaluation team, among other issues.
After five months of deliberation, the agency rejected those protests in March of this year. Then the companies took their appeals higher, to the DOAS commissioner, Sid Johnson.
Johnson, in his letter to attorneys involved in the case, said none of the protesting companies identified "a significant, prejudicial error in this procurement that would compel me to reject the Deputy Commissioner's protest decision'' in March.