Alone . . . back . . . crib.
Those words highlight the message that Georgia's first lady and health officials are emphasizing in a push to prevent sleep-related infant deaths.
"We must educate parents about creating a safe sleeping environment for their babies,'' Sandra Deal, wife of Gov. Nathan Deal, said in a statement. "It is vital that babies sleep alone, on their backs, and in a crib. By promoting these ABCs of safe sleep, we hope to spread awareness and provide the tools necessary to protect babies across the state."
Every week, three infants in Georgia die due to sleep-related causes, many of which are preventable, health officials say.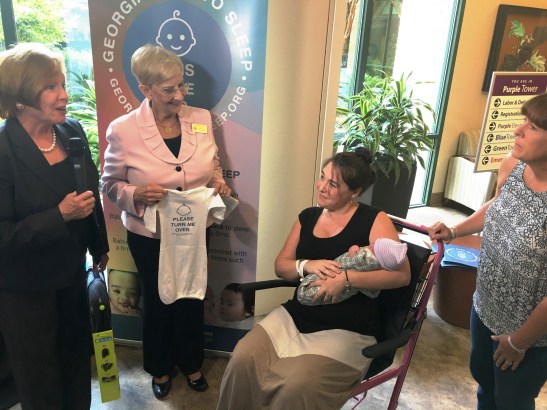 Mrs. Deal, the Georgia Children's Cabinet (a group of major public and private stakeholders in children's health issues) and the Georgia Department of Public Health launched a Safe to Sleep initiative this week in partnership with all 77 birthing hospitals in the state.
"As a parent of four and grandparent of six, I understand how it feels when your children cry out in the night. It's very tempting to want to place them in your bed, but the risks of bed-sharing are just too great," said Mrs. Deal.
Beginning Thursday, every mother and newborn in Georgia will be given an infant gown with "This Side Up" messaging to reinforce the understanding that babies sleep most safely on their backs, health officials said. They will also receive a book reminding caregivers about the importance of safe sleep.
Travel bassinets that can hold babies up to 15 pounds (4 to 6 months old) will be given to Medicaid recipients and uninsured families. The bassinets can be used when a baby is sleeping away from its crib in another room in the home, or is being cared for outside the home.
"More than 60 percent of sleep-related infant deaths in 2014 occurred in an adult bed. That is nearly 100 preventable infant deaths," Dr. Brenda Fitzgerald, commissioner of the Georgia Department of Public Health, said in a statement. "Babies need a separate sleep space, not in an adult bed or in an armchair or on a couch, and always on their backs."
Georgia has one of the highest infant mortality rates in the country.
Deaths of sleeping babies have long been a concern in Georgia and nationally.
A state report on Georgia child deaths in 2014 found that more than 30 percent of the fatalities reviewed were sleep-related.
The report found that 503 children died in circumstances that sparked a review, and that three in four of the deaths could have been prevented. Among these reviewed deaths, 158 were sleep-related.
Such fatalities include some babies being suffocated by overly soft bedding that enveloped their noses and mouths.
Some died in "overlay'' incidents, meaning that a parent sleeping in the same bed as the infant accidentally rolled over onto the child.
"Co-sleeping," the practice of adults and infants sharing beds, has long been recognized as dangerous to the infant, but collections of data in recent years have demonstrated how frequently death can result.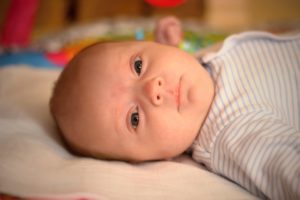 Health officials said parents and caregivers can reduce the risk of these tragic deaths by following the ABCs of safe sleep. Babies should sleep in a crib or bassinet with a firm, flat surface with no extra items such as crib bumpers, blankets or toys.
The birthing hospitals in Georgia have pledged to model safe sleep behaviors to ensure that parents of newborns, their families and caregivers are educated on and have the resources to create safe sleep environments for their babies before they leave the hospital.
"WellStar was one of the first health systems to sign the 'Safe to Sleep' pledge, and we're thrilled to be making a difference in the lives of our community," said Dr. Avril Beckford, chief pediatric officer of WellStar Health System.