An estimated 130,000 Georgians have Alzheimer's disease, a form of dementia, and the number is expected to increase greatly over the next decade.
This growth has led to the creation of memory care units within residential care facilities just like the ones from Fountain Square of Lompoc: Memory Care. These memory care units deliver specialized services to residents with dementia.
Ideally, all services in a memory care community or memory care living facility are centered around those residents with impaired memory. From providing comfort foods to enhanced socialization, memory care staffers are trained to help these residents engage in such activities as easy-to-play games, art projects or even dancing.
Generally, the ratio of staffers to residents is higher in a memory care unit than in a regular assisted living facility.
If a person has "mild" cognitive impairment, then general functioning is still possible. But if the mild impairment turns severe, there is good reason to provide full-time care, experts say.
Safety is the first goal
The help required for patients with dementia includes addressing multiple safety issues. The best units offer areas where patients have a view of outside activities, such as children playing in a park or ballfield, but have no view of roads or traffic, which might lure them to wander away. For a person with dementia, wandering off can pose a horrifying danger.
Shari Bayer, marketing director of Jewish Home Communities, which has multiple levels of care, points out some special features in its memory care unit, such as doors that appear to be bookcases from the residents' viewpoint.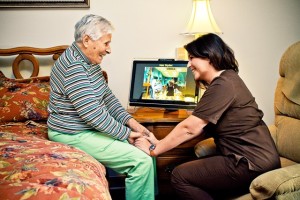 "This unique façade helps people feel like they're in a living room, not a locked facility," says Bayer. Locked doors are critical for safety reasons, but residents shouldn't feel locked in.
"We look at a classification method, too," says Bayer. "That's so activities can be tailored to the patient."
Each patient's needs are unique, says Carolyn Clevenger, a nurse practitioner and assistant dean with Nell Hodgson Woodruff School of Nursing at Emory University. There are various criteria for evaluating whether a facility is right for the patient, she adds. "If the doors are locked, then some might say it's a good memory care facility," but there is much more to it than that.
Georgia requires licensing of all care facilities, but here (as in 22 other states) there are additional regulations for memory care facilities. These laws require care providers to disclose the special services they offer.
The Georgia Department of Community Health adopted regulations for memory care in personal care homes in 2009. According to Community Health, "memory care services" means the additional "watchful oversight systems, programs, activities and devices that are required for residents who have cognitive deficits."
Because they provide a greater level of services, memory care units are more expensive than other residential care living arrangements.
The federal Centers for Medicare and Medicaid Services (CMS) focuses on implementing practices that enhance the quality of life for people with dementia — protecting them from substandard care and promoting goal-directed, person-centered care.
The drug issue
For decades, antipsychotic medication was seen as the answer for elderly people who could not express their feelings, which often led to severe anxiety or combativeness — and a loss of quality of life. Many people with dementia fell into this category and received the drugs.
Today, the consensus is that antipsychotic drugs were prescribed too often in these cases. Their usefulness has proved to be limited, and they have harmful effects of their own. CMS, in defining its standard of "best practices" for treating dementia patients, has made a major move away from antipsychotics.
CMS began public reporting of the incidence (for short-stay residents) and prevalence (for long-stay residents) of antipsychotic medication use for each nursing home on the CMS Nursing Home Compare website, beginning in 2012. It's making a difference.
Memory care units have achieved reductions in antipsychotic use under the auspices of a National Partnership to Improve Dementia Care. Georgia is one of the states that's achieved significant reduction in their use (rate drop of 26.4 percent), according to CMS, as of 2014.
Reinforcing non-drug therapy is a goal that Jason Zamer of SimpleC has been working on for years. The company's product, SimpleC Companion, is a computer screen that's been aligned to meet the needs of each person living in a memory care unit.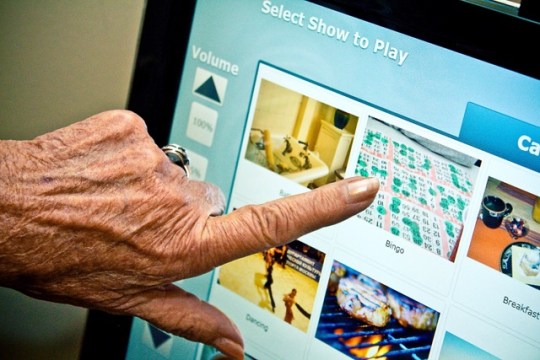 The new screen reinforces a healthy daily regimen and is "always there — "just as computers are," says Dan Pompilio, CEO of SimpleC, based in Atlanta. "Our goal is to bring families back together," through photos, sound, and memories on the screen, says Pompilio.
"It helps support and deliver therapy to people with dementia," says Zamer. "We use personalized topics, images, music and voices from the resident's past to help build a bridge, Zamer says.
"It's worked well for more than 1,000 users," says Pompilio.
Presbyterian Homes of Georgia in Austell liked the idea of this technology.
"We saw where we could improve the lives of residents without drugs or chemicals," said Gwen Hardy, chief operating officer of Presbyterian Homes, "and we wanted to try it." They placed a monitor in each resident's room, while large screens were installed in the residents' common area. Hardy says the technology provides positive, tangible results for their residents.
Even in Georgia's personal care homes, specialized memory care units are mandated to provide "positive therapeutic interventions and activities, such as exercise, sensory stimulation and activities of daily living skills."
When thinking about the next steps for a family member, "every family's goal is different," says Laura Medders, a geriatric social worker. Both Medders and Clevenger of Emory Healthcare help patients and families who are seeking integrated memory care assistance.
"Our patients who come into our memory care clinic all have a diagnosis of an irreversible form of dementia," says Clevenger. "And we can't necessarily change the trajectory of that disease, but we can better support the patients and caregivers as they are going through it."
Memory care can be in personal care homes, in assisted living with memory care units or self contained facilities. People should know what to expect from each type of facility, Medders says.
No longer is merely keeping patients "clean and dry" considered good care, says Clevenger. "Today we look at structure, socialization and stimulation, especially where the senses are involved." It's better for the patients and the staff, she says.
Judi Kanne, a registered nurse and freelance writer, combines her nursing and journalism backgrounds to write about public health. She lives in Atlanta.