Georgia is improving on its preparedness for health emergencies, but its overall rating remains below the national average, according to a new report.
The 2016 National Health Security Preparedness Index shows the United States as a whole scoring 6.7 on a 10-point scale for preparedness — an improvement since the ratings began three years ago. Georgia scored a 6.2.

The index, created by the CDC, now is compiled by a team of researchers at the University of Kentucky.
It uses more than 100 different measures to reach a composite score, including flu vaccination rates, access to trauma centers, and presence of food inspection programs; infrastructure and planning measures such as participation in drills by public health laboratories; percentage of people covered by wireless 9-1-1 service; and hazard planning for public schools.
Each state gets scores in six different categories.
"In order to keep Americans safe, we need to know how well equipped every state in the nation is to prevent and manage widespread health emergencies," Dr. Risa Lavizzo-Mourey, president and CEO of the Robert Wood Johnson Foundation, said in a statement. The foundation funds and directs the Security Preparedness Index.
The Georgia Department of Public Health, responding to a query from GHN, said in a statement that the index analyzes some important facets of emergency preparedness. But the agency took exception to the scoring of one measure in particular: Community Planning and Engagement, which measures how communities mobilize different stakeholders to work together during disasters and other emergencies.
Many challenges to face
Glen Mays, a University of Kentucky health policy expert who led the research, told GHN on Monday that "nationally, the glass is about two-thirds full,'' referring to the national score.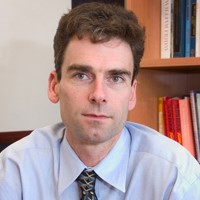 The country is strong in the category of Incident and Information Management, or the ability to mobilize and manage resources during a public health crisis.
Mays said Georgia overall "is gaining ground" in emergency preparedness. "It's improving faster than the nation as a whole," he added.
Mays said the state is a national leader (at 7.3 out of 10) in the "Countermeasure Management" category, which is the ability to deploy pharmaceuticals and other medical products — including vaccines, masks and gloves — to treat the effects of hazardous substances and infectious diseases.
The state is also strong (7.8) in Incident and Information Management, he said.
But Mays said "Georgia could use some improvement'' in other areas, including Environmental and Occupational Health, which is the capability to maintain the safety of water and food supplies and to test for hazards and contaminants in the environment. The state got a 4.9 score.
The nation as a whole lags in that area, he said. "Events in Flint, Michigan, offer a cautionary tale'' on the importance of environmental monitoring, he added. Dangerous levels of lead have been found in the drinking water in the city, a development linked to changes in the municipal water source a few years ago.
Several Southeastern states scored below the national average of overall preparedness, Mays noted.
Georgia Public Health's spokeswoman, Nancy Nydam, said in an email to GHN that the preparedness index "may not present a true snapshot of the current situation," because improvements have already been made.
"Nowhere is that more true than in the category of Community Planning and Engagement," she said. That's the category in which Georgia received its lowest score (4.1).
She cited the agency's recent response to the Zika virus.
"In collaboration with Hartsfield-Jackson Airport [in Atlanta], and smaller airports around the state, there is messaging advising passengers headed to or returning from areas where there is ongoing Zika transmission about protecting themselves against mosquito bites and helping prevent the spread of local transmission of the infection," Nydam said.
She said Public Health is working with its health districts and other local government organizations to share information about mosquito control in their communities as well as advising such institutions as schools and churches about the precautions needed when their staffers, students or members travel to Zika-affected countries.
"These protection and prevention efforts and the messaging and collateral for them have become models for many other states,'' Nydam said.
The agency's Zika campaign, she said, "is built on lessons learned from Georgia's preparation and preparedness for the potential of Ebola in the state and our ability to quickly respond to any deadly infectious disease, which are also a model for the rest of the country."
Ebola, a disease typically fairly rare and limited to West Africa, flared up and killed thousands of people there in 2014, with a few cases reaching other countries. Massive public health efforts helped reverse the trend, and much of the response work was done in Georgia.
The Department of Public Health "is proud of the improvements made over the years in many of the categories but recognizes that there are still challenges, those we know about today and others that are yet to emerge,'' Nydam said.