Federal health officials, citing potential harm to patients, is stopping Medicare and Medicaid payments to a fourth Georgia nursing home operated by a Tennessee-based company.
Three of those Georgia facilities run by New Beginnings Care have closed, with state officials helping to relocate more than 200 patients. The fourth facility, in Abbeville, south of Macon, is having federal payments cut off this month, according to a CMS letter.
All 88 patients at Abbeville Healthcare and Rehab must be relocated by April 1, Jeremy Arieh, a spokesman for the Georgia Department of Community Health, said this week. The closings have come from "ongoing failure to address continuing deficiencies within the facilities," he said.
"We've been communicating with patients, families, legislators and local authorities,'' Arieh told GHN.
New Beginnings Care continues to operate five other nursing homes in Georgia, according to Community Health. Two are in Tybee Island on the Atlantic Coast, while the others are in Midway, near the coast; Whigham, in the southwestern part of the state near the Florida line; and Eastman, in south-central Georgia.
The company, based in Hixson, Tenn., a suburb of Chattanooga, filed for Chapter 11 bankruptcy protection in January.
The other New Beginnings nursing homes that have been shut down in Georgia are in Macon; Jeffersonville, near Macon; and Rockmart, south of Rome.
A person answering a reporter's call at the New Beginnings Care headquarters said Thursday that the company had no comment. She declined to identify herself.
A bankruptcy attorney for the company could not be reached for comment.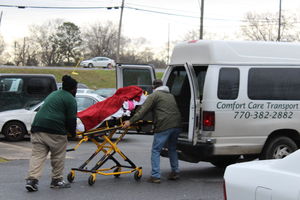 Melanie Simon, a Community Health official, said in January that the state stepped in at the Rockmart facility after reports that New Beginnings failed to make payroll there, the Polk (County) Standard Journal reported.
"We came in because we realized we may need to relocate residents before Feb. 7 to ensure their safety," she said, according to the newspaper.
The company also has run nursing homes in Tennessee, Ohio, Oklahoma and Arkansas.
The Chattanooga Times Free Press, citing bankruptcy court filings, said in an article last month that Georgia inspectors reported "squalid conditions" at the Jeffersonville nursing home. The regulators found five out of nine toilets had malfunctioned for at least two weeks in a locked unit for 29 patients with Alzheimer's and dementia, the Times Free Press reported.
"Take me out, take me out, it smells bad in here!" said a resident whose room was flooded by an overflowing toilet, according to a court filing, the newspaper reported. Footprints showed that staffers tracked the sewage out into the hallway, potentially contaminating the rest of the nursing home, the filing said.
Federal attorneys said in a court filing that state surveyors "found serious deficiencies at the nursing home, including failure to provide quality care and a habitable environment to its residents and failure to safeguard residents' personal trust fund accounts."
New Beginnings officials and their attorney David Fulton sought to persuade U.S. Bankruptcy Court Judge Nicholas Whittenberg to issue a temporary injunction to keep the Medicare and Medicaid payments coming to their Jeffersonville Health and Rehab facility, the Times Free Press reported.
New Beginnings argued that most of the toilets cited by regulators in Jeffersonville were not totally blocked but only flushing slowly, and that it spent $22,000 for new pipes to fix the problem. The footprints came from plumbers' muddy boots, not from anyone tracking sewage, said a brief that Fulton filed.
"We fixed the problem, but the state never verified that," Fulton said, according to the newspaper. "Because of the extensive nature of it, it couldn't be done overnight."
He argued that the closure of the nursing home in Jeffersonville would devastate the economy in the city, which has about 1,000 residents, and disrupt the lives of the facility's patients.
But the judge denied the temporary injunction.
Melanie McNeil, the state's long-term care ombudsman, told GHN this week that a cutoff of federal funds to a nursing home is uncommon.
The Jeffersonville facility's sewage problem was especially troubling because of a lack of infection control, McNeil said. "This is the residents' home,'' she said.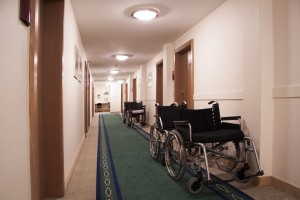 Relocations are difficult for residents, McNeil added. "It's hard for residents to lose their community."
"It's too bad when a nursing home operator can't stay in compliance,'' she said. "It's just a really sad situation."
The first New Beginnings nursing home to have effectively been shut down by regulators was in Limestone, Tenn., the Times Free Press reported. There, 40 of 43 Medicare and Medicaid patients were moved out of the John M. Reed Nursing Home after a state survey in December found numerous deficiencies. Inspectors found that patients didn't get timely care for incontinence, suffered avoidable pressure ulcers and didn't get antibiotics as ordered by the physician.
The Associated Press, citing court documents, reported recently that the co-founders of New Beginnings paid themselves six-figure salaries and drove company-financed Porsches while failing to pay employees, utility bills, taxes and creditors.
When New Beginnings filed for bankruptcy Jan. 22, the company said in court filings that it played a "vital economic role providing over 1,300 jobs and a vital role in proving quality care for over 800 nursing home residents," the AP reported.