The EPA's administrator told a gathering at Atlanta's Morehouse School of Medicine on Thursday that she wants her organization viewed "as a public health agency."
Gina McCarthy emphasized the importance of environmental effects on health at a roundtable discussion at Morehouse, which including medical students, local college professors and community activists.
The activists brought up problems related to the Proctor Creek Watershed, which McCarthy toured Thursday morning. It's an area west of downtown Atlanta that has experienced poor water quality, pervasive flooding and sewage overflows. It has several so-called brownfields, sites where pollution makes future land use difficult.
Starting in 1998, the city of Atlanta entered into consent decrees with the EPA to reduce sanitary sewer overflows. The city says the projects have reduced sewer spills by about 70 percent since 2000.
Still, community groups say the stormwater runoff problem continues to plague the area, bringing water into basements and leading to the growth of mold.
Indoor mold can trigger allergic reactions, cause asthma symptoms in people with asthma, and has been linked with upper respiratory tract symptoms, coughing and wheezing in otherwise healthy people.
McCarthy told the gathering at Morehouse that when children have asthma, "you don't want mold growing in their houses."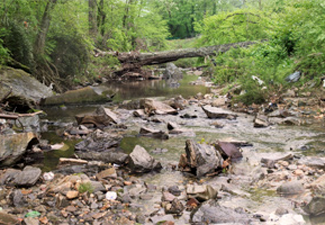 Later she told reporters that Proctor Creek "is a community that is facing significant environmental exposure that results from stormwater [and sewer system] overflows." She said it's a challenge for indoor air quality and for area kids being able "to go out to play."
She said the EPA, in its cleanup efforts with government agencies and nonprofits, is not overlooking the economic development opportunities in the area and the ability to create greenspace. "The community itself designed a new park; they built it themselves for some jobs,'' she said.
"We're trying to address the communities that have been left behind … like Proctor Creek, where they are bearing disproportionate burdens," McCarthy said.
Darryl Haddock of the West Atlanta Watershed Alliance told GHN that water quality in the Proctor Creek area has improved but that the runoff from downtown Atlanta is a constant problem, creating mold in homes.
Debra Edelson of the Emerald Corridor Foundation added that while the sewage problem has been decreased significantly, "we're not where we should be" in terms of preventing water runoff damage.
Most municipal water safe
McCarthy also discussed with GHN the lead contamination in the drinking water in Flint, Mich., which has riveted the nation's attention.
Last year, the drinking water in Flint was found to have elevated levels of lead that were reflected in children's blood. For children under 6, lead contamination can cause central nervous system damage and intellectual and behavioral deficits.
According to officials, the problem in Flint is traceable to a few years ago, when the city switched to a different source of water as a cost-cutting measure.
"It's made everybody realize that the work of EPA is clearly not done," McCarthy said.
The Flint situation, she said, "is a poster child for why our continued investment in water and drinking water . . . is so essential.''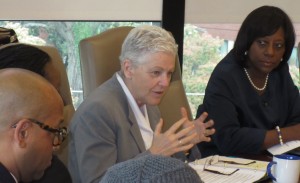 The Flint area "hadn't invested in its infrastructure for a long time," McCarthy said.
Many water and wastewater systems in the United States were built 50 to 70 years ago, she said. "They're not going to be maintained [without] investment. It's a big challenge for us nationally." But McCarthy added that Flint "is very unique" in the magnitude of the problem.
The EPA will study the agency's lead and copper rule and has contacted governors and state agencies to make sure they're implementing the rule effectively, she said.
Out of the 68,000 water systems that have to comply with the lead and copper rule, McCarthy said, 96 percent have kept their lead levels within standards over the past three years.
"There are no communities that I am aware of that look anything like Flint."
Public health officials point out that lead can be found not just in water but also in paint chips in older homes and in the soil.
Lead exposure overall, McCarthy said, ''is a legacy issue we need to get firmer about."