A state report on Georgia child deaths in 2014 points to a persistent problem: More than 30 percent of the fatalities reviewed were sleep-related.
The report found that 503 children died in circumstances that sparked a review, and that three in four of the deaths could have been prevented. Among these reviewed deaths, 158 were sleep-related.
Deaths of sleeping babies have long been a concern in Georgia and nationally. Such fatalities include some children being suffocated by overly soft bedding that envelops their noses and mouths.
Some die in "overlay" incidents, meaning that a parent sleeping in the same bed as the infant accidentally rolled over onto the child.
Some babies die when they become wedged, or "entrapped," between objects that are too hard for their fragile bodies. Some suffer accidental strangulation.
These fatalities also include sudden infant death syndrome, cases for which no cause can be determined.
Overall, the child fatality report found 503 reviewable deaths in 2014 — the latest year available — less than the 540 child deaths in 2013, according to Morris News Service.
In total, 1,515 children under age 18 died during 2014 in Georgia for all causes, compared to 1,477 the prior year, Morris' Walter Jones reported.
Meanwhile, the deaths of children whose families had DFCS involvement within the last five years fell from 180 in 2013 to 169. Half of those 2014 deaths were classified as natural or accidental, DFCS said. Many were sleep-related.
Co-sleeping, or specifically bed-sharing — the practice of adults and infants sharing beds — has long been recognized as a cause of childhood fatalities.
Sleep-related deaths "are so preventable, and so tragic,'' Dr. Avril Beckford, a Smyrna pediatrician, said Friday.
Among the 158 Georgia sleep-related deaths, the report found:
** 61 percent were African-American babies.
** 66 percent were less than 4 months old.
** 60 percent occurred in an adult bed.
Dr. Brenda Fitzgerald, commissioner of the Department of Public Health, told GHN on Friday that bed sharing is a big risk factor in these baby deaths.
The increase in sleep-related deaths in Georgia has sparked an effort by state agencies, in partnership with the Georgia Hospital Association and doctor groups, to do more education of mothers at the state's birthing hospitals.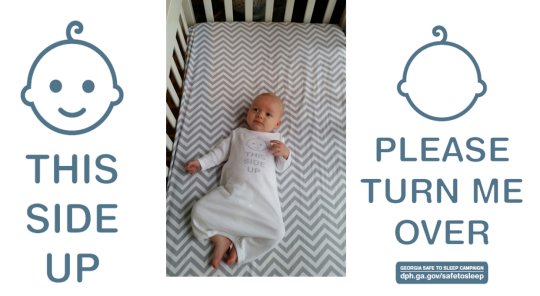 Babies should sleep alone, on their backs, and in a crib, Fitzgerald emphasized. The sleep initiative will include gowns that will say on their front, "This Side Up,'' and mothers will also be given a portable bassinet.
Beckford, chief pediatrics officer for WellStar Health System, said that education of parents can begin during prenatal visits, when advice includes not using alcohol or drugs during pregnancy.
The safe-sleep education should be repeated after the baby is born, Beckford said. "That should be an essential part of every hospital discharge,'' she said.
"Even babies with reflux should sleep on their backs,'' Beckford added.
The American Academy of Pediatrics recommends that babies sleep in the same bedroom as their parents, but on a separate sleep surface, such as a crib or bassinet, for the first few months of life.
AAP also recommends that there be no loose bedding, soft objects or toys where the baby is sleeping.
Experts agree that a crib is the safest place for an infant to sleep, but not every family can afford one. In that case, the AAP recommends substituting a dresser drawer that has been removed from the dresser.