Hutcheson Medical Center closed its doors to patients Friday morning, after being unable to strike a deal to avoid a shutdown.
The northwest Georgia hospital's closure came after months under bankruptcy protection.
A last-minute bid by California-based Prime Healthcare to purchase the Fort Oglethorpe hospital failed to win approval from Hutcheson's creditors.
Hospital CEO Farrell Hayes told GHN on Friday that no patients were remaining when the closure occurred at 7 a.m.
Hutcheson is the fifth rural hospital to close in Georgia since the beginning of 2013.
Hayes said there's still a chance that a purchase deal can occur before the hospital must surrender its license within 10 days of closure. But he did not sound hopeful that an agreement could be reached.
"After today, we'll have 150 employees,'' he said, and most of those work at Hutcheson's nursing home, which is still open. A year and a half ago, Hutcheson said it employed 900 people.
"Any hospital closure is an economic development disaster,'' said Jimmy Lewis, CEO of HomeTown Health, an association of rural hospitals in Georgia. Companies seeking to move to an area always ask about the availability of local health care facilities, he noted.
Losing hundreds of jobs, Lewis added, has "a huge economic impact on the community and the state."
Prime Healthcare, which recently forged a deal to save the struggling Southern Regional Medical Center in metro Atlanta, issued a statement Thursday evening that expressed disappointment in the Hutcheson outcome.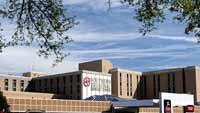 "Prime Healthcare worked tirelessly with the key stakeholders to save this hospital and keep over 400 dedicated people employed during the holiday season,'' said company attorney Troy Schell.
"This decision is a blow to both the economy and the accessibility of health care in the Tri-County area," Schell said, referring to Walker, Catoosa and Dade counties in the northwest corner of Georgia.
Regions Bank and Erlanger Health System are Hutcheson's primary creditors, according to the Walker County Messenger/Catoosa County News.
"Hutcheson Medical Center is closing because Regions Bank believes it stands to make more money in a liquidation fire sale than working with Prime and others to keep it open,'' Schell said. "Their actions are shameful and will affect thousands of Georgia residents."
A spokesman for Regions Bank declined to comment Friday on the hospital closure.
Prime Healthcare Services and the nonprofit Prime Healthcare Foundation own and operate 38 acute-care hospitals in 11 states. They are known for acquiring financially distressed hospitals and turning them around.
The foundation's purchase of Southern Regional Medical Center, in Riverdale a few miles south of Atlanta, is set for review by the Georgia attorney general. Southern Regional would be Prime's first hospital in Georgia.
Maybrook Healthcare has offered to buy Hutcheson's nursing home for $7.2 million, according to the Chattanooga Times Free Press.
The impact of Hutcheson's closing on patients would be eased somewhat due to Fort Oglethorpe's proximity to Chattanooga. The Tennessee city is nine miles away.
Four years ago, after large financial losses, Hutcheson was on the brink of a shutdown, but a management agreement with Erlanger Health System, based in Chattanooga, kept it open. Erlanger sank $20 million into Hutcheson during that management period.
Erlanger later filed suit to retrieve that amount, plus interest and other charges. An expensive legal fight between Erlanger and Hutcheson is currently on hold.
"It's over. Catoosa [County] and Erlanger objected strenuously" to the Prime offer, Hayes said following a Thursday hearing, according to the Walker/Catoosa newspaper. "It was almost a surreal scene in there. The judge even asked, 'Does Catoosa County not even care about the health care of its citizens?' There was no reply."
Catoosa and Walker counties each had provided more than $10 million to prop up the hospital when it was on the brink of closure in 2011, the newspaper reported. While Walker has continued its support of the hospital, Catoosa's commissioners have said enough is enough and they will put no more taxpayer funds at risk.